1.
You are the network administrator for the Blue Sky, LTD, airplane manufacturer. The vice president of the Finance department has reported that some technically savvy users within the department have been attempting to access confidential information by browsing the available network shares from the Network Connections desktop icon. He has requested that users within subdepartments of the Finance area not be able to map network drives or browse network shares that they have not been explicitly granted access to. However, you have assigned a word processing application to the entire organization using a default GPO, and you do not want to reconfigure this portion of the Active Directory structure. In response to the VP s request, you have configured your Active Directory environment as shown in Figure 10.13. (Please note that, in the illustration, Enforce means that the Enforce settings property has been applied to the GPO in question.) Which setting(s) will be applied to a workstation in the Collections OU? (Choose all that apply.)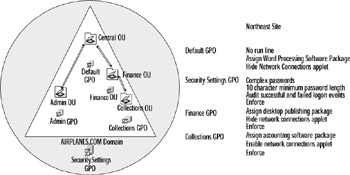 Figure 10.13:

Question 1 Illustration
The desktop publishing package will be assigned.

The Network Connections applet will be hidden.

The Network Connections applet will be visible.

The Run line will be hidden.

2.
You are the administrator for a Windows Server 2003 domain. Your network consists of five locations connected by high-speed Internet connections. Your network servers are running solely Windows Server 2003, but you are supporting network clients that are a mixture of Windows XP Professional, Windows 2000, and Windows NT 4.0 Workstation. Because of the recent spate of critical security updates that have been released by Microsoft, you need to design a strategy to apply security updates to all of your workstations in a quick and efficient manner. Given the current environment, what option can you use to roll out updates for all of your network clients ?
Install an internal SUS server and use Group Policy to configure clients to download approved updates from the SUS server.

Configure all workstations to prompt end users when downloads are available from the Windows Update site.

Use the software installation section of Group Policy to manually deploy software updates at the domain level.

Invest in a third-party patch management utility such as SMS.

3.
You are the network administrator for a Windows Server 2003 network with Windows XP Professional desktops. Your help desk has been inundated with support calls from users who have intentionally or accidentally altered their system settings in such a way that they have lost network connectivity or some other form of functionality. You create a new Group Policy Object (GPO) that restricts access to the Control Panel for all of your network users and link it to the domain level. You notice after several weeks that support calls have greatly diminished except for the Communications department. Upon further investigation, you discover that this department is contained within its own OU, and the OU has another GPO applied to it that explicitly grants access to the Control Panel, along with several other settings that the department manager insists are critical for his employees to perform their job functions. How can you enforce the Control Panel lockout without otherwise adversely affecting the Communications department?
Delete the GPO that is linked to the Communications OU.

Configure the Control Panel lockout GPO with the Enforce setting.

Configure the Communications OU to Block Inheritance so that the existing GPO will no longer be applied to it.

Merge the Communications OU GPO settings into the default domain GPO.