Overview
This chapter focuses the graphical utilities developed by Red Hat that let you administer and configure Linux on your computer and network. The content of this chapter may be sacrilegious to more traditional Linux users "they prefer to work from the command-line interface.
Traditional Linux users do have a point: you can do more from the command line. The Red Hat graphical utilities are still a work in progress. In fact, they are just front ends for editing text configuration files. However, they help the newer Linux user make the transition to Linux.
We believe that you can use the Red Hat graphical utilities to configure hardware, local services, and network services, and administer your system on a basic level. If you analyze the resulting changes to the associated configuration files, you use these utilities to help you learn more about Linux.
However, keep in mind that these utilities are fairly new. Development work continues. You should check your configuration files after using a graphical utility to ensure that the changes reflect your intent.
To see the list of available utilities, go to a command-line interface. Type in redhat-config- and then press the Tab key twice. You ll see a whole list of utilities, as shown in Figure 19.1. Naturally, you can start these utilities with the commands you see. Some of these utilities are covered in more detail in other chapters.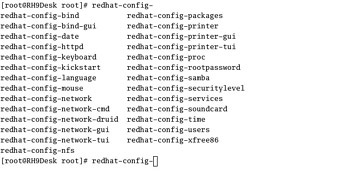 Figure 19.1:

redhat-config-*

graphical utilities
Most are also accessible in GNOME or KDE when you select Main System Tools or Main Menu System Settings. (If you re using KDE, the button still has a Red Hat; it s just called the K Menu button instead of the Main Menu button.) A number of these utilities require administrative privileges; if you re not logged in as the root (or otherwise privileged) user, you ll be prompted for the root password as required.
If you don t see a specific tool from a command line or the Main Menu, you may need to install it. In most cases, the RPM package name is the same as the command; for example, the Samba configuration tool is redhat-config-samba , which comes from the redhat-config-samba-* RPM.
Because there is no official category for any redhat-config-* utilities, I ve classified them arbitrarily in this chapter.