Are you a dissatisfied Microsoft Office user ? Come on in, the software's fine.
Ten good reasons
If you haven't, read Top Ten Reasons to Use OpenOffice.org on page 4.
Take it out for a spin
Dip your toe in the pool. Use the CD with this book to install OpenOffice.org and see how you like it. Note: OpenOffice.org has no WordPerfect import filter at this time, though they're working on it.
Try converting files
Once you've dipped your toe in the pool, try a test import. We're pretty sure it'll go really well. Just open a Microsoft Office file by simply choosing File > Open and choosing the right format in the format dropdown list.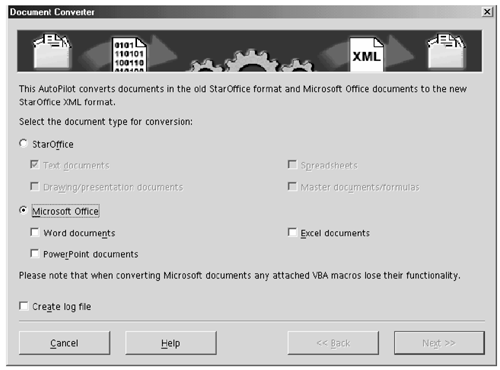 You can also do a mass import using the AutoPilot, shown at right. It's no-risk experimentation since it leaves your Microsoft documents intact, just creating converted copies.
Spend some time with the tutorials
Get to know OpenOffice.org.
Chapter 5, Setup and Tips , on page 95

Guided Tour of Writer on page 170

Guided Tour of Web on page 444

Guided Tour of Calc on page 500

Guided Tour of Impress on page 636

Guided Tour of Draw: Vector and Raster Graphics on page 753

Tutorial: Creating a Data Source on page 873