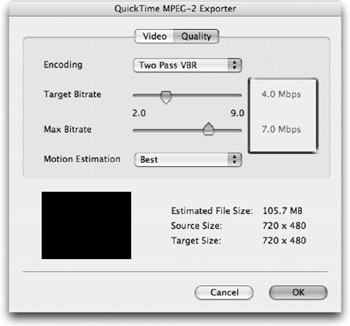 MPEG 2 encode your tracks before you import them into a DVD authoring program. Some programs allow you to import files that haven't been MPEG-encoded. These give you the option of MPEG encoding in the background or when you format the project.
Background encoding can slow down your computer when you are designing the DVD. Opting to encode on building makes calculating the available run time for the disc difficult. You also won''t get an accurate representation of how much space is being used on the disc.
For the highest quality results with MPEG 2 encoders, pick the slowest encoding preset.

Use two pass variable bitrate encoding if possible. Set the lowest bitrate to 4 and the highest bitrate at or below 7.5. Otherwise the disc may skip on some set-top boxes (and most computers).

It's a good idea to AAC encode all you audio even if your DVD authoring program can use AIFF files. Make sure the audio files are the same length as the video files.

Save all DVD ready files to a DVD ready folder within your project folder.