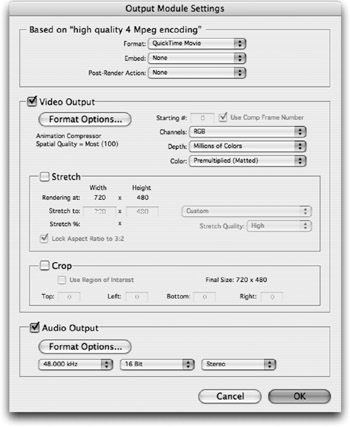 Whether you're coming from Final Cut Pro, Avid, or After Effects, you should output the cleanest file you can. This means applying the least amount of compression. If you are using a Macintosh (or even a Windows machine), it's best to render a QuickTime file.
Use a lossless codec like Animation.

Choose the correct field order, and make your audio is 48 kHz. If your audio is

44.1 kHz like that found on audio CDs, export it, as is, because most MPEG encoders will convert the audio to the correct sample rate.

If you are outputting an animation without progressive video footage (not interlaced), frame render instead of field rendering.

Make a Render Template for uncompressed output and call it DVD Settings so you will render your DVD files consistently. See Chapter 15 for more on how to create Render Templates.