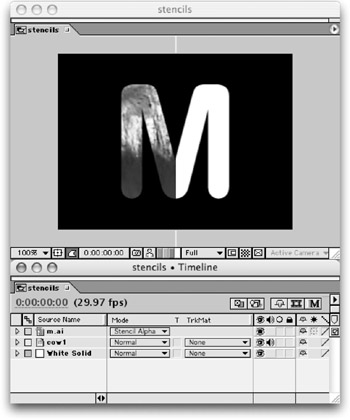 Do you need to use a layer's alpha channel to cut a hole in the layer below? Easy, right? Use a track matte. But that only works on the layer immediately below. If you have multiple layers to affect, choose to use Stencil or Silhouette mode.
Active the Modes panel in the Timeline window.

Click on the mode list and choose one of the following.
Choose Stencil Alpha to create a stencil using the top layer's alpha channel. This will make all areas of the lower layers transparent except where the object above used to be opaque

Choose Silhouette Alpha to create a silhouette using the layer's alpha channel. This will cut a transparent hole where the top layer was opaque.
Don't have an alpha channel? You can also create Stencils and Silhouettes based on the top layer's luma values.