The best way to get started with UserForms is to create a simple macro that opens a custom dialog box and uses it to display information. In this section, you'll create a music trivia macro that asks the user a simple question about a popular rock-and-roll instrument. Along the way, you'll learn the three fundamental steps of creating a Visual Basic UserForm: designing the user interface, setting properties, and writing event procedures.
NOTE

---

The process used to create UserForms is identical in Microsoft Word, Microsoft Excel, and Microsoft PowerPoint. You'll find the same toolbox controls and property settings in each application.
Designing the User Interface
A UserForm is simply a custom dialog box that you create in the Visual Basic Editor by using programmable interface objects called toolbox controls. To open a UserForm in the Visual Basic Editor, you choose the UserForm command from the Insert menu. Each UserForm appears in a separate Project window in the Visual Basic Editor, and it's also listed in the Forms folder in Project Explorer. The first UserForm is named UserForm1, and subsequent UserForms are named UserForm2, UserForm3, and so on.
Whenever a UserForm is active in the Visual Basic Editor, a palette of toolbox controls also appears in a window, which allows you to add programmable interface objects to your UserForm. (See Figure 40-1.) If you have used a drawing program such as Paint, you have many of the skills you need to use toolbox controls. To build the interface objects, you click a control in the toolbox, and then you draw the interface object by dragging with the mouse. This task is usually a simple matter of clicking to position one corner of the object and then dragging to create a rectangle that's exactly the size that you want. After you create the object— a text label, for example— you can resize it by using the selection handles, or you can relocate it by dragging. You can also resize or move the UserForm itself to create a dialog box in exactly the size and location you want.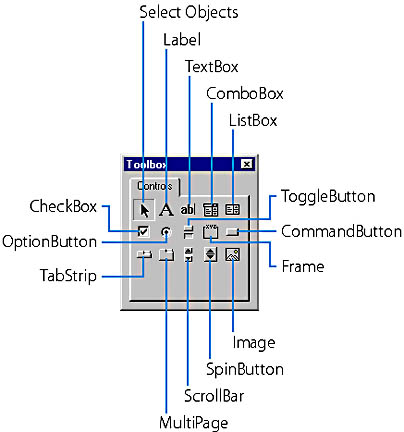 Figure 40-1. You create interface objects on your form using toolbox controls.
Buidling a Custom Dialog Box
Follow these steps to create a UserForm using the Label, Image, and CommandButton controls:
Start Microsoft Word. (If Word is already running, open a new, blank document.)

ON THE WEB

---

The MusicTrivia macro is located in the Chap61 document on the Running Office 2000 Reader's Corner page. The Guitar.bmp file (a supporting bit-mapped graphic) is also on the Reader's Corner page.