The first thing to do is navigate to the Options window. Choose Tools

Options (Window) or Firefox

Preferences (Mac) to open the Options window, as shown in Figure 16-1. The Options window is designed to be easy and straightforward. It contains six categories of settings in a horizontal bar along the top of the window. Click an icon to view its options. (Note that whichever category you're currently viewing has a highlighted background behind its icon, as the General icon does in Figure 16-1.) Firefox remembers the last category you viewed when you close the Options window and shows that category the next time you open it.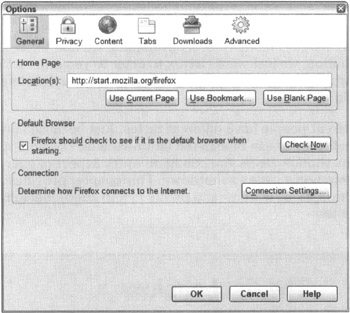 Figure 16-1: The Options window helps you configure every aspect of the browsing experience.
Each category is further divided into groups of options. For example, the General category contains three boxed groups: Home Page, Default Browser, and Connection.
You can switch freely between groups and categories and make as many changes as you need to before finalizing your decisions by clicking OK. In general, the changes you make in the Options window aren't saved until you click OK. For example, if you change your home page in General, turn off popup blocking in Content, and then click Cancel to exit the Options window, neither of those changes are saved. (Closing the Options window with the Close button in the corner is equivalent to clicking Cancel.)
However, the Options window contains a few action buttons — such as Clear Browsing History Now — that take effect immediately. Clicking Cancel doesn't undo them. I note these exceptions as they arise in the rest of this chapter.
| | | |
| --- | --- | --- |
| | REMEMBER | The Options window demands your attention. In other words, you can't access any other part of the Firefox interface while the Options window is open. However, if you have more than one Firefox window open, you can continue to browse in other windows. |
To keep the Options window simple, the developers occasionally move lesser-used settings to separate window. For example, the Colors button in the Content category opens a separate window with coloring options (see Figure 16-2). These secondary windows typically have OK and Cancel buttons. As you would expect, clicking Cancel tells Firefox to forget any changes you made to the options in the window. To save the changes, you must click OK in the secondary window and in the main Options window. I note exceptions to this rule in the rest of this chapter.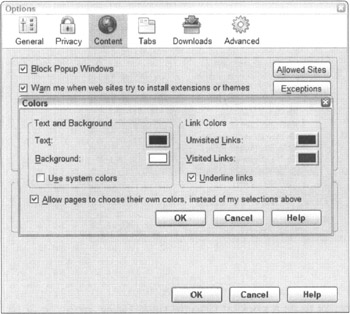 Figure 16-2: After changing these settings, you must click OK in the secondary window and the main Options window.
Also notice the Help button in the bottom-right corner. This button knows which options you're looking at when you click it. For example, if you click it while viewing the Privacy category, it displays help on the Privacy options. See Chapter 13 for details on the Firefox built-in help system.