Synchronizing Information Between Devices: iSync
Most people's lives extend beyond their home to their workplace (or vice versa). Information should be available wherever you go, on whatever device you use. To this end, Apple has created the iSync software. iSync supports dozens of mobile phones, Palm devices, your iPod, iCal, Safari, Address Book, and more. If you have a .Mac account, no matter what Macintosh you're using, your critical information is only a "sync" away.
NOTE
Although an iCal Calendar subscription might seem like the perfect way to share information between your home and work computers, you can't edit a subscribed calendar. iSync allows you to have local calendar files that are synchronized automatically between your different workstations.
Managing iSync Devices
The iSync window, shown in Figure 2.49, provides the control over what you're syncing and when you're syncing it.
Figure 2.49. Devices to sync and a big shiny button.

On the left side of the window are the devices (data sources) that have been registered with iSync, and on the right is the Sync Devices button to start the synchronization process. Clicking a device icon in the iSync window opens a pane with all available synchronization settings for that device.
Setting Up .Mac Synchronization
By default, only one item is available for synchronizing: your .Mac account. This is a special device in that it provides a holding area for multiple computers to send and then retrieve information. If you have a .Mac account, it can be used with each of your Macintosh workstations to synchronize Bookmarks and other data.
Starting with Tiger, .Mac sync setup is performed within the .Mac system preference panel, discussed in Chapter 3. You can quickly jump to the .Mac sync preferences by selecting the .mac icon in iSync, and then clicking the Open .Mac Preferences.
Adding and Removing Devices
To add other devices to iSync, first make sure that the device is connected and turned on; if you are using Bluetooth, be sure to pair your device before trying to sync (see Chapter 5 for information about connecting Bluetooth devices).
In many cases, your device will automatically be recognized by iSync. If it isn't, choose Devices, Add Device from the menu. Click Scan if nothing is initially detected. iSync scans for iPods, PDAs, and Bluetooth-paired devices within the range of your computer, as shown in Figure 2.50.
Figure 2.50. Scan for other iSync-capable devices.

Double-click the found devices to add them to the iSync window and register them with the iSync process.
Unfortunately, iSync doesn't and won't recognize all devices natively. To sync many popular handheld devices, you'll need some additional third-party software.
If you're a Palm user, you must have the iSync-Palm conduit and the Sync Manager from the Palm Desktop installed for iSync to work. The conduit is available from http://www.apple.com/isync/download/. After installing the pre-requisite components, choose Devices, Enable Palm OS syncing.
For a wider range of syncing options for everything from Palm and Pocket PC to the BlackBerry and Sony PSP, visit http://www.markspace.com/ and http://www.pocketmac.net/. If it's a popular handheld device, one of these vendors will have a sync solution.
To remove a registered device, select it in the iSync window, and then choose Devices, Remove. .Mac registered computers can remove their registrations within the Advanced settings of the .Mac system preference pane. Devices can be re-added by repeating the same steps you used to originally add them.
Setting Device Options
Choosing a registered device in the iSync window displays the synchronization options specific to that device. For example, Figure 2.51 shows the synchronization options for my iPod.
Figure 2.51. Synchronization options are unique for each device.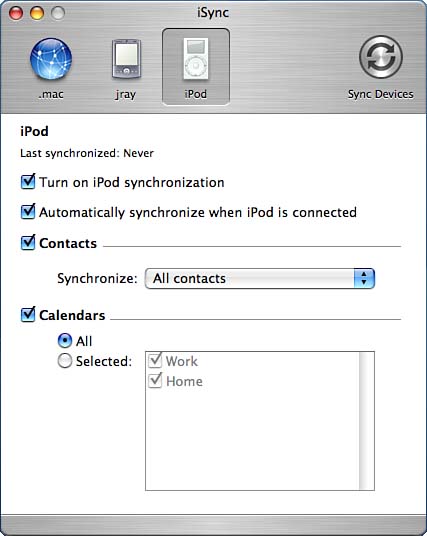 For the iPod, you can choose to automatically synchronize each time your iPod is connected as well as what contacts and calendars should be synchronized. The options for your devices are likely will vary from what you see here. It depends on the type of device you have and the features it supports.
Synchronizing
After setting the sync options for each of the devices you want to use, click the Sync Devices button, or choose Devices, Sync Devices (Command-T) from the menu. Normally the sync process is silent and requires no additional user interaction. Figure 2.52 demonstrates a typical synchronization process.
Figure 2.52. iSync gathers information from your devices and software and then synchronizes it.

In some cases, the first time a device is synchronized iSync may prompt to either merge the data on the device with your computer's sync data or replace it. Unless the device has been synchronized before, iSync has no way of knowing whether your computer or your device has the most accurate/current information, so this is its way of finding out.
After a few seconds, all your devices will have a copy of the latest calendars and contacts.
In the event that iSync determines that a significant number of changes are about to be made, it displays a confirmation message with the updates, allowing you to stop or apply the modifications. This simple safety feature can be disabled or adjusted using the Show Data Change Alert option in the application preferences.
TIP
To completely disable iSync, uncheck Enable Syncing on This Computer in the application preferences. To disable syncing of an individual device, select it in the iSync window and look for a Turn On Synchronization check box.
Adding the iSync Menu Extra
iSync will automatically run and synchronize your devices when changes are detected or a device is plugged in. You can force a sync by using the Sync Devices button, or by adding the iSync menu extra to your menu bar.
To add the iSync menu, open the application preferences and check Show Status in Menu Bar. The iSync menu (two chasing arrows) gives you an indication of your sync status as well as the option to force a sync at any time or open the .Mac sync preferences, as shown in Figure 2.53.
Figure 2.53. The iSync menu extra makes manual syncing convenient.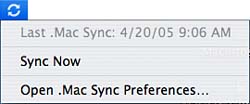 Resetting Device Synchronization States
iSync does what it can to keep your devices up to date, but things can happen. Suppose that you tried a new piece of software on your Palm that bungled up all of your event information, or your nephew managed to enter in new phone numbers for all of your contacts. In these cases, you might find yourself wanting to reset the synchronization state of the device.
When a device is reset, iSync treats it as a new device. The next time it is synced, you will be given the option of replacing all of the information on the device with your local sync database which is presumably still intact.
To reset a device, select it in the iSync window and choose Device, Reset Device from the menu. To reset all devices, choose Device, Reset All Devices.
Because your computer is also a device and could potentially be corrupted, iSync provides a method of resetting the computer sync data as well. To do this, open the application preferences and choose Reset Sync History. At the next sync, you will be given the option to merge the information stored on your devices with your computer effectively re-creating your sync information using what is stored on your devices.
Examining the iSync Log
To view a log of what iSync has done, when it was done, and the result, choose Window, Sync Log. Figure 2.54 shows the log window.
Figure 2.54. iSync logs each synchronization.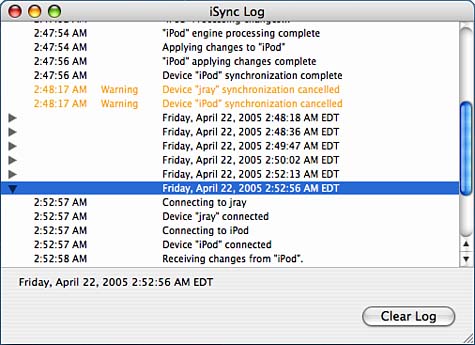 Use the disclosure arrows in front of each log line to expand or collapse details about each entry.