Chapter 17. Portfolio Management Using Portfolio Analyzer and Portfolio Modeler
IN THIS CHAPTER
Analyzing Portfolio Data in the Portfolio Analyzer

Using Portfolio Modeler to Analyze Projects

Best Practices
This chapter discusses the Portfolio Analyzer and Portfolio Modeler tools within Microsoft Project Web Access. Each of these tools provides valuable information about projects, resources, work, costs, and so forth. When you configure PWA views, your organization can use these tools for general analysis. These tools provide a starting point for the project managers, resource managers, staff managers, and others to determine conditions for each project and the resources within those projects.
NOTE
The Portfolio Analyzer and Portfolio Modeler tools can provide a lot of information, but you should consider each one part of the entire PWA suite of functions. Use all the PWA tools to gain a complete understanding of your Enterprise Project Management information.
Figure 17.1 depicts a typical view within the Portfolio Analyzer tool. Notice how Portfolio Analyzer views can display a combination of graph and pivot table information. You can learn more about the details within this chapter.
Figure 17.1. Typical Portfolio Analyzer views.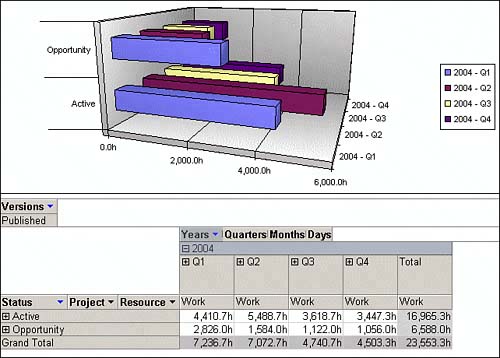 The Portfolio Modeler uses a display technique that allows you to combine information about several projects and see work load conditions for resources within those projects. Figure 17.2 shows a typical Portfolio Modeler view.
Figure 17.2. Typical Portfolio Modeler views.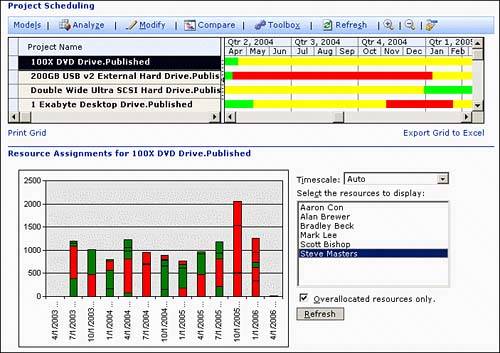 This chapter describes how to use each of these important PWA analysis tools.