Office offers a complete set of tools that integrate the Office products and the Internet. From any Office product, you can access files and Web pages on the Internet. The following sections describe how you can access the Web from Office.
To Do: View Web Pages from Within Office Programs
You don't have to start Internet Explorer to view a Web page from within an Office program. All you need to do is display the Web toolbar and type the address you want to see. While creating an Excel worksheet, for example, you might need to locate financial information from your company's Web site. Follow these steps to surf the Web from Excel:
Select View, Toolbars , Web to add a new Web-browsing toolbar to Excel. Figure 21.1 shows what the Web toolbar looks like.

Figure 21.1. Use the Web toolbar to access Internet information from any Office program.

Click the Address text box on the Web toolbar.

Enter the Web address that you want to see. (Alternatively, you can click the Favorites list on the Web toolbar to view and select the Web page that you want to view.) If you access the Internet from a modem, Excel dials your Internet service provider (ISP) to get Internet access. If you're already connected to the Internet, Excel immediately goes to the Web page.

Excel's menus and toolbars change to match that of Internet Explorer, the Microsoft Web browser, and Excel displays the Web site that you want to view. You can switch between the Web and Excel by pressing Alt+Tab. In addition, you can copy and paste information from Web pages to your Excel worksheet.
Figure 21.2 shows what you see when you view a Web page from Excel. Notice that the program doesn't look much like Excel anymore! Actually, Excel triggered the start of Internet Explorer and your Excel worksheet is still in another window that you can get to through Alt+Tab or by clicking the Excel window's button on your Windows taskbar.
Figure 21.2. You can go straight from any Office program, such as Excel, to a Web browser simply by typing a Web address in your program's Web toolbar's address text box.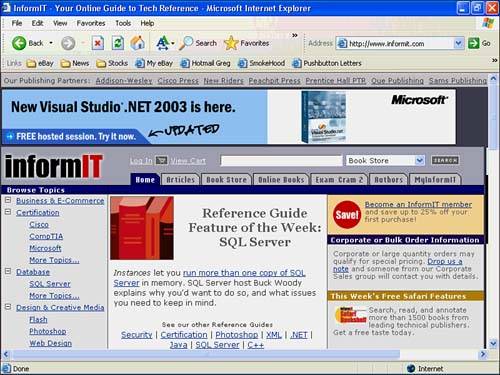 Viewing Documents in Internet Explorer
In addition to launching Internet Explorer from an Office product, you can view Office documents directly from within Internet Explorer. Whenever you are browsing the Internet, select File, Open and type the full path and filename you want to view (or click Browse to locate the path and file) from within Internet Explorer.
Internet Explorer opens and displays the file within the browser window. Not only does Internet Explorer display the file, but all Internet Explorer menus change to enable full editing capabilities for that Office document. If you open a Word document, for example, Internet Explorer menus change to Word menus; you can then insert a table or format the text as if you were using Word. If you click the Internet Explorer Tools toolbar button while viewing the Office document, the Word toolbars appear beneath the Internet Explorer toolbar so that you have full Word toolbar capabilities within Internet Explorer.
Figure 21.3 shows an Excel worksheet viewed by starting Internet Explorer from the Windows Start menu and opening the worksheet from the Internet Explorer program. When Internet Explorer senses that the file is an Excel worksheet file, Internet Explorer triggers Excel's launch (just as Excel triggers Internet Explorer when you view a Web page from within a worksheet) and the worksheet loads. As you can see, the result is the full set of Excel buttons and menus.
Figure 21.3. You can view a worksheet within Internet Explorer.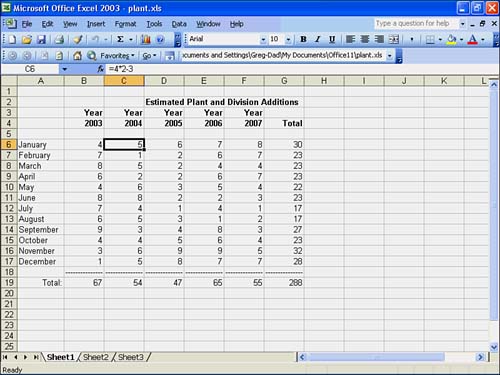 | | |
| --- | --- |
| | Being able to launch Web pages from Office programs and Office programs from Internet Explorer saves you a step over having to start the second program. In other words, if you're editing an Access database and you need to look at a Web page for some data, you don't have to first start Internet Explorer and then find the Web page. You only need to access that page from the Access Web toolbar and Access takes care of loading Internet Explorer for you, while keeping your current position inside Access. |
Excel as a Browser?
You might wonder why Excel displays browser menu options and toolbar buttons when a Web page appears, but Excel reverts back to a worksheet program when you view worksheets in Excel. What is Excel: a Web browser, a worksheet program, or both?
Remember, Excel actually does not access the Web; for that, you need a Web browser such as Internet Explorer. Nevertheless, the Web toolbar that you find in all the Office products does enable you to navigate between Office files and the Web without changing programs. Through DLLs (for Dynamic Link Libraries ) and ActiveX controls , the Office programs are able to borrow some characteristics of a Web browser as long as the browser resides on your computer.
Perhaps someday, the only program you will need is a Web browser. The browser menus and toolbars would change depending on the document with which you want to work. Internet Explorer integrates with Windows itself so that the browser becomes part of your Windows environment. The Internet is so important to computing today that companies such as Microsoft are incorporating Web technology into all products as well as operating systems.
Creating Links in Office
As you learned how to use Office programs throughout the previous hours, you learned that you can type a Web address in an Office document to create a link to that address. When you type a Web address in a PowerPoint presentation, for example, that address becomes a link to an active Web site address. If you click that address, the Office program starts Internet Explorer, logs you on to the Internet if needed, and displays the Web page located at that address.