| | |
| --- | --- |
| | The Office programs help you utilize the Internet to its fullest. Conversely, the Internet helps you keep your Office applications running smoothly as well. For example, from any Office program, you can select Help, Office on Microsoft.com to view the latest information about the topic on which you're requesting help. |
In addition, you can use the Web to download the latest updates, bug fixes, and patches to your Office programs. When you browse http://office.microsoft.com/, you will see a Web page similar to the one in Figure 21.4. (Figure 21.4 lists information about Office XP, the Office version that predates Office 2003, because no Office 2003 Web pages were publicly available at the time of this writing.) You will be able to read the latest news about Office products; see how others use Office; and download sample files, templates, and updates to your software.
Figure 21.4. Microsoft maintains a huge Office-based Web site.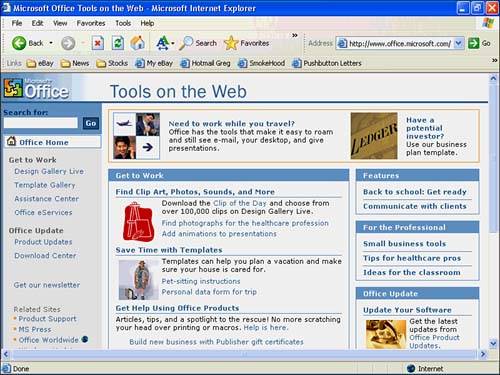 If you click on the Web page's Product Updates link, you'll be able to install an automatic update feature that instructs Office to check the Internet regularly. If updates are posted that will bring your installation up to date, the update process starts automatically so that you can keep current.
| | |
| --- | --- |
| | Notice that the Office Web site not only has news and advanced advice and help for your Office programs, but the site also provides links to clip art, photos, and sounds. If you want to add sound to the opening or closing screens of your PowerPoint presentations, for example, you can check the Office site to see whether any sound clips interest you. If so, you can download those clips and start them at the beginning or end of your presentation. The Office Web site also has numerous templates that you can use as a foundation for all kinds of special-purpose Office documents you might want to create, such as invoice worksheets, greeting card "like Web sites, and collectibles and hobby- related Access database applications. |