Templates are standard Webs or Web pages that FrontPage can build upon request. You may have used them earlier if you worked through the Word or PowerPoint chapters earlier in the book. FrontPage includes 48 different templates, and they match some of the most common ways that publishers use the World Wide Web.
The built-in templates include a personal Web, a corporate Web, customer feedback Web pages, and site search pages.
To create a new Web with a template, use the File, New, Web menu command. To create a new page, use File, New, Page instead. In either case, a dialog box will open listing the templates that are available, along with a list of wizards.
Wizards simplify a task by breaking it down into discrete steps. In FrontPage, wizards can create a Web or Web page based on the answers you provide in a series of dialog boxes.
Figure 33.1 shows a dialog box listing the templates and wizards that you can use to create a new Web.
Figure 33.1. Selecting a template for a new Web.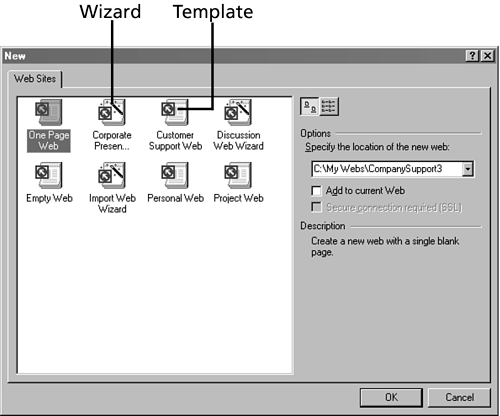 All Webs and Web pages start from templates, even if you don't want FrontPage to do any work for you. If you're creating a Web that should not contain any built-in pages, choose the Empty Web template. If you're creating an empty page, the Normal Page template should be selected.