No two search marketing situations are the same, which is why you need to assess your situation on its own merits. No matter how little search marketing you have done up to this point, you are probably drawing some amount of organic search traffic. But regardless of how much or how little traffic you are drawing, you cannot tell how well you are doing unless you take a more systematic approach. The first step in your new system is to decide exactly which pages on your site you want the search engines to show when searchers enter a query.
Identify Your Search Landing Pages
It's not enough to choose the keywords that relate to your campaign. You need to identify pages on your site that you want those queries to lead to. When a searcher enters one of those keywords, which page from your site do you want shown in the search results?
COMING IN FOR A LANDING
At first, banner advertisers did not understand the importance of landing pages, but they do now. Let's look at an example to illustrate why.
If a digital photography site's banner ad offers "30% Off a SnapShot X5," that ad could simply be linked to the existing page on Snap's site for that model. When the ad is clicked, visitors would go to the regular SnapShot X5 product details page with "SnapShot X5" at the top of the page. They would see the detailed list of features and a picture of the X5. At the bottom of the page, they would see a small notice that says "Now 30% Off" next to the Add to Cart button. As we said, Snap could link its banner ad to this page, but if it does, that will not maximize sales.
Why? Because the product details page does not reinforce the offer in the banner ad. A better approach is to use a landing page that repeats the offer for this specific banner ad. When visitors click through from the ad, the banner landing page amplifies the offerit says "30% Off SnapShot X5" in big letters at the top of the page, and it shows a picture of the X5 with its key features. At the bottom of the landing page, it provides buttons that let visitors go to the existing X5 product details page for more information or to add the X5 to their carts.
You will sell more when you employ landing pages, because you have reinforced what the visitors are trying to do. They clicked the ad because it said "30% Off SnapShot X5," so when the landing page emphasizes that they are "in the right place" after they click, they are much more likely to continue reading about the offer. If the ad sends them to the product details page instead, they might be disconcerted as to whether they are in the right place and might not be sure they are getting the discount. If it takes time to figure out they are in the right place, many visitors will not take that time and will not take that offer.
To answer that question, it is useful to understand the concept of a landing page. Originating in banner advertising, the landing page is the place on your Web site visitors will go when they click a particular banner ad. Search landing pages are similar to banner landing pagesthey are designed to reinforce the searcher's intent. Search landing pages emphasize the keywords the searchers entered to get there, so that visitors to your site from search engines will know they are in the right place and begin to make their way through your site. One difference between search landing pages and banner landing pages is their longevity. Because banner ads are often tied to time-sensitive promotions and discounts, marketers frequently design a new landing page for each banner ad, because no appropriate page already exists. Marketers throw away these special landing pages at the end of the campaign. Searchers, on the other hand, use much the same queries month after month, so it is less important to design new search landing pagesmany sites have perfectly appropriate existing pages that reinforce the searcher's intent.
You must identify good search landing pages for each keyword that you pickedpages that reinforce the keywords they are searching for. Let's go back to our example and see how to identify search landing pages for Snap Electronics.
As we look over our list of keywords, we see that several of them might share the same search landing pages. The queries "digital camera," "snap digital camera," and "snapshot digitalcamera" might all lead to the same place, perhaps the product category page that lists every model of digital camera that Snap sells. You can see this product category page in Figure 7-2.
Figure 7-2. SnapShot product category page. Informational searchers looking for "digital camera" want to land on an overview page.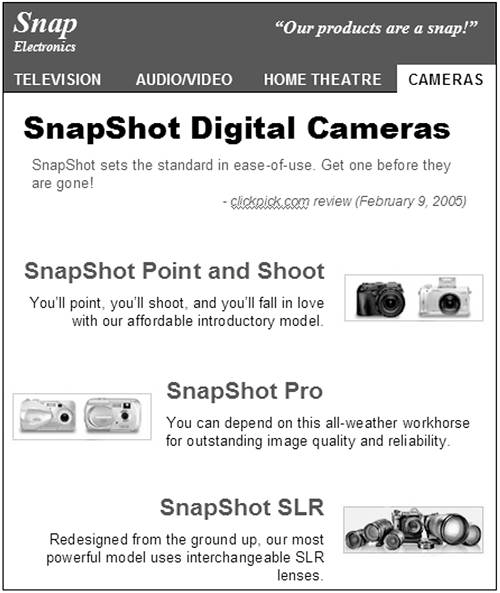 Just as we saw that several queries above can share the same product category page as their search landing page, the keywords "digital camera comparison" and "compare digital camera" should also share a common landing page (because both are seeking the same information). But Snap's site does not have any page that compares cameras against each other. We could try to use the same product category page used above, but that seems unwise because it contains mostly fuzzy marketing speakthese information seekers want detailed specifications and features. Snap must create a new search landing page to handle these comparison searches.
Our attention turns to "digital camera review." Snap has a page titled "News and Awards" that lists several links to digital photography sites with positive reviews and awards for SnapShot cameras. That looks like a good choice for that keyword.
That leaves the query for "best digital camera." It is hard to know exactly what these searchers are looking for, because what makes something the "best" is subjective. After a little thinking, we decide to target the most expensive SnapShot model in the product line, the SnapShot SLR X900.
Summing up our analysis, we chose existing pages to serve as our search landing pages for most of the queries, but the two "comparison" keywords require a single new landing page to be created for them. Table 7-3 shows the complete list.
Table 7-3. Snap Electronics Landing Pages (You must choose an appropriate search landing page for each targeted keyword in your listSnap's are shown here.)

| Keyword Phrase | Landing Page URL |
| --- | --- |
| digital camera | www.snapelectronics.com/stores/Cat?cat=6&lang=1&cntry=840 |
| snap digital camera | www.snapelectronics.com/stores/Cat?cat=6&lang=1&cntry=840 |
| snapshot digital camera | www.snapelectronics.com/stores/Cat?cat=6&lang=1&cntry=840 |
| digital camera review | www.snapelectronics.com/cameras/news |
| best digital camera | www.snapelectronics.com/stores/Prd?prd=9&lang=1&cntry=840 |
| digital camera comparison | New search landing page needed |
| compare digital camera | New search landing page needed |
See If Your Existing Landing Pages Are Indexed
Now that you have identified the best pages on your site for searchers to find for each of your targeted keywords, it is time to check whether those pages are indexed by the search engines. Certainly, if they are not indexed, they cannot be returned by the search engines for those or any other queries.
We decided earlier that the "comparison" keywords required that Snap create a new search landing page for them, so inevitably that page is not already indexed. Snap will have to ensure this page gets indexed when it is created. But let's check out Snap's existing pages to see where they stand.
Every search engine has a special inclusion operator you can use to see whether a URL is included in its index. For Google, you search for "allinurl:" in front of the URL (such as "allinurl:www.snapelectronics.com/cameras/news") and Google will return the page in its result list if it is indexed, or no results if it is not. Table 7-4 shows the special search query to use for each of the major search engines to see whether your page is indexedsome are fussy about whether you enter the http:// prefix to the URL or not, so follow the syntax shown in the table. (Sometimes the syntax changes, so check the Help page for each search engine if you have any trouble.)
Table 7-4. Special Operators to Check Inclusion (You use special search queries for each search engine to check to see whether your page is included in its index.)

| Search Engine | Special Inclusion Operator |
| --- | --- |
| AOL Search | allinurl:www.snapelectronics.com/cameras/news |
| Ask Jeeves | url:http://www.snapelectronics.com/cameras/news |
| Google | allinurl:www.snapelectronics.com/cameras/news |
| MSN Search | url:http://www.snapelectronics.com/cameras/news |
| Yahoo! | url:http://www.snapelectronics.com/cameras/news |
It takes some time, but you can check each of your URLs in each search engine. Table 7-5 shows the results for Snap. For space reasons, we have eliminated the leading "www.snapelectronics.com" from the URLs in the table.
Table 7-5. Snap Electronics Inclusion Check (Each search engine indexes some of the pages from your site [indicated by "Yes"], but not others.)

| Target URL www.snapelectronics.com... | AOL Search | Ask Jeeves | Google | MSN Search | Yahoo! |
| --- | --- | --- | --- | --- | --- |
| /Cat?cat=6&lang=1&cntry=840 | Yes | No | Yes | No | No |
| /cameras/news | Yes | Yes | Yes | Yes | Yes |
| /Prd?prd=9&lang=1&cntry=840 | No | No | No | No | No |
| New page needed | | | | | |
| | |
| --- | --- |
| | The inclusion check for Snap yields some disconcerting results. We already knew that Snap needed to create one new page and get it included, but now we see that two of Snap's other pages are also problemsonly the "News and Awards" page is indexed by every search engine. We do not have any insight into why these pages are not indexedwe will have to wait until Chapter 10, "Get Your Site Indexed," for thatbut at least we know that there is some work to do. That is a critical part of our assessment. Some sites have difficult (and expensive) technical problems that prevent spiders from indexing their pages. Because there are only four pages that we have identified, the worst-case scenario is that we need to create a few new pages on the site that search spiders can find to replace the existing pages that they are not indexing. In later chapters, we will see that you never create special pages for your site for the sole purpose of ranking well in search (that is an unethical spamming technique), but you should replace pages that cannot be crawled with those that can. |
Harkening back to the question of whether the digital camera area of Snap's Web site is a simple enough choice for our first campaign, it appears to be. Some of the critical pages are indexed already, and we have identified other pages that we might get indexed. If we fail to get them indexed, we could create a few new pages to compensate. Overall, it seems to be a simple proposition, so finalize the choice for Snap's first marketing campaignit is the SnapShot digital camera.
Check the Search Rankings for Your Landing Pages
Now that you know which pages are in and out of which search indexes, it is time to see whether those that are included are ranking in the top ten, and if not, where they are.
There are two ways to check search rankings. You probably thought of the first way: entering the queries by hand and scrolling through the search results until you see your page. You can do it that way, but checking multiple queries in several search engines can get old fast. So, you might want to try the other way of checking rankingsusing an automated tool.
Usually tools cost money, however, and you might not have any money to spend. In Chapter 15, we take a look at several fee-based rank checkers, but here we introduce the best free tool, shown in Figure 7-3, Keyword Tracker from Digital Point Solutions (www.digitalpoint.com/tools/keywords). Keyword Tracker checks rankings only in Google, Yahoo! Search, and MSN Search, whereas fee-based checkers handle many different search engines, but it can still save you some time.
Figure 7-3. Search ranking checker. Keyword Tracker shows where your site's pages rank in Google for your targeted keywords.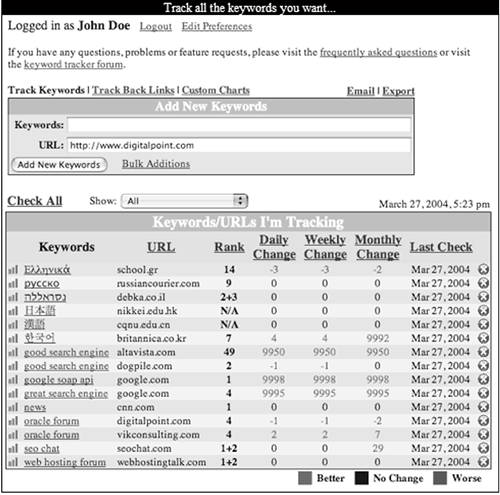 Whether you do it by hand or use a rank-checking tool, the basics are the same. You record the organic search rank (paid does not count) of your site's page for the targeted search query. You start counting from the #1 organic result on the first pagethat is the top result on page one (which may be underneath paid results in some search engines. For search engines that show ten results on a page, the last result on page one is obviously #10, with the first one on the second page #11, and so on from there.
Of course, the higher the rank, the better, but you might not realize just how critical it is to rank in the top ten. Consider, however, that 87 percent of all searchers click a result on the first page. Not many searchers are getting to result #11. Of those searchers who do click the first page, 60 percent of them are clicking organic results, so appearing in the top ten of organic results is clearly the place to be. Of course, searchers do not split their clicks evenly among the top ten, so the higher up in the list you are, the more visitors you will get. Table 7-6 shows the results that Snap Electronics found for its targeted keywords.
Table 7-6. Snap Electronics Ranking Check (Some queries return your pages at the same rank in different search engines, but others do not.)

| Keyword Phrase | AOL Search | Ask Jeeves | Google | MSN Search | Yahoo! |
| --- | --- | --- | --- | --- | --- |
| digital camera | 45 | | 45 | | |
| snap digital camera | 3[*] | 2[*] | 3[*] | 4[*] | 2[*] |
| snapshot digital camera | 3[*] | 1[*] | 3[*] | 1[*] | 1[*] |
| digital camera review | | 44 | | 34 | 31 |
| best digital camera | | 17[*] | | 47[*] | 22[*] |
| digital camera comparison | | | | | |
| compare digital camera | | | | | |
[*] Page found from snapelectronics.com site, but not the targeted landing page.
One interesting thing to note in this table is that AOL Search and Google have the same rankings, because AOL uses Google's technology. Looking further into the rankings, we see that although the landing page for "digital camera review" was indexed in all the search engines, it was not found in the Top 100 in Google (or in its clone, AOL Search). Conversely, the target pages for other queries were not indexed, but pages from the Snap Electronics site were returned for the queryjust not the pages that were targeted.
For "snap digital camera" and "snapshot digital camera," the Snap home page was returned. It is not the page that was targeted, but it is better than being missing completely. Similarly, the page that was returned by Ask Jeeves, MSN Search, and Yahoo! for "best digital camera" is a interesting one. Titled "The SnapShot Difference," it explains why SnapShot cameras are better than all otherswhat technology is included and why SnapShots are so easy to use. This page seems better to target than the most-expensive camera's product detail page.
The bad news, however, is the dismal rankings of most of these pages. Unless searchers explicitly specify Snap's company's name or product's name, they are not going to find snapelectronics.com with these keywords. We do not yet know why Snap's pages are ranking so poorly, but we explore those reasons in later chapters of this book.
Check Your Competitors' Search Rankings
If Snap is not getting the top spot, who is? It's easy to take a look and see. Figure 7-4 shows the results for "digital cameras" in Google. You can see that the first page lists retailers and review sites rather than camera manufacturers such as Snap.
Figure 7-4. Google results for the "digital cameras" keyword. A broad keyword such as "digital cameras" returns many sites besides the camera manufacturers.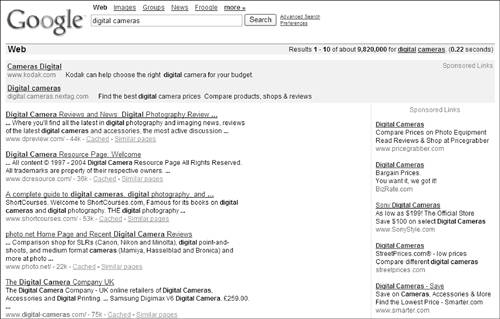 One look at the Google results for "digital cameras" tells you that this will be a difficult keyword to get high rankings fornone of Snap's competitors are on the first page, either. But where are Snap's competitors? Studying the Google results for a few of the targeted queries can result in a competitor-ranking matrix, as shown in Table 7-7. You can see where each competitor's Web site ranks for each query. For example, the first page from snapelectronics.com returned by Google for the "digital camera" keyword is result #45, whereas Kodak has a page from its site ranked #12.
Table 7-7. Snap Electronics Competitor-Rankings Matrix (Major digital camera manufacturers have wide variation in Google rankings for the primary keywords.)

| Keyword Phrase | Snap | Kodak | Canon | Sony | Olympus | Nikon |
| --- | --- | --- | --- | --- | --- | --- |
| digital camera | 45 | 12 | 15 | 21 | 42 | 46 |
| snapshot digital camera | 3 | | | | | |
| snap digital camera | 3 | | | | | |
| digital camera reviews | | | 10 | 6 | 22 | 19 |
| best digital cameras | | | | | | |
| digital camera comparison | | | 8 | 9 | 58 | 24 |
It is instructive to examine the results for the "digital camera" keyword. None of the manufacturers have even a top ten ranking, as we saw earlier. But is this the most important query for Snap to target if they want to attract potential camera buyers? Maybe not. Some searchers for "digital cameras" need help using cameras and are not looking to buy them. That means that searchers for "digital cameras" are not as highly qualified as those using some of the other keywords in the list.
Looking beyond the "digital camera" query, we find that the other keywords are more hospitable to manufacturers and suggest more qualified buyers. Focusing first on the searchers for Snap's own SnapShot brand ("snapshot digital camera"), we can conclude that they already desire the brand and are far more likely to buy from Snap. We also see that Snap already has a #3 ranking, so perhaps part of Snap's campaign should focus on moving up to #1.
When we look at the remaining keywords, we notice that, although only Sony has a top ten ranking, the rankings for the manufacturers look healthy. Despite this, Snap is missing in action for all but its own SnapShot brand name. Clearly, this competitor matrix is pointing the way to a search strategy of emphasizing those keywords favored by more qualified searchers.
The matrix has another value, too. When it is time to persuade other people in your organization to invest in or work on search marketing, showing your competitors' rankings usually gets the competitive juices flowing. When you appeal to people's competitiveness, they will want to win. Remember, too, every page that you get into the top ten pushes your competition down furtheryou are helping yourself while denying them exposure at the same time.
See What Traffic You Are Getting
All the rankings in the world don't mean much if searchers don't click through to your site. So although we know there is a strong correlation between high search rankings and high search traffic, we need to track that traffic to accurately measure the business impact of search marketingtracking rankings is not enough.
So the next step is to check the traffic that Snap is getting for each keyword. As you saw in Chapter 6, "Measure Your Web Site's Success," Web metrics software can track page views, visits, and visitors, but they can also count which of those visitors came to your site from search engines. Metrics facilities determine where each visitor comes from by examining the referrer for each page view. The referrer is the actual URL of the Web page that the visitor viewed before coming to your page.
Clearly, referrers can be used to see which visitors followed links to your page from other pages within your site or from pages on other sites. But metrics facilities provide special support for search referralsreferrals that come from a URL known to be a search engine (such as www.yahoo.com). Your metrics software comes with a list of the popular search engine URLs, and you can add any that are missing. This list is used to generate a report showing how many page views were referred from search engines.
But search referrals have even more information buried inside those URLs that you will come to rely on. Each search referral tells you more than what search engine it is from (www.yahoo.com). Metrics facilities also dissect these URLs to actually show you the search query that the visitor used to find you! Table 7-8 shows a few examples from Google, Ask Jeeves, and Yahoo!, respectively.
Table 7-8. Search Queries Hidden in Search Referrals (You can see the actual search query used by any search visitor who comes to your Web site.)
http://www.google.com/search?sourceid=navclient&ie=UTF-8&oe=UTF-8&q=digital+camera
http://web.ask.com/web?q=digital+camera&o=0&qsrc=0
http://search.yahoo.com/search?p=digital+camera&ei=UTF-8&fr=fp-tab-web-t&cop=mss
Metrics facilities carefully accumulate these search referrals so that they can show how many visits your site received, or a page on your site (or even a set of pages) received from a particular search engine. They can also show how many visitors used specific search queries. Or how many used a specific query from a specific engine.
For example, Snap might want to know how many visitors they get to the Snap home page from Google, Ask Jeeves, and Yahoo! (which the metrics facility adds up from the referrals shown in Table 7-9). But Snap can also find out how many people reached that page using the "digital camera" query, regardless of which search engine they used, by analyzing the same referrals.
Table 7-9. Snap Electronics Visitors from Search Engines (Your metrics facility can add up your search referrals across all search engines for each targeted query.)

| Keyword Phrase | Search Referrals |
| --- | --- |
| digital camera | 1,412 |
| snapshot digital camera | 5,278 |
| snap digital camera | 4,044 |
| digital camera reviews | 0 |
| compare digital cameras | 0 |
| best digital cameras | 0 |
| digital camera comparison | 0 |
| Total Search Referrals | 10,734 |
Snap Electronics does not have any paid search campaigns underway for digital cameras, but as you tabulate current search referrals for your own site, be aware of any paid activity. If you are using paid search, you need to assess that, too, because it affects your referral numbers, but we do not cover that until Chapter 14, "Optimize Your Paid Search Program."
Assessing your site is a critical step, but knowing where you stand is just the beginning. Let's see where you can go from here.