#14. Synchronizing Color Management Settings
One of the helpful management features in Bridge is its ability to synchronize your color management settings across the suite. Now you can rest easy knowing that your color settings are consistent in all your work.
Note
This feature doesn't guarantee perfect color managementthat subject could fill an entire book. It only guarantees that the color settings will be consistently selected in each CS2 application without you having to manually verify them.
Bridge can automatically synchronize the color settings selected in each application. If the color settings are not synchronized or somehow get out of sync, a warning message appears in any of the applications' Color Settings dialogs. Choose Edit > Color Settings in any of the applications to see whether or not there is an Unsynchronized warning at the top of the dialog (Figure 14a). If a warning appears, do the following to remedy the situation:
Figure 14a. If you see this warning in a Color Settings dialog, go to Bridge to fix the problem.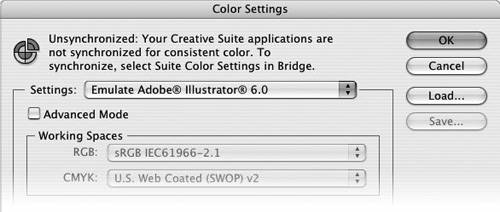 1.

Go to Bridge and choose Edit > Creative Suite Color Settings (Figure 14b).



Figure 14b. Bridge ensures that your color settings are synchronized across the CS2 applications so you don't have to.




2.

Select a color setting from the list that best matches your working space. Read through each setting's description to get a better sense of which color setting best suits the media in which you mostly work. Those working with video should select Monitor Color, whereas Web designers would most likely select North America/Web Internet. Print designers should select either North America General Purpose 2 or North America Prepress 2.

If you don't see the color setting you're used to working with, select Show Expanded List of Color Setting Files.



3.

Once you've selected a color setting you think best describes your type of work, click Apply. Bridge then synchronizes all the Creative Suite applications with this setting.


Sharing Swatches Between Applications
Adobe created a universal swatch format in CS2. This means you can now share color swatches between applications. The colors will appear identical provided your color settings are synchronized. To share a swatch between applications, select Save Swatches For Exchange from the Swatches palette menu and choose a location to save the swatch to. Switch to another application and load the swatch from the Swatch palette menu as you normally would.