Dialing Report
A call center term . A report that summarizes the results of all numbers dialed for one or more telemarketing campaigns over a specified period of time.
Dialog Box
A dialog box is a temporary window which prompts you to input information or make selections necessary for a task to continue. If you leave it open , the program or another allied one may not continue and will keep prompting you to close the Dialog Box. Microsoft also calls a Dialog Box a "Child Window."
Dialup Line
A nondedicated communication line in which a connection is established by dialing the destination code and then broken when the call is complete.
Dialup Switch
An Internet Access Term. Category of switching equipment designed to manage the dialup connections between the PSTN and either the Internet or a corporate LAN internetwork, providing security, accounting, and service management capabilities.
Diameter Mismatch Loss
The loss of signal power at a joint that occurs when the transmitting fiber has a diameter greater than the diameter of the receiving fiber. The loss occurs when coupling light from a source to fiber, from fiber to fiber, or from fiber to detector.
Diaper Change
One of several daily visits by a tech-support person to the desk of a particularly cranky, lazy, or technically incompetent user . "Sorry I was late, but I had to do a diaper change down in accounting." Definition courtesy Wireless Magazine.
Diaphragm
The thin flexible sheet which vibrates in response to sound waves (as in a microphone) or in response to electrical signals (as in the speaker or the receiver of a telephone handset).
Dibit
A group of two bits which can be represented by a single change of modulation of the carrier signal. On phase modulation, one of four phases in four-phase modulation is used to represent 00, 01, 10 or 11. See DPSK.
Dichroic Filter
An optical filter designed to transmit light selectively according to wavelength (most often, a high-pass or low-pass filter).
Dichroic Mirror
A mirror designed to reflect light selectively according to wavelength.
Dictation Access and Control
A telephone system feature which allows a user to dial a dictation machine and use that machine (giving it instructions by push button) as if it were in his office. Typically, the material on that dictation machine is taken off by one or several typists of a centralized pool and word processed into letters , reports , legal briefs, etc. Telephone suppliers usually don't supply the dictation equipment. Newer telephone dictation machinery is, in reality, a specialized application of voice processing equipment. See Voice Processing.
Dictation Tank
A recording gadget which receives messages dictated through the telephone system. This tank contains tape which can then be transcribed into letters or documents. See Dictation Access and Control.
Dictionary Attack
The bad guy is trying to figure out a password to your network. So they organize their computers to throw millions of possible passwords at your system, one word after another after another. This is called a dictionary attack. The simple solution to such an attack is to configure your network so that it takes three attempts at typing in the correct password and then hangs up on the caller. Dictionary attacks can also be used to send milions of spam mails . For example, a spammer sets up software to email as follows :
a@mydomain.com
aa@mydomain.com
aaa@mydoman.com
...infinite emails follow...
zzzzzzzzz@mydomain.com
Sometimes, they make it ' intelligent ' and use all first names (i.e. chris@mydomain.com), combinations of firstnames and lastnames, first initials + last- names, first names + last initials (i.e. chrish@mydomain.com).
These dictionary attacks really works ISP mail servers to death. As one friend wrote me, "We get these 'bad' addresses and have to send out a 'bounced email' rejection . They (the SPAMers) use that to clean up or build their lists. There's just about NO WAY to stop it without false rejections of actual email." See also SPAM.
Dictionary Method
A group of advanced compression methods that significantly reduce the number of bits transmitted across a circuit or network. There are several basic approaches. One approach looks at the input data (e.g., a sequence of characters ) to see if it has been sent previously. If so, the output is in the form of a small pointer, pointing to the previously sent data, rather than the data itself. All methods which fall into this first approach are based on the LZ77 approach developed in 1977 by Abraham Lempel and Jakob Ziv. LZ77 was refined in the LZSS algorithm developed in 1982 by Storer and Szymanski. See also LZ77, LZSS, LZ78, LZJH, and LZW.
DID
Direct Inward Dialing. You can dial inside a company directly without going through the attendant. This feature used to be an exclusive feature of Centrex but it can now be provided by virtually all modern PBXs and some modern hybrids, but you must connect via specially configured DID lines from your local central office. A DID (Direct Inward Dial) trunk is a trunk from the central office which passes the last two to four digits of the Listed Directory Number to the PBX or hybrid phone system, and the digits may then be used verbatim or modified by phone system programming to be the equivalent of an internal extension. Therefore, an external caller may reach an internal extension by dialing a 7-digit central office number. Notice: DID is different from a DIL (Direct-In-Line) where a standard, both-way central office trunk is programmed to always ring a specific extension or hunt group. Traditionally, DID lines could not be used for outdial operation, since there was no dialtone offered . More recently, the individual channels in a T-1 trunk can be defined in terms of their directional nature, with some being defined as DID, some as DOD (Direct Outward Dialing), and some as combination (both incoming and outgoing). See also Combination Trunk, Direct Inward System Access, and DOD.
DID director
A standalone box which interprets DID (Direct Inward Dialing) data from trunks and routes incoming calls to the appropriate fax mailboxes on your fax server. The boxes strip DID, read it, then tell the server who the fax is for by sending out DTMF. In a real fax, this means the answering fax sends its capabilities in HDLC (High-Level Data-Link Control)-encoded data frames : a Digital Identification Signal (DIS) frame spouts off the standard feature set (defined by the TSS, or ITU the fax has. An NSF (Non-Standard Facilities) frame about what vendor-specific features the fax has comes next ; a CSI (Called Subscriber Identification) frame gives the calling fax's telephone number. The sending fax responds with its Digital Command Signal (DCS) frames, informing the answering fax of modem speed, image width, image encoding and page length. The sender's phone number then comes across in a Transmitter Subscriber Information (TSI) frame, as well as a response to the answering fax's non-standard facilities frame.
Die
The silicon block onto which circuits have been etched.

A small cube marked on each face with from one to six spots, used in games . In 18th century English gambling dens, there was an employee whose only job was to swallow the dice if there was a police raid.
DIEL
Advisory committee on telecommunications for DIsabled and Elderly People (UK).
Dielectric
Not a conductor of DIrect ELECTRICal current. A non-conducting or insulating substance which resists passage of electric current, allowing electrostatic induction to act across it, as in the insulating medium between the plates of a condenser. Also an insulating material otherwise used (e.g. a Bakelite panel, or the cambric covering of a wire is a dielectric material). As glass is dielectric, and therefore immune to EMI (ElectroMagnetic Interference) and RFI (Radio Frequency Interference), optical fiber transmission systems offer virtually perfect error performance. See also Semiconductor.
Dielectric Absorption
The penetration of a dielectric by the electric strain during a period of time.
Dielectric Breakdown
Any change in the properties of a dielectric that causes it to be come conductive; normally a catastrophic failure of an insulation because of excessive voltage.
Dielectric Cable
A nonconducting cable, such as a fiber cable, without metallic members . See Dielectric.
Dielectric Constant
Represented by the symbol "K," the dielectric constant is the ratio of the capacity of a condenser with a given dielectric between the conductors (e.g., insulation between twisted pairs, or between the center conductor and the outer shield of a coaxial cable) to the capacity of the same condenser with air as the dielectric. Also known as Permitivity and Specific Inductive Capacity.
Dielectric Heating
The heating of an insulating material when placed in a radio- frequency field, caused during the rapid polarization reversal of molecules in the material.
Dielectric Lens
A lens made of dielectric material that refracts radio waves in the same manner that an optical lens refracts light waves.
Dielectric Process
A printing process that uses a specially treated, charge-sensitive paper. Paper is roller -fed past an electrode array where an electrical charge is applied line-by-line to form a latent image, then passed through a toner. The toner adheres to the charged image and heat fuses the toner to the paper to create the printed document.
Dielectric Sheath Or Cable
A sheath or cable that contains no electrically conducting materials such as metals. Dielectric cables are sometimes used in areas subject to high lightning or electro-magnetic interference. Synonym for nonmetallic cable.
Dielectric Strength
The property of material which resists the passage of an electric current. It is measured in terms of voltage required to break down this resistance (such as volts per mil).
Dielectric Test
A test in which a voltage higher than the rated voltage is applied for a specified time to determine the adequacy of the insulation under normal conditions.
Differential Encoding
Digital encoding technique whereby a binary value is denoted by a signal change rather than a particular signal level.
Differential Gain
A type of distortion in a video signal that causes the brightness information to be distorted .
Differential Manchester Encoding
A digital signaling technique in which there is a transition in the middle of each bit time to provide clocking. The encoding of a zero or one is represented by the presence (absence) of a transition at the beginning of the bit period.
Differential Mode
For AC power systems, the term differential mode may refer to either noise or surge voltage disturbances. The terms normal mode and differential mode are interchangeable. Differential mode disturbances are those that occur between the power hot (black wire) and the neutral conductor (white wire). Most differential mode disturbances result from load switching within a building, with motor type loads being the biggest contributor . Surge voltages that come from outside of the building, such as surges caused by lightning, enter the building on the hot (black) wire and are therefore primarily differential mode in nature since the neutral (white) wire is nominally at ground voltage. Surge suppressors sometimes divert differential mode noise and surges into the neutral wire, resulting in voltages on the neutral wire called common modem noise or surge voltages. This definition courtesy APC.
Differential Mode Transmission
A transmission scheme where voltages appear equal in magnitude and opposite in phase across a twisted-pair with respect to ground. May also be referred to as balanced mode.
Differential Mode Delay
See DMD.
Differential Mode Termination
A type of cable termination where a pair of wires is terminated by a resistance matching the cable impedance, but there is no termination resistance between that pair and any adjacent pairs. For low-frequency signals this is often acceptable, but for a high-frequency environment (whether due to high-speed network protocols, or due to transmission towers nearby), this allows large voltages to exist between one pair and an adjacent pair.
Differential Phase
A type of distortion in a video signal that causes the color information to be distorted.
Differential Phase Shift Keying
DPSK. Also called dibit phase shift keying. A modulation technique used to improve the efficiency with which the naturally analog electromagnetic waveform is employed to carry digital bits in a digital bitstream. DPSK is a form of " coherent demodulation," in which the phase of the incoming signal is compared to a replica of the carrier waveform. The carrier waveform (the carrier frequency "carries" the data, and the waveform is characteristic of all electromagnetic energy), is used as a reference point. With DPSK, the carrier waveform reference point serves to record changes in the binary data code. In other words, a "1" in the PSK (Phase Shift Keying) signal is denoted by no change in the DPSK signal, and a "0" is denoted by a change in the DPSK signal. DPSK works much better than PSK because so many things can foul up the "absolute" value of a signal sent over an Unshielded Twisted Pair (UTP) cable pair or over a microwave radio channel. ElectroMagnetic Interference (EMI) of all sorts can cause the "absolute" value of an originating signal to be "questionable" on the receiving end. Assuming some reasonable level of consistency in the impact of such factors from transmitter to receiver, it helps a lot to have a reference point. DPSK does that. See also Amplitude Modulation, Frequency Modulation, and Phase Shift Keying.
Differential Positioning
Precise measurements of the relative positions of two receivers tracking the same GPS (Global Positioning System) signals.
Differential Pulse Code Modulation
See DPCM.
Differentiated Services
Diffserve, or DiffServe. A set of technologies proposed by the IETF (Internet Engineering Task Force) which would allow Internet and other IP- based network service providers to offer differentiated levels of service to individual customers and their information streams. On the basis of a DiffServe CodePoint (DSCP) marker in the header of each IP (Internet Protocol) packet, the network routers would apply differentiated grades of service to various packet streams, forwarding them according to different Per-Hop Behaviors (PHBs). In other words, for an additional charge, DiffServe would allow service providers to provide a certain user with a preferential Grade of Service (GoS) for all packet traffic with appropriate indicators in the packet headers. The preferential GoS, which can only be attempted and not guaranteed , would include a lower level of packet latency (delay), as those packets would advance to the head of a packet queue in a buffer should the network suffer congestion. RSVP (Resource ReserVation Protocol), a developing protocol, is an element of DiffServe. See also GoS, IETF, IP, Router, and RSVP.
Diffie-Hellman Key
A technique of changing encryption techniques on the fly. In a landmark 1976 paper, called New Directions in Cryptograph, IEEE Transactions on Information Theory, W. Diffie and M. Hellman describe a method by which a secret key can be exchanged using messages that do not need to be kept secret. This type of "public" key management provides a significant cost advantage by eliminating the need for a courier service. In addition, security can be considerably enhanced by permitting more frequent key changes and eliminating the need for any individual to have access to the key's actual value.
Diffraction
The deviation of a wavefront from the path predicted by geometric optics when a wavefront is restricted by an opening or an edge. In other words, light (and other electromagnetic waveforms) bend as they pass through a narrow aperture (i.e., opening or slit). The extent to which they bend is sensitive to the wavelength of the signal. See also Index of Refraction and Refraction.
Diffraction Grating
An array of fine, parallel, equally spaced reflecting or transmitting lines that mutually enhance the effects of diffraction at the edges of each so as to concentrate the diffracted light very close to a few directions depending on the spacing of the lines and the wavelength of the diffracted light. In other words, a diffraction grating uses to its advantage the interference of waves caused by the phenomenon of diffraction to separate wavelengths of light in an angular (i.e., directional) fashion. If you think this was fun, check out Index of Refraction. See also Interference.
Diffuse
The phenomenon when the molecules of two material in contact mix.
DiffServe
See Differentiated Services.
Digerati
The elite of the Internet and the digital age. See Digiterati.
Digest
A collection of Internet mailing list posts collected together and sent out as a single large message rather than as a number of smaller messages. Using a digest is a good way to cut down on the number of noncritical e-mail messages you receive.
Digicash
A name for electronic money transmitted in and around the Internet.
Digifeiter
A made-up words that means a counterfeiter who uses digital technology to create forged money or documents.
Digigroup
24 channels. See Digroup.
Digirepeater
Digital Repeater.
Digiscents
Sell Smell-O-Vision.
Digit
Any whole number from 0 to 9.
Digit Deletion
It's nice to make it easy for people to dial their desired numbers. Part of making it "nice" is to keep their pattern of dialing consistent. The charm of our ten- digit numbering system in North America " the three digit area code and seven digit local number " is its consistency, making for easy use and easy remembering. Some corporate networks, however, don't use a common numbering scheme. They might use tie trunks to get to Chicago, and insist on the user dialing 69, instead of the more common 312 area code. They might insist on the user dialing 73 when he wants to go to Los Angeles. But if he wants to reach the LA office, he might dial 235. This can be awfully confusing. So some switches " central office and PBX " have the ability to insert or delete digits. That is, they will recognize the number dialed and change it as it progresses through the network. The user, however, knows nothing of this. He simply dials a normal phone number and listens as his call progresses normally. Digit insertion and digit deletion are components of a PBX feature called common number dialing.
Digit Grabber
A digit grabber is a hand held piece of equipment manufactured by numerous companies. It is used is to identify or "grab" the incoming digits. It will read to see if the digit came in with a good solid hit and what the digit is. It has two leads on it that are connected directly to the tip and ring of a connecting block.
Digit Insertion
See Digit Deletion.
Digital
In displays, the use of digits for direct readout.

In telecommunications, in recording or in computing, digital is the use of a binary code to represent information. See PCM (as in Pulse Code Modulation.) Analog signals " like voice or music " are encoded digitally by sampling the voice or music analog signal many times a second and assigning a number to each sample. Recording or transmitting information digitally has two major benefits. First, the signal can be reproduced precisely. In a long telecommunications transmission circuit, the signal will progressively lose its strength and progressively pick up distortions, static and other electrical interference "noises."

In analog transmission, the signal, along with all the garbage it picked up, is simply amplified. In digital transmission, the signal is first regenerated. It's put through a little "Yes-No" question. Is this signal a "one" or a "zero?" The signal is reconstructed (i.e. squared off) to what it was identically. Then it is amplified and sent along its way. So digital transmission is much "cleaner" than analog transmission. The second major benefit of digital is that the electronic circuitry to handle digital is getting cheaper and more powerful. It's the stuff of computers. Analog transmission equipment doesn't lend itself to the technical breakthroughs of recent years in digital. See also PCM, as in Pulse Code Modulation.

In marketing promotion, digital is superior . For example, digital cable TV is better quality than old-time analog TV. The American public is fed this to sell them digital cable TV, which usually costs more than old-time analog TV. Of course, sometimes digital is better. Sometimes it's not. It all depends on how you digitally encode the TV pictures and audio signal. Assign lots of bits. It will be better. Assign only a few bits. Digital will be awful . Don't be fooled. Compare the signals before you buy.
Digital Access And Cross-Connect System
See DACS.
Digital Audio
The storage and processing of audio signals digitally. At least 16 bits of linear coding are usually required to represent each digital sample.
Digital Audio Radio Service
See DARS.
Digital Audio Server
A server is a computer that sits on a network, has software and a big hard disk. It's designed to deliver software, information or abilities to another machine also on the network. A digital audio server is a PC on a network " typically a home or office Ethernet LAN " loaded with digital recordings. The idea is that you "talk" to the digital audio server from your PC (by using a browser, for example) and have it play music in those parts of your house you wish. Software running on your digital audio server will allow to choose which music, in whatever order you wish, in whichever room you wish at whatever time you want.
Digital Audio Tape
See DAT.
Digital Audio Video Council
DAVIC. DAVIC is a European nonprofit organization that is creating an industry standard for end-to-end interoperability of broadcast and interactive digital audio-visual information and multimedia communication, and for the delivery of interactive data services to cable modems and set-top boxes.
Digital Cable Set Top Box
The primary function of a cable set top box - whether digital or analog - is to control access to TV channels provided by a cable TV carrier or a satellite TV carrier. Interestingly, the set top box is not totally necessary to get the channels from the cable onto the TV screen " but the carriers need them to make sure they can shut off your programming if you don't pay your bill. All boxes - analog or digital - are individually addressable. That means the carrier can signal the box and turn on or off channels - local channels, premium channels, movie channels, porn, etc. The carrier does this based on how much monies the subscriber (i.e. you) pay. Pay more money. Get more channels, etc. A digital cable set top box allows a television set to receive and decode digital television (DTV). The device may also enable the television set to become an interface to the Internet. A typical digital set-top box contains one or more microprocessors for running the operating system, possibly Linux or Windows CE, and for parsing the MPEG transport stream. A set-top box also includes RAM, an MPEG decoder chip, and more chips for audio decoding and processing. The contents of a set-top box depend on the DTV standard used. European DVB-compliant set-top boxes contain parts to decode COFDM transmissions while ATSC-compliant set-top boxes contain parts to decode VSB transmissions. More sophisticated set-top boxes contain a hard drive for storing recorded television broadcasts, for downloaded software, and for other applications provided by DTV service providers. Set top boxes also provide advanced features to consumers such as enhanced program guides, more broadcast channels, personal video recording, in-home connectivity and access to customized content through "walled garden" and broadband Internet sites. Set top boxes also offer the ability for operators to provide customers with fee-based services such as on demand programming, movies, sports and other personalized programs.
Digital Cash
Once there were only stores. To buy something you needed money. Then they invented checks. And storekeepers took them. Then they invented credit cards, which were sort of checks that you paid later. Once we had credit cards, we could invent direct mail catalogs and 800 lines and call centers that took your orders via the 800 lines and you paid for what you bought by giving them your credit card number. Then came the Internet and vendors started to put catalogs on the Internet in the hope that somebody would buy from them. But they needed a way to get paid. Credit cards worked but many journalists wrote about how the Internet was " insecure " and anyone could steal your number and go on a spending binge. No one asked the journalists to cite instances of spending binges. Nor did they ask the journalists about the Federal Government legislation which limits credit card liability in the case of fraud to $50. But scaring people was a good story. Meantime, some entrepreneurs thought there was an opportunity to solve people's paranoia by creating "digital cash." No one exactly knows what digital cash is, yet. Lots of people are working on variations of it. But the idea is that it will be some form of encoded information transfer that contains instructions to take money from one person and pay it to another. We'll see how it evolves.
Digital Cellular
The state of the art in cellular communications technology. Implementation will result in substantial increases in capacity (up to 15 times that of analog technology). In addition, digital will virtually eliminate three major problems encountered by users of analog cellular: static, loss/interruption of signal when passing between cells (during handoff ), and failure to get a connection because of congested relays. Specifications for TDMA digital systems have been developed in North America (D-AMPS), in Europe (GSM) and in Japan (PDC).
Digital Certificate
A digital certificate is a password-protected, encrypted data file which includes the name and other data which serves to identify the transmitting entity. It's much like a passport, that unquestionably identifies a person to immigration authorities when crossing international borders. The certificate also includes a public key encryption mechanism, which serves to verify the digital signature of the sender; that key is signed with a matching private key, unique to the sender. Through the use of keys and certificates, the entities exchanging data can authenticate each other. A digital certificate is issued by a Certificate Authority (CA), a trusted third-party organization or company that is in business specifically to issue and manage digital certificates. See also Certificate Authority, Encryption, Private Key Encryption, and Public Key Encryption.
Digital Channel Compression
The process of fitting more than one program into single channel using digital techniques.
Digital Circuit Multiplication
DCM is a variation of analog TASI " Time Assigned Speech Interpolation. In DCM, speech is encoded digitally and advanced voice band coding algorithms are applied to TASI's old speech interpolation techniques. DCM delivers a four to fivefold increase in the effective capacity of normal pulse code modulation (PCM) T-1 links operating at 1.544 megabits per second. DCM equipment is used on the TAT-8 transatlantic optical fiber submarine cable. Most DCM equipment has three operating elements: a speech activity detector, an assignment mapping and message unit, and a speech reconstitution unit.
Digital Coast
The City of Los Angeles. In March of 1998, the mayor of Los Angeles, Richard J. Riordan, announced that Los Angeles would now be known as Digital Coast. It never stuck.
Digital Command Signal
Signal sent by a fax machine or card when the caller is transmitting, which tells the answerer how to receive the fax. Modem speed, image width, image encoding and page length are all included in this frame.
Digital Communications Manager
DCM. An MCI monitoring system that maintains communications through the network with the Site Controllers, the Extended Super-frame Monitoring Units, and the 1/O DXCs. The DCM issues requests for data and collects alarm and performance information, which is processed and stored in realtime for further computation and display.
Digital Compact Cassette
DCC. A digital version of the familiar analog audio cassette. A DCC recorder can play and record both analog and digital cassettes. But the digital ones will sound a lot better.
Digital Compression
An engineering technique for converting a cable television signal into a digital format (in which it can easily be stored and manipulated) which may then be processed so as to require a smaller portion of a spectrum for its transmission. It could allow many channels to be carried in the capacity currently needed for one signal.
Digital Convergence
A Microsoft term for getting all the digital devices of the office and the home together working in a seamless architecture. See At Work.

In the late 1990s, AT&T Corp. made a huge bet on "digital convergence." In 1998 and 1999, the long-distance phone giant poured $110 billion into a string of cable-television system acquisitions including MediaOne and Tele-Communications Inc. In the fall of 2001, AT&T's cable operations are on the auction block. AT&T no longer talks about digital convergence.
Digital Cross-Connect 1
DSX-1. Office twisted pair facilities for interconnecting 1.544 megabit digital streams.
Digital Cross-Connect 2
DSX-2. Office coaxial cable facilities for interconnecting 6.312 megabit digital streams.
Digital Cross-Connect 3
DSX-3. Office fiber optic facilities for interconnecting 44.736 megabit digital streams.
Digital Cross-Connect System
DACS (Digital Automatic Cross-Connect System) or DCS (Digital Cross-Connect System). A specialized type of high-speed data channel switch. It differs from a normal voice switch, which switches transmission paths in response to dialing instructions. In a digital cross-connect system, you give it separate and specific instructions to connect this line to that. These instructions are given independently of any calls that might flow over the system. This contrasts with normal voice switching in which switching instructions and conversations go together. Commands to a digital cross- connect system can be given by an operator at a console or can be programmed to switch at certain times. For example, you might want to change the T-1 24-voice conversation circuit to Chicago at 11 A.M. each day to allow for the president's 30 minute video conference call. See DACS.
Digital Dial-Up Bandwidth
Digital Dial-Up Bandwidth is communications channels created by signaling to the network from the caller's site the intended destination of the connection. These channels may be terminated when the caller or called party chooses. The user pays for the bandwidth only when it is used. Digital Dial-Up Bandwidth operates in a fashion similar to the dialed voice telephone network, but the resultant connections are digital and of specified bandwidths.
Digital Divide
The poor people are at a big disadvantage to the rich people who have access to all the trappings of the new digital economy. Thus there is a digital divide. President Clinton used the term to describe the fact that households in the United States with annual incomes above $75,000 are more than 20 times as likely to have Internet access as the poorest households. In other words, according to President Clinton, there's a "digital divide" between rich and poor households. The Economist magazine wrote the following, "With information technology now claimed to be the main engine of growth over the next couple of decades, many people worry that developing economics, which have far fewer computers and Internet connections than the rich world, will get left behind. The income gap between rich and poor countries will widen further. But such fears about a 'digital divide'", according to the Economist, "seem to be based on a misunderstanding of the nature of growth as well as the nature of IT (Information Technology). If IT can boost growth in rich economies, why should it not do the same trick in emerging economies?"
Digital Echo Canceller
A Digital Echo Canceller is an echo canceller as opposed to an echo suppressor . While the echo suppressors shuts off the entire signal, an echo canceller filters out unwanted echoes among incoming signals by using an analog voice switch. The Digital Echo Canceller is one application of a digital transversal filter.
Digital Enveloping
Digital enveloping is an application in which someone "seals" a message m in such a way that no one other than the intended recipient, say "Bob," can "open" the sealed message. The typical implementation of digital enveloping involves a secret-key algorithm for encrypting the message (i.e., a content-encryption algorithm) and a public-key algorithm for encrypting the secret key (i.e., a key-encryption algorithm).
Digital Ethernet Local Network Interconnect
DELNI. The product offered by Digital Equipment Corp. (now part of Compaq) that allows up to eight active devices to be connected to a single Ethernet transceiver. A similar device is manufactured by many other suppliers under various names. The DELNI can be thought of as "Ethernet in a box."
Digital European Cordless Telecommunication
See DECT.
Digital Facilities Management System
A Northern Telecom software which integrates the maintenance of all types of digital facilities from T-1 to the high-bit fiber. Largely used by telephone companies.
Digital Facility
A switching or transmission facility designed for the handling of data signals.
Digital Facsimile Equipment
Facsimile equipment that employs digital techniques to encode the image detected by the scanner. The output signal may be either digital or analog. Examples of digital facsimile equipment are ITU-T Group 3, ITU-T Group 4, STANAG 5000 Type I and STANAG 5000 Type II.
Digital Frequency Modulation
The transmission of digital data by frequency modulation of a carrier, as in binary frequency-shift keying.
Digital Group Interface
See Digroup interface.
Digital Hierarchy
The standardized increments for multiplexing digital channels. For twenty four 64 Kbps DS-O channels are multiplexed into one 1,544,000 bits per second DS-1 channel. See also SONET.
Digital Inverter
A device which outputs a high state when its input is low or outputs a low state if its input is high.
Digital LAT Protocol
The LAT protocol, announced by Digital in the mid '80s, is today one of the industry's most widely used protocols for supporting character terminals over Ethernet networks. See LAT.
Digital Line Protection
Many extensions behind PBXs deliver greater voltage to the desk than do normal tip and ring analog lines. This higher voltage can damage a PCMCIA modem inside a laptop. In fact, it can destroy the modem. Newer PCMCIA cards (now called PC cards) have Digital Line Protection, which protects against that higher voltage " what one manufacturer called "innovative isolation circuitry."
Digital Loop Carrier
See DLC.
Digital Loopback
A diagnostic feature on a modem, a short haul microwave or some other digital transmission equipment which allows the user to loop a signal back from one part of the system to another to test the circuit or the equipment. Digital loopbacks can be as long or as short as are necessary to isolate the problem. By looping a signal back and measuring it at both ends of the loop (at the beginning and at the end), you can see if the device carried the message cleanly and is thus, operating correctly.
Digital Media
Digital media is a fancy, made-up term for technology that can manage, store, protect and distribute digital video, audio and images. Example: When the Wall Street Journal starts sending out an electronic version of itself that looks like its print edition, that's referred to as "digital media."
Digital Microwave
A microwave system in which the modulation of the radio frequency carrier is digital. The carrier is still a standard microwave radio wave. The digital modulation may be frequency or phase shift, but the control of that modulation is the digital bit stream.
Digital Millennium Act Copyright Act
This Act makes it a crime to circumvent antipiracy measures that are built into most commercial software. It outlaws the manufacture, sale or distribution or code-cracking devices used to copy software. It does permit the cracking of copyright protection devices, however, when necessary to conduct encryption research, assess product interoperability and test computer systems. It provides exemptions from anticircumvention provisions under certain circumstances for nonprofit organizations such as libraries, archives and educational institutions. In general, it limits Internet service providers from copyright infringement liability for simply transmitting information over the Internet. Service providers, however, are expected to remove material from users' Web sites that appears to constitute copyright infringement. Limits liability of nonprofit institutions of higher education - when they serve as online service providers and under other certain circumstances - for copyright infringement by faculty members or graduate students. It requires webcasters to pay licensing fees to record companies. It requires that the Register of Copyrights, after consultation with relevant parties to submit to Congress recommendations regarding how to promote distance education through digital technologies while "maintaining an appropriate balance between the rights of copyright owners and the needs of users." It states that "[nothing] in this section shall affect rights, remedies, limitations or defenses to copyright infringement, including fair use..."
Digital Modem
A digital modem is the term given often to a piece of equipment that joins a digital phone line to a piece of communicating equipment, which may be a phone or a PC. Such equipment allows testing, conditioning, timing, interfacing, etc. But it does not do what a modem does " namely convert digital signals from machines into analog signals which can be carried on analog phone lines (like the ones that come into your house) and vice versa. The term digital modem, thus, is illogical. But we're stuck with it. Things do, however, seem to be changing. The first use of the term digital modem was to describe a piece of hardware that supported ISDN lines. Later it became known as an ISDN terminal adapter.
ISDN TAs are used to connect equipment which is not ISDN-compatible to a digital ISDN BRI (Basic Rate Interface) line in a residential or SOHO (Small Office Home Office) application. ISDN telephone sets are much more expensive than the typical analog type, so most of use don't even consider buying them. ISDN-compatible PCs are somewhat more expensive, as an additional chip set must be added, so most of us don't even consider buying them. Group III fax machines (the type most of us have) are digital machines with a fax modem so that they can work over inexpensive analog lines, so they are not ISDN- compatible, by definition. So, you need a digital modem in the form of a TA in order to effect compatibility.
A digital modem interfaces these devices to the ISDN local loop, and supports things like testing, conditioning, and circuit timing. But it does not do what a conventional modem does " namely convert digital signals from machines into analog signals which can be carried on analog phone lines (like the ones that come into your house) and vice versa. Rather, a digital modem modulates (changes) and demodulates (changes back) the signals from these devices so that they can be carried over a digital ISDN circuit. Specifically, a TA is used to multiplex as many as three transmissions so that they can be carried over a single twisted pair local loop in the two B (Bearer) channels of 64 Kbps each, and the single D (Data, or Delta) channel of 16 Kbps. The TA modulates and demodulates the carrier frequency (the frequency range which carries the data streams) using a technique known as 2B1Q (2 Binary, 1 Quaternary). See also 2B1Q, BRI, ISDN, Modem and TA.
Digital Modulation
A method of decoding information for transmission. Information, e.g. a voice conversation, is turned into a series of digital bits - the 0s and 1s of computer binary language. At the receiving end, the information is reconverted into its analog form.
Digital Monitor
Receives discrete binary signals at two levels; one level corresponds to Logic 1 (true) while the other corresponds to Logic O (false). Monitors generally were of this type before VGA models appeared. Digital monitors do not have as wide a range of color choices as analog types; digital EGA monitors , for example, can display just 16 colors out of a palette of 64.
Digital Multiplex Hierarchy
An ordered scheme for the combining of digital signals by the repeated application of digital multiplexing. Digital multiplexing schemes may be implemented in many different configurations depending upon the number of channels desired, the signaling system to be used, and the bit rate allowed by the communication medium. Some currently available multiplexers have been designated as D1-, DS-, or M-series, all of which operate at T-carrier rates. Extreme care must be exercised when selecting equipment for a specific system to ensure interoperability, because there are incompatibilities among manufacturers' designs (and various nations' standards).
Digital Multiplexed Interface
A ISDN PRI-like connection between a PBX and a computer, developed by AT&T.
Digital Multiplexer
A device for combining digital signals. Usually implemented by interleaving bits, in rotation, from several digital bit streams either with or without the addition of extra framing, control, or error detection bits. In short, equipment that combines by time division multiplexing several signals into a single composite digital signal.
Digital Nervous System
Coined by Bill Gates in 1997, the best definition of this term came from an interview between Gary Reiner, GE's chief information officer and a reporter from the Economist. According to the magazine, "Mr Reiner heads the company's most important initiative: 'digitising' as much of its business as possible. That not only means buying and selling most things online but, more importantly, setting up a digital nervous system that connects in real time anything and everything involved in the company's business: IT (Information Technology) systems, factories and employees , as well as suppliers, customers and products.
Digital Network
A network in which the information is encoded as a series of ones and zeros rather than as a continuously varying wave " as in traditional analog networks. Digital networks have several major pluses over analog ones. First, they're "cleaner." They have far less noise, static, etc. Second, they're easier to monitor because you can measure them more easily. Third, you can typically pump more digital information down a communications line than you can analog information.
Digital Network Architecture.
DNA. The data network architecture of Digital Equipment Corporation (DEC), now part of Compaq Corporation.
Digital Phase-Locked Loop
A phase-locked loop in which the reference signal, the controlled signal, or the controlling signal, or any combination of these, is in digital form.
Digital Phase Modulation
The process whereby the instantaneous phase of the modulated wave is shifted between a set of predetermined discrete values in accordance with the significant conditions of the modulating digital signal.
Digital Plastic
A fancy term for buying goods and services on-line over the Internet using your credit card, possibly in conjunction with some verification of who you are from an independent certification authority.
Digital Port Adapter
DPA. A device which provides conversion from the RS- 449/422 interface to the more common interfaces of RS-232-C, V.35, WE-306 and others.
Digital Private Network Signaling System
See DPNSS.
Digital Pulse Origination
DPO. Equipment that sends dialed digits consisting of tones or pulses . It may be used at the central office end of a DID service connection.
Digital Pulse Termination
DPT. Equipment that receives and processes dialed digits consisting of tones or pulses. It may be used at the customer end of a DID service connection.
Digital Radio Broadcasting
DRB. Radio transmission intended for general reception in the form of discrete, integral values.
Digital Radio Concentrator System
DRCS. A digital radio system which transmits data via a device which connects a number of circuits, which are not all used at once, to a smaller group of circuits for economy.
Digital Recording
A system of recording by conversion of musical information into a series of pulses that are translated into a binary code intelligible to computer circuits and stored on magnetic tape or magnetic discs. Also called PCM - Pulse Code Modulation.
Digital Reference Signal
DRS. A digital reference signal is a sequence of bits that represents a 1004-Hz to 1020-Hz signal.
Digital Selective Calling
DSC. A synchronous system developed by the International Radio Consultative Committee (CCIR), used to establish contact with a station or group of stations automatically by radio. The operational and technical characteristics of this system are contained in CCIR Recommendation 493.
Digital Sequence Spread Spectrum
A wireless term. An RF (radio frequency) modulation technique, which uses algorithms to code transmissions in sequential channels and then decode them at the other end.
Digital Service Cross-Connect
DSX. A termination/patch panel that lets DS1 and DS3 circuits be monitored by test equipment.
Digital Set-Top Box
A device that hooks up to a TV and can collect, store, and display digitally compressed TV signals. See also Digital Cable Set Top Box.
Digital Signal
A discontinuous signal. One whose state consists of discrete elements, representing very specific information. When viewed on an oscilloscope, a digital signal is "squared." This compares with an analog signal which typically looks more like a sine wave, i.e. curvy. Usually amplitude is represented at discrete time intervals with a digital value.
Digital Signal Cross-Connect
DSX. Also known variously as a DACS (Digital Access Cross-Connect System) and a DCC (Digital Cross-Connect), a DSX is a device that is used to connect digital circuits together. A DSX-1 interconnects DS-1 (T-1 or E-1) circuits, as DSX-2 interconnects DS-2 (T-2 or E-2) circuits, and a DSX-3 interconnects DS-3 circuits (T-3 or E-3).
Digital Signal Level
DS-n. A hierarchical arrangement of digital signals used in North America beginning with DS-O (64 Kbps) up to DS-4 (274 Mbps).
Digital Signal Processor
A digital signal processor is a specialized semiconductor device or specialized core in a semiconductor device that processes very efficiently and in real time a stream of digital data that is sampled from analog signals ranging from voice, audio and video and from cellular and wireless to radio and television. As opposed to a general-purpose processor, a DSP is often designed to solve specific processing problems. A DSP architecture focuses on algorithmic efficiency and may use an instruction set that is more or less tailored toward the problem the DSP is solving. General purpose processors, on the other hand, may sacrifice algorithmic efficiency for general-purpose capability and push clock-speed to achieve performance. A DSP typically has much greater mathematical computational abilities than a standard microprocessor. In some applications, like wireless, PDAs and cell phones, constraints on power consumption require performance improvements other than faster clock speed. In other applications, like cellular base stations and high definition TV, where the number of channels or the high data rate require signal processing capabilities an order of magnitude greater than general purpose processors, a DSP that uses processing parallelism can provide much higher performance much more efficiently than even the fastest general-purpose processor. A DSP often performs calculations on digitized signals that were originally analog (e.g. voice or video) and then sends the results on. There are two main advantages of DSPs " first, they have powerful mathematical computational abilities, more than normal computer microprocessors. DSPs need to have heavy mathematical computation skills because manipulating analog signals requires it. The second advantage of a DSP lies in the programmability of digital microprocessors. Just as digital microprocessors have operating systems, so DSPs have their very own operating systems. DSPs are used extensively in telecommunications for tasks such as echo cancellation, call progress monitoring, voice processing and for the compression of voice and video signals as well as new telecommunications applications such as wireless LANs and next-generation cellular data and cellular Internet services . They are also used in devices from fetal monitors, to anti-skid brakes, seismic and vibration sensing gadgets, super-sensitive hearing aids, multimedia presentations and desktop fax machines. DSPs are replacing the dedicated chipsets in modems and fax machines with programmable modules " which, from one minute to another, can become a fax machine, a modem, a teleconferencing device, an answering machine, a voice digitizer and device to store voice on a hard disk, to a proprietary electronic phone. DSP chips and DSP cores in custom chips are already doing for the telecom industry what the general purpose microprocessor (e.g. Intel's Pentium) did for the personal computer industry. DSP chips are made by Analog Devices, AT&T, Motorola, NEC and Texas Instruments, among others. DSP cores are made by BOPS, DSP Group, Infineon and others.
Digital Signature
A digital signature is the network equivalent of signing a message so that you cannot deny that you sent it and that the recipient knows it must have come from you. In short, a digital signature is an electronic signature which cannot be forged. It verifies that the document originated from the individual whose signature is attached to it and that it has not been altered since it was signed. There are two types of digital signatures. Ones you encrypt yourself and are the result of an ongoing relationship between you and the other party. Second, there are encrypted certificates issued by a company that is not affiliated with you. That company basically certifies that you are who you say you are. It does this because it's sent you a code. And it has retained a code for you, too. Join the two codes together mathematically, come up with the correct answer, and bingo, it's you. Utah has a Digital Signature Program whose goal is to develop, implement and manage a reliable means of secure electronic messaging over open, unsecured computer networks, minimize the incidence of forged digital signatures and possible fraud in electronic commerce and establish standards and develop uniform rules regarding verification and reliability of electronic messages. According to Utah, "digital signatures will enable us to determine who sent a document, identify what document was sent, and determine whether the document had been altered in route. It reasonably ensures the recipient that the message came from an identifiable sender and contains a specific, unaltered message. It may be used where there needs to be sufficient confidence in the source, content and integrity of a message." www.commerce.state.ut.us/web/commerce/digsig/domain.htm.
Digital Sound Broadcasting
DSB. Sound Transmission intended for general reception in the form of discrete, integral values.
Digital Speech Interpolation
DSI. A voice compression technique implemented in voice codecs. DSI allocates the silent periods in human speech to active users. At least 50% of bandwidth in a voice conversation generally is unused, as the human-to- human communications protocol is half-duplex. In other words, we take turns talking. Additionally, the voice stream of the active talker contains lots of periods of silence, since we pause from time-to-time, if only to take a breath . DSI statistically predicts these periods of silence, and takes advantage of them to interleave the voice transmissions of active talkers. Assuming that as many as 96 voice conversations are being supported, DSI offers a compression ratio as high as 8:1 (eight to one), supporting reasonable quality voice at 8 Kbps rather than the 64 Kbps required by Pulse Code Modulation (PCM). The predecessor to this technique was TASI (Time Assigned Speech Interpolation). TASI and DSI are lousy for data because they "clip" the first little bit of every new snippet of conversation " unless you hog the channel the whole time by talking incessantly or transmitting continuously. If you pause, you'll get clipping as the system drops you and then reconnects you. Clipping can ruin the meaning of the beginning of data conversations, unless the header knows that TASI or DSI is coming up or the data transmission is following some reasonable protocol and can resend the data. Unfortunately, this slows transmission. See also Codec and PCM.
Digital Storage Media Command And Control
DSMCC. Network protocols specified in Part 6 of MPEG-2 (ISO 13818) standards dealing with user-to-net- work and user-to-user signaling and communications.
Digital Subscriber Line
DSL. A generic name for a family of digital lines (also called xDSL) being provided by CLECs and local telephone companies to their local subscribers. Such services go by different names and acronyms " ADSL (Asymmetric Digital Subscriber Line), HDSL (High Bit Rate Digital Subscriber Line) and SDSL (Single Pair Symmetrical Services). Such services propose to give the subscriber up to eight million bits per second one way, downstream to the customer and somewhat fewer bits per second upstream to the phone company. DSL lines typically operate on one pair of wires " like a normal analog phone line. See ADSL, G.990, G-Lite, HDSL, IDSL, RADSL, SDSL, Splitter, Splitterless, VDSL, xDSL, for more detailed explanations .
Digital Switching
A connection in which binary encoded information is routed between an input and an output port by means of time division multiplexing rather than by a dedicated circuit.
Digital Telephony
A digital telephone system transmits specific voltage values of "1" and "0" to transmit information. An analog system uses a continuous signal that uses the entire range of voltages. The human voice is an analog signal. To transmit it digitally, it must be converted into a digital signal. This is accomplished by sampling the value of the analog signal several times a second and converting each value into an binary number. These binary numbers are transmitted as a series of voltage levels representing ones and zeros. See PCM.
Digital Television
See DTV.
Digital Test Unit
See DTU.
Digital Timestamping
When transmitting time-sensitive information it is essential that you be able to irrefutably document when an event occurred. A "postmark" is a legally valid physical timestamp. In e-commerce, there need to be "trusted" third parties that will timestamp sensitive documents. One drawback to having sensitive documents timestamped is relinquishing the document itself to a third party. This is where message digests come in handy.
Digital To Analog Conversion
A circuit that accepts digital signals and converts them into analog signals. A modem typically has such a circuit. It also has other circuits, such as those concerning with signaling. See Modem.
Digital Traffic Channel
DTC. A digital cellular term. Defined in IS-136, the DTC is the portion of the air interface which carries the actual data transmitted. The DTC operates over frequencies separate from the DCCH (Digital Control CHannel), which is used for signaling and control purposes. See also DCCH and IS-136.
Digital Transmission
The transmission of a digital signal between two or more points. The unusual definition applies to the manner in which the transmission carrier is modified to carry the transmitted information. For example, in digital microwave systems, the radio frequency carrier is an analog signal, but its information modulation is derived from a digital signal.
Digital Versatile Video
See DVD.
Digital Video
Digital video is video recorded and played digitally. Traditional analog video " the one we have seen in our homes for eons " is recorded and played back in analog format, i.e. in analog wave forms. Why Digital Video? Digital video has several advantages over analog video. You can edit it, store it, and transmit it easily. Digital video may be taken from analog source " such as standard over-the-air National Television Systems Committee (NTSC) analog source. Or it may be taken from an analog video camera and a VCR. To convert analog video into digital video typically requires a board inside a PC. Analog video is typically recorded on tape, such as a VCR. Digital video is typically recorded on a hard disk (magnetic or optical) or on a CD-ROM. Two common digital video technologies are Intel's Digital Video Interactive (DVI) and Microsoft's Audio/Video Interleaved (AVI). See Analog, Digital Video Interactive, INDEO Video and PVR.
Digital Video Broadcast
DVB. Digital Video Broadcast and Digital Audio Video Council (DAVIC) technology is the incumbent European standard for digital set-tops and is now starting to gain momentum for cable modems. The standard describes the out-of-band and in-band transmission options applicable to interactive set-top boxes and cable modems. respectively, enabling the deployment of interactive TV, data, and voice services over a common platform. DVB/DAVIC is challenging DOCSIS for dominance in Europe. EuroCableLabs (ECL), operating under the direction of the European Cable Communications Association (ECCA), has championed a DVB/DAVIC-based "EuroModem" as an alternative to DOCSIS. DVB cable modems meet the preference of some European operators for a standard that better fits their set-top architectures. There is also a desire to support homegrown Euro products, rather than importing solutions from American suppliers. See also DAVIC and DOCSIS.
Digital Video Compression.
DVC. Process by which multiple videoservices, or channels, are broadcast on one satellite transponder . Performed by turning analog audio and video into digital (computer) information for broadcasting.
Digital Video Interactive
DVI. A compression and playback technology originally developed by RCA's Sarnoff Research Institute and eventually acquired by Intel Corp. DVI is not a compression technique per se but a brand name for a set of processor chips that Intel is developing to compress video onto disk and to de-compress it for playback in real time at the U.S. standard motion video rate of 30 frames per second. The chip set includes both a pixel processor, which performs most of the decompression and also handles special video effects, and a display processor, which performs the rest of the decompression and produces the video output. DVI's greatest long-term advantage, according to Nick Arnett writing in PC Magazine, is that its microprocessors are programmable, so DVI can be adapted to a variety of compression and decompression schemes.
Digital Video Recorder
DVR. Also called a Personal Video Recorder. See PVR.
Digital Visual Interface
DVI. A secure connection between a television and an external set-top box which uses encryption to prevent piracy.
Digital Voice Coding
Technology by which linear audio (voice) samples are collected and then compressed using an encoding algorithm. Typically used to store voice data for future decoding.
Digital Wallet
A digital wallet is an application or service that assists consumers in conducting online transactions by allowing them to store billing, shipping, payment, and preference information and to use this information to automatically complete merchant forms. This greatly simplifies the check-out process and minimizes the need for a consumer to think about and complete a merchant's form every time. Digital wallets that fill forms have been successfully built into browsers, as proxy servers, as helper applications to browsers, as stand-alone applications, as browser plug-ins (including the Google Toolbar), and as server-based applications. But the proliferation of electronic wallets has been hampered by the lack of standards. ECML (Electronic Commerce Modeling Language) provides a set of simple guidelines for web merchants that will enable electronic wallets from multiple vendors to fill in their web forms. The end-result is that more consumers will find shopping on the web to be easy and compelling. (That's the theory.) Multiple wallets and multiple merchants interoperably support ECML, which is an open standard. The theory is that a merchant can adopt ECML and gain the support of these multiple Wallets by making small and simple changes to their web site. Use of ECML requires no license. See also ECML, www.ecml.org and www.ietf.org/rfc/rfc3106.txt.
Digital Wireless Standards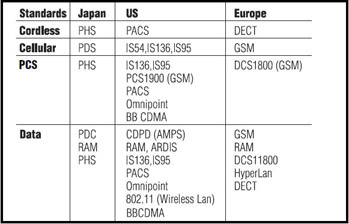 Digital Wrapper
The developing ITU-T G.709 specification, "Interface for the optical transport network (OTN)," is for a digital wrapper as a means of providing network management capabilities in a DWDM (Dense Wavelength Division Multiplexing) environment. DWDM is replacing SONET (Synchronous Optical Network) and SDH (Synchronous Digital Hierarchy) in many networks due to its much higher speeds and much lower costs. DWDM, however, is pure photonics , without the robust network management capabilities offered by SONET. The digital wrapper in G.709 is intended to address that shortcoming. While the specification currently is in the development stages, it likely will include framing conventions, non- intrusive performance monitoring, error control, rate adaption, multiplexing mechanisms, and ring protection, and network restoration on a per-wavelength basis. Indicators of traffic type and destination will assist in optical switching processes. In total, G.709 is intended to provide much of the network management capabilities of SONET/SDH, but without being nearly so overhead- intensive . See also DWDM, SDH, and SONET.
Digiterati
The digital version of literati. That vague collection of people who seem to be hip and know something about the digital revolution. Also spelled digerati.
Digitize
Converting an analog or continuous signal into a series of ones and zeros, i.e. into a digital format. See Delta Modulation and Pulse Code Modulation. See also the Appendix.
Digitized Voice
Analog voice signals represented in digital form. There are many ways of digitizing voice. See Pulse Code Modulation for the most common.
Digitizer
A device that converts an analog signal into a digital representation of that signal. Usually implemented by sampling the analog signal at a regular rate and encoding each sample into a numeric representation of the amplitude value of the sample.

A device that converts the position of a point on a surface into digital coordinate data.
Digroup
Two groups of 12 digital channels combined to form one single 24-channel T- 1 system.
Digroup Interface
Digital group interface. Another term for T-1. See also Digroup and T-1.
Dijkstra's Algorithm
An algorithm that is sometimes used to calculate routes given a link and nodal state topology database.
DIL
Direct-In-Line. A standard, both-way central office trunk that is programmed to always ring a specific extension or hunt group within the PBX. This contrasts with Direct Inward Dialing, which allows an external caller to reach an internal extension by dialing a 7-digit central office number. A DID (Direct Inward Dial) trunk is a trunk from the central office which passes the last two to four digits of the Listed Directory Number into the PBX, thus allowing the PBX to switch the call to and thus ring the correct extension.
Dilution.
See Anti-Dilution.
Dilution Of Precision
The multiplicative factor that modifies the ranging error. It is caused solely by the geometry between the user and his set of GPS (Global Positioning System) satellites . Known as DOP or GDOP. See GPS.
DIM
Document Image Management. The electronic access to and manipulation of documents stored in image format, accomplished through the use of automated methods such as high- powered graphical workstations, sophisticated database management techniques and networking.
Dim Fiber
A Dense Wavelength Division Multiplexing (DWDM) term. An optical fiber traditionally supported one light stream, using one frequency of light generated by the light source, which is in the form of a diode laser in the high-capacity, carrier-class systems. As it became necessary to increase the bandwidth of the transmission system, the traditional solution was to increase the speed of the components, including the diode laser light sources, the Avalanche PhotoDiode (APD) light detectors, and the intermediate optical repeaters. That was an expensive "forklift upgrade." Along came Wavelength Division Multiplexing (WDM) and it's more capable successor technology, DWDM (Dense WDM), both of which now are standardized by the ITU-T. DWDM currently supports as many as 160 wavelengths, each of which is a different frequency of light, which we would see as a different visible color in the light spectrum. The DWDM system essentially is a Frequency Division Multiplexer (FDM) operating at the optical frequency levels. The DWDM acts much like a prism, multiplexing the light frequencies created by tunable diode lasers at the transmit end of the connection to send them over the same optical fiber, and demultiplexing them at the receive end. Since the light signals are separated by wavelength (which is inversely related to frequency), they don't interfere with each other any more than do radio signals at different frequencies. Thereby and for example, one light wavelength can operate at 10 Gbps, and so can another, and so can another, and so on up to 32 x 10 Gbps = 320 Gbps, according to ITU-T standards. Up to 160 can be multiplexed at 10 Gbps on a non-standard basis...and more wavelengths are on the way. When carriers install new optical fiber transmission systems, they often set the speed for the SONET (Synchronous Optical NETwork) level of OC-192, at 10 Gbps (rounded up slightly). They also install DWDM gear, so that the system is ready for multiples of OC-192. But they usually leave some of the wavelengths "dark," because they don't need that much bandwidth immediately. They can always "light" them up when they need to do so. This is "dim fiber" " it's not completely dark and it's not fully lit. See also APD, Dark Fiber, Diode Laser, DWDM, FDM, Forklift Upgrade, Lit Fiber, SONET, and WDM.
Dimension
An analog PBX that used PAM techniques, first introduced in the late 1970s by Western Electric (now AT&T Technologies now Lucent) for AT&T. Now effectively discontinued. Thank the Lord. Some claim Archie McGill was responsible for Dimension. Others claim it was Bob Hawke. Archie claims Bob, who worked for him, was responsible. Arch later retired to Scottsdale and Vale, having made oodles of money in the wine business. In December of the year 2000, he proudly told me "at least he drank a lot."
DIMM
Dual In-line Memory Module. A DIMM has a lot more bandwidth than a single inline memory module (SIMM). It's a small circuit board filled with RAM chips, and its data path is 128 bits wide, making it up to 10 percent faster than a SIMM. DIMMs are prevalent on the Power Mac platform but are also creeping into high-performance systems.
Dimmed
In Windows, dimmed means unavailable, disabled, or grayed. A dimmed button or command is displayed in light gray instead of black, and it cannot be chosen .
DIMS
Document Image Management System.
DIN
Deutsche Institut fur Normung (German Institute for Standardization). DIN specifications are issued under the control of the German government. Some are used on a worldwide basis to specify, for example, the dimensions of cable connectors, often called DIN connectors. See also VME.
DINA
Distributed Intelligence Network Architecture.
Dingy
A small useful gadget. You don't know its name or you can't remember its name. So you call it a dingy. A dingy is the same thing as a thingy, and or just plain "thing." But dingy is more endearing than thingy, and a lot more endearing than just plain thing.
DINK
Dual Income, No Kids. A major market force in the general economy these days, many DINKs are old yuppies who just never quite got around to having children. I guess they were just dinking around. See also Yuppie.
DIOCES
Distributed Interoperable and Operable Computing Environments and Systems.
Diode
Diodes, the simplest semiconductor devices, are devices that conduct electricity in one direction, only. They are sometimes referred to as PN (Positive-Negative) devices because they are made of a single semiconductive crystal with a P-type region (Positive terminal, or anode) and a N-type region (Negative terminal, or cathode ). The terms "diode" and "rectifier" often are used interchangeably. However, a diode typically is a small signal device with current in the milliamp range, while a rectifier is a power device conducting current from 1 to 1,000+ amps. Diodes also are distinguished from rectifiers, as diodes conduct electrons in only one direction; i.e., from anode (+) to cathode (-). In actuality, there is some level of current leakage in the reverse direction (think of it as "echo," or reflected electrical energy. Above the small average threshold current level, or "breakdown voltage," the diode shuts off, much like a light switch.
This wonderful explanation comes from George Gilder's book Microcosm: "Named from the Greek words meaning two roads , an ordinary diode is one of the simplest and most useful of tools. It is a tiny block of silicon made positive on one side and negative on the other. At each end it has a terminal or electrode (route for electrons). In the middle of the silicon block, the positive side meets the negative side in an electrically complex zone called a positive-negative, or p-n, junction. Because a diode is positive on one side and negative on the other, it normally conducts current only in one direction. Thus diodes play an indispensable role as rectifiers. That is, they can take alternating current (AC) from your wall and convert it into direct current (DC) to run your computer.
"In this role, diodes demonstrate a prime law of electrons. Negatively charged, electrons flow only toward a positive voltage. They cannot flow back against the grain. Like water pressure, which impels current only in the direction of the pressure, voltage impels electrical current only in the direction of the voltage. To attempt to run current against a voltage is a little like attaching a gushing hose to a running faucet.
"It had long been known, however, that if you apply a strong enough voltage against the grain of a diode, the p-n wall or junction will burst. Under this contrary pressure, or reverse bias, the diode will eventually suffer what is called avalanche breakdown. Negative electrons will overcome the p-n barrier by brute force of numbers and flood " uphill " from the positive side to the negative side. In erasable programmable read-only memories (EPROMs), this effect is used in programming computer chips used to store permanent software, such as the Microsoft operating system in your personal computer (MS-DOS). Avalanche breakdown is also used in Zener diodes to provide a stable source of voltage unaffected by changes in current." See also Zener Diode.
Diode Laser
Synonymous with injection laser diode.
Diode Matrix Ringing
A method of connecting a common audible line to a system so that all stations do not ring on all lines. See also Matrix Ringing.
DIP
The act of consulting a database for information. Much like dipping into a bucket of water to extract a drink, carrier switches must dip into centralized databases in order to access various types of information. The database is housed in one or more SCPs (Service Control Points), which are centralized in the networks in order that many switches can share access to them, generally via SS7 links. Dips are made into such databases in order to accomplish tasks like calling card verification. 800/800 number routing requires that a dip be made in order to determine the serving IXC or LEC. LNP (Local Number Portability), mandated by the Telecommunications Act of 1996, requires the deployment of SCPs in order that the call can be terminated by the serving LEC. See also LNP and Number Portability.

See DIP Switch.

Document Image Processing. A term for converting paperwork into electronic images manipulable by a computer. Components include input via scanner, storage on optical media and output via video display terminal, printer, fax, micrographics, etc.

See Dedicated Inside Plant.
DIP Switch
Dual In-Line Package. A teeny tiny switch usually attached to a printed circuit board. It may peek through an opening in a piece of equipment. It may not. It usually requires a ball point pen or small screwdriver to change. There are only two settings " on or off. Or 1 (which is on) or 0 (which is off). But printed circuit boards often have many DIP switches. They're used to configure the board in a semi-permanent way. The DIP switches are similar to integrated circuit chips which have two rows (dual) of pins in a row (in-line) that fit into holes on a printed circuit board. If something doesn't work when you first install it, check the DIP switches first. Then check the cable connecting it to something else. See also PGA, SIMM, and SIP.
DIP/DOP
Dedicated Inside Plant/Dedicated Outside Plant.
Diphones
Speech segment beginning in the middle of one phoneme and concluding in the middle of another. See Phoneme.
Diplexer
A device that permits parallel feeding of one antenna from two transmitters at the same or different frequencies without the transmitters interfering with each other. Diplexers couple transmitter and receiver to the same antenna for use in mobile communications.
Dipole
A radio antenna fed from the center and across two rods which are in line with each other and which have the ends slightly separated. The term often is applied to "rabbit ear" antenna such as those used on TV sets. See also dBd.
DIR
An ATM term. This is a field in an RM-cell which indicates the direction of the RM-cell with respect to the data flow with which it is associated. The source sets DIR=0 and the destination sets DIR=1.
Direct Access Test Unit
DATU. Also called Mechanized Loop Test (MLT) added or built into a central office switch. With DATU a technician can execute tests for shorts, opens and grounds remotely. The technician gets a digital voice, enters a password and is given a series of options. The technician can get results as a digital recording or through an alpha-numeric pager. DATU units can send a locating tone as TIP, RING or a combination of both. The unit can short lines and remove battery voltage for testing.
Direct Bond
An electrical connection using continuous metal-to-metal contact between the things being joined.
Direct Broadcast Satellite
DBS. Direct broadcast satellite DBS refers to satellite television systems in which the subscribers receive signals directly from geostationary satellites via small and relatively inexpensive dish antennas typically mounted on either the roofs or sides of houses . A DBS subscriber installation consists of a dish antenna two to three feet (60 to 90 centimeters) in diameter, a conventional television set, a signal converter placed next to the television set, and a length of coaxial cable between the dish and the converter. The dish intercepts microwave signals directly from the satellite. The converter produces output that can be viewed on the television. The receiving dish is stationary, being locked in on the position of the DBS service provider with which you have a subscription agreement. As a result, it can receive only those channels broadcast by that specific provider. Telephone companies began early on using satellites for transmitting communications as terrestrial distribution methods became overloaded. The use of satellites for distribution of television programming in the U.S. began on March 1, 1978 when the Public Broadcasting Service (PBS) introduced the Public Television Satellite Service for the distribution of programming to local PBS stations. DBS satellites operate in the Ku-band spectrum, and at fairly high power levels; hence the small size of the receiving dish, which commonly is as small as 19.7 inches in diameter. DBS has virtually eliminated the old C- band satellite dishes " huge things about 3 meters (118.1 inches) across which you mounted in your back yard. The C-band systems were tunable, however; that is to say that they could be adjusted to pick up programming from just about any TV broadcast satellite which didn't encrypt its signals. Three important attributes of digital communication helped create a satellite mass market. First, digital compression allows huge programming capacity. Second, you can multiplex several digital channels onto a single carrier, and third, digital error correction allows a much lower power and a far more noise-tolerant signal over that of an analog transmission. Because you can quantify all information that you push through a digital channel, you can calculate the limits of the amount of information. In 1977, the World Administrative Radio Council allocated three regions for the DBS service: Region 1 for Europe, Region 2 (Western Hemisphere), and Region 3 (Asia/Pacific). The Council defined the standard 9 spacing between satellite clusters. The FCC set up Region 2 DBS satellites and transponders by granting licenses for the CONUS (Continental United States) for the following orbital locations: 61.5 West, 101 West, 110 West, 119 West, 148 West, 157 West, 166 West, and 175 West. The satellites at 101, 110, and 119 cover the full continental United States and are known as Full CONUS satellites, while the others are Partial CONUS. The two primary standards for DBS systems are DVB (digital video broadcasting), an "open," worldwide standard, and DirecTV, a "closed," North American standard. DVB-S (1994) specifies normal QPSK (quadrature-phase-shift- keying) modulation, and DVB-DSNG (1997) specifies advanced modulation for news and other data services (DVB is now creating a new DBS standard, DVB-S2, to use newer technological innovations in modulation and FEC.) The DirecTV standard (1994) is similar to DVB-S, but differences, such as data-packet size (188 bytes/packet for DirecTV versus 204 for DVB), and slight differences in the transport streams keep them from being functionally interchangeable. The ODU (outdoor unit) attaches to the outdoor end of a 75 ohm RF cable; the other end attaches to the satellite receiver at your TV. The parabolic dish antenna is the initial portion of the ODU. The main electronics of the ODU downconverts the signal from the satellite's 12 to 13 GHz to the receiver's 1 to 2 GHz, so you can use a convenient coaxial cable to carry the signal. See Shannon Limit and Digital Set Top Box.
Direct Builds
A direct line to a customer from a phone company that is not the local ILEC. A "direct build" can be accomplished either via copper cable, an optical fiber or a wireless (e.g., LMDS or other microwave) technology. But it is not leased from the local phone company.
Direct Connect
A term describing a customer hooking directly into a long-distance telephone company's switching office, bypassing the local phone company. Such "direct connect" could be via a leased copper pair, a specially-run copper pair, a fiber optic or a private microwave system. See Direct Electrical Connection, which is different. See Direct Connect Modem.
Direct Connect Modem
A modem connected to telephone lines using a modular plug or wired directly to the outside phone line. It thus transfers electrical signals directly to the phone network without any intermediary protective device. Direct connect modems must be certified by the FCC. Direct connect modems are much more reliable and more accurate than acoustically coupled modems. Virtually all modems these days are directly connected. One day pay phones will even come with RJ-11 jacks into which you can plug the modem of your portable laptop computer.
Direct Connection
Connection of terminal equipment to the telephone network by means other than acoustic and/or inductive coupling.
Direct Control Switching
The switching path is set up directly through the network by dial pulses without the use of central control. The Telex network is an example of direct control switching. A step by step central office also uses direct control switching.
Direct Current
DC. The flow of free electrons in one direction within an electrical conductor, such as a wire. The current may be constant or it may pulsate, but it always is in one direction. Contrast with alternating current (AC). See AC.
Direct Current Signaling
DX. A method whereby the signaling circuit E & M leads use the same cable pair as the voice circuit and no filter is required to separate the control signals from the voice transmission.
Direct Department Calling
DDC. A telephone service that routes incoming calls on a specific trunk or group of trunks to specific phones or groups of phones.
Direct Distance Dialing
DDD. A telephone service which lets a user dial long distance calls directly to telephones outside the user's local service area without operator assistance.
Direct Electrical Connection
A metallic connection between two things. The normal electrical way of connecting two things. This dumb definition is included in this dictionary because there was a time back in the early 1970s and before, when you couldn't (i.e. weren't allowed to) directly electrically connect your own phone or phone system to the nation's phone network. Those were the "good old days" when they (the Bell System) were trying to convince the world that electrically connecting anyone else's phones could harm the network. They never did prove this, and so today we have direct electrical connection of FCC-certified phone equipment. It's certified so it won't cause any harm to the network. See Part 68.
Direct In Termination
Incoming calls on a PBX may be programmed to route directly to preselected telephones without the attendant intervening . DIT features may be assigned to trunk circuits on a day, night or full time basis. Direct In Termination is slightly different from Direct Inward Dialing, though how different depends on whose PBX you're using.
Direct InterLATA Connecting Trunk Groups
Those trunk groups used for switched LATA access that interconnect Interexchange Carriers (IXCs) used to connect that Point of Presence (POPs) directly with the Bell Operating Company (BOC) end office switching system.
Direct Inward Dialing
DID. The ability for a caller outside a company to call an internal extension without having to pass through an operator or attendant. In large PBX systems, the dialed digits are passed down the line from the CO (central office). The PBX then completes the call. Direct Inward Dialing is often proposed as Centrex's major feature. See also Direct Inward System Access (DISA) for another approach to DID.
Direct Inward System Access
DISA. This feature of a telephone system allows an outside caller to dial directly into the telephone system and to access all the system's features and facilities. DISA is typically used for making long distance calls from home using the company's less expensive long distance lines, like WATS or tie lines. It's also used for leaving dictation for the typing pool. With DISA, you can dial individual extensions without the aid (or hindrance) of an operator. To use DISA, you must punch in from your touchtone phone a short string of numbers as a password code.
The problem with DISA is that "phone phreakers" (i.e. unauthorized people) often acquire that number or figure it out and run up expensive long distance phone calls. It's best to restrict DISA to trusted people and check the numbers called and bills generated. Changing the password code from time to time can help prevent this. DISA is acquiring a whole new life. It's becoming something called automated attendant. That automated attendant, an additional piece of equipment, is placed next to the phone system. You dial a special phone number (as you do with DISA). You're answered by a recording that says "Dial the extension you want." In DISA, the response is typically just a tone. An automated attendant is designed to save on operators and speed up outside people getting to talk to your inside people. Automated attendant is being suggested as a lower cost alternative to Centrex.
The following is excerpted from a document Northern Telecom sent to its PBX users. Read it. It's well-done:
PBX features that are vulnerable to unauthorized access include call forwarding, call prompting and call processing features. But the most common ways hackers enter a company's PBX is through Direct Inward System Access (DISA) and voice mail systems. They often search a company's trash for directories or call detail reports that contain 800 numbers and codes. They have also posed as systems administrators and conned employees into telling them PBX authorization codes. More "sophisticated" hackers use personal computers and modems to break into databases containing customer records showing phone numbers and voice mail access codes, or simply dial 800 numbers with the help of sequential number generators and computers until they find one code that gives access to a phone system. Once these thieves have the numbers and codes, they can call into the PBX and place calls out to other locations. In many cases, the PBX is only the first point of entry for such criminals. They can also use the PBX to access the company's data system. Call-sell operators can even hide their activities from law enforcement officials by using "PBX-looping" - using one PBX to place calls out through another switch in another state.
To minimize the vulnerability of the Meridian 1 system to unauthorized access through DISA, the following safeguards are suggested:
Assign restricted Class of Service, TGAR and NCOS to the DISA DN.

Require users to enter a security code upon reaching the DISA DN.

In addition to a security code, require users to enter an authorization code. The calling privileges provided will be associated with the specific authorization code.

Use Call Detail Recording (CDR) to identify calling activity associated with individual authorization codes. As a further precaution, you may choose to limit printed copies of these records.

Change security codes frequently.

Limit access to administration of authorization codes to a few, carefully selected employees.
Direct Line Terminations
The term refers to central office/PBX lines which terminate directly on telephones, and are generally common to all instruments within the system. In a square configuration on a Key Telephone System, these lines must appear at the same button location on each phone.
Direct Memory Access
DMA is a technique in which an adapter bypasses a computer's CPU, and handles the transfer of data between itself and the system's memory directly.
Direct Modulation
Direct Modulation occurs when a laser (the light source in a network) is turned on and off.
Direct Outward Dialing
DOD. The ability to dial directly from an extension without having to go through an operator or attendant. In PBX and hybrid phone systems, you dial 9, listen for a dial tone, and then dial the number you want to reach. In some phone systems, you don't have to listen for the second dial tone. You can dial straight through. All phone systems now have DOD. The older ones didn't, especially cordboard PBXs. Some Club Meds and lots of cheap hotels ( especially the ones Harry " the editor " stays in) do not have DOD.
Direct Pick-Up Interference
DPI/DPU. Interference picked up on the shield of a coaxial cable connected to a set-top converter box.
Direct Routing
There are two types of routing on a IP network, such as the Internet. There is direct and indirect Routing. If a packet does not need to be forwarded outside its subnet, i.e. both the source and destination addresses have the same network number, then direct routing is used. Indirect routing is used when the network numbers of the source and destination do not match. This is the case where the packet must be forwarded outside the subnet by a node that knows how to reach the destination (a router).
Direct Sales
When you employ your own salesforce and sell to customers (i.e. without going through a wholesaler, reseller or OEM) you are said to have direct sales.
Direct Sequence Spread Spectrum
DS. RF modulation technique that uses algorithms to code transmissions in sequential channels and then decode in the receiving end.
Direct Set
An ATM term. A set of host interfaces which can establish direct layer two communications for unicast (not needed in MPOA).
Direct Show
See TAPI 3.0.
Direct Station Select
DSS. A piece of key system equipment usually attached to an operator's phone set. When the operator needs to call a particular extension he/she simply touches the corresponding button on the Direct Station Select equipment. Typically the DSS equipment/feature is part of a Busy Lamp Field (BLF), which shows with lights what's happening at each extension. Is it busy? Is it on hold? Is it ringing? See Busy Lamp Field.
Direct Station Select Intercom
DSS. An interoffice caller can punch one button on his or her phone and dial his desired person, instead of dialing the full intercom number. Direct station select is like having an auto dial or speed dial button for everyone in the office. DSS saves time, but adds more buttons to the phone " one button for each extension the user wants to dial.
Direct Termination Overflow
DTO. An optional MCI Vnet and 800 Service feature, which allows a call to "overflow" to shared lines for completion by the local telephone company if the dedicated line is busy.
Direct To Home
Direct to home is a term used by the FCC to refer to the satellite TV and broadcasting industries.
Direct Trunk
A trunk between two class 5 central offices.
Direct Trunk Access
A PBX feature. By dialing some digits, the attendant can directly access any specific trunk. You'd do this if you want to check the trunk for problems, etc.
Direct Trunk Select
Permits you, the user, the attendant, or an attached computer telephony system to access an individual outgoing trunk instead of one chosen by the PBX from a group of trunks. You may want to grab a special trunk to get access to a specially conditioned data line, for example. Direct trunk select is particularly important in testing computer telephony systems and facilities as it is usually the best method to use to address specific ports on a VRU (Voice Response Unit) or switching system.
Directed Call Pickup
A telephone system feature. An extension user on a phone system user can answer calls " ringing or holding " on any other phone by dialing a unique answer code. If the call has already been answered by the called phone, the user who dials the answer code will join the connection in conference. Some tones will alert the conversing parties to the intrusion.
Directed Pickup
A PBX feature. Directed pickup is when you pick up a call ringing at another, specific, known extension. You dial the code for directed pickup and the other extension number and you now answer the ringing call at your own phone. Also called Directed Call Pickup. In contrast, Undirected Pickup picks up any call ringing at any extension in the pickup group in which your extension is a member. The pickup groups are preprogrammed in the switch.
Directed Push
The server interacts with the push client only occasionally, providing directions ( agents , modules, and so on) for how content should be handled or where content is located. The client then gets the information directly from a variety of services and processes it locally. Lanacom Headliner is a good example of this. See Active Push and Push.
Directional Antenna
An antenna which impels electromagnetic waves (i.e., radio signals) with more energy in one direction than in another, or which receives electromagnetic waves more readily from one direction than from another. An omnidirectional antenna, on the other hand, transmits with equal force in all directions, or receives signals with equal ease from all directions.
Directional Boring
A technique used to drill into the ground allowing precise guidance of the drilling operation to avoid pre-located underground obstacles and existing services, allowing the laying of conduit such as polyethylene, copper, and steel piping as well as fiber and bare cabling. This is especially useful in built-up environments, as it minimizes impact to surrounding grounds because it does not require an open trench to bury cable. Directional Boring allows the cable to be "steered" underground into the right location, accelerates construction by avoiding other utilities such as gas and telephone lines. At the end of the bore, a back reamer is attached to the drill rod and pulled back together with the materials to be installed.
Directional Coupler
A device put in a microwave system's waveguide to couple a transmitter and receiver to the same antenna.

A transmission coupling device for separately sampling (through a known coupling loss) either the forward (incident) or the backward (reflected) wave in a transmission line. A directional coupler may be used to sample either a forward or backward wave in a transmission line. A unidirectional coupler has available terminals or connections for sampling only one direction of transmission; a bidirectional coupler has available terminals for sampling both directions. For optical fiber applications.
Directivity
The degree to which an antenna focuses its power in a specific direction if the antenna were 100% efficient. Since microwave frequency antennas are highly efficient, the difference between gain and directivity is not significant at microwave frequencies.
Directories
Places within a hard disk volume where you can store files or subdirectories. The term subdirectory is relative. A directory is a subdirectory only in relation to the directory above it. To a directory below it, the same directory is a parent directory.
Directory
A list of all the files on a floppy diskette or hard disk. A directory may also contain other information such as the size of the files and the amount of free space remaining.

A telephone directory.
Directory Assistance
DA. Formerly known as "Information", but changed to "Directory Assistance" because the operators were getting too many stupid questions like "Who was the third president of the United States?" DA allows you to get telephone numbers from an operator. It comes in real handy when you don't have access to a phone book, or when the number is a new one not included in the book. DA once was provided exclusively by the local telephone company. It also once was free " even long distance DA was free. In most states of the United States, the local phone company now charges for this service, or will begin to very shortly, perhaps even from payphones.
Directory Assistance has changed a lot in the past few years. Not only have the local telephone companies begun to charge for the service, but also the service has become competitive. The local phone companies offered to sell their Directory Assistance databases to their competitors, although at a cost that was claimed to be unreasonably high. The competitors generally refused those offers, opting instead to build their own databases from whatever sources they could find. The end result is that Directory Assistance information often is grossly inaccurate. It also is provided by operators who have no knowledge of the area in question. For instance, the Verizon operators once could provide you directions to my office; the operator you talk to today may live in Omaha and may never have been to New York City. Most local phone companies will give you the person's address as well as his phone number if you ask for it.
Directory Caching
A method of decreasing the time it takes to find a file's location on a PC's disk. The FAT (File Allocation Table) and directory entry table are written into the file server's memory. The area holding all directory entries is called the directory cache. The file server can find a file's address (from the directory cache) and the file data (from the file cache) much faster than retrieving the information from disk.
Directory Date
A telephone company term. The issue date of the telephone directory. Improvements which will require changes in dialing procedures, directory numbers, etc., are usually timed to occur coincidental to directory issue dates.
Directory Information Base
DIB. Made up of information about objects. The collective information held in the directory. An X.500 term.
Directory Information Tree
DIT. Information that outlines the structure of an X.500 directory.
Directory Name
As defined in the X.500 Recommendations, the Directory Name is an ITU term for the name of a directory entry. For example, used to retrieve an O/R (Originator/Recipient) Name for message submission.
Directory Number
The full complement of digits associated with the name of a subscriber in a telephone directory. This is a very long way of saying the obvious, namely your phone number. In North America that is typically a seven digit number. For a longer explanation, see DN.

A Northern Telecom definition: A unique phone number which is automatically assigned to each telephone during System Startup. The DN, also referred to as an intercom number, is often used to identify a telephone when settings are assigned during programming. A DN may be changed during programming.
Directory Package
The process of adding, deleting and moving people attached to PBX or Centrex phones is more than simply programming in new extensions. Or should be. First, there are the changes necessary for the call accounting system. Second, there are changes necessary for "The Corporate Phone Directory". In the past, the directory bore little relation to the telephone system and it was often months, and sometimes years behind the actual phone system. Now some phone systems are incorporating various Directory Software Packages into the PBXs.
Some features included in these systems are the ability to dial someone by name " both for the attendant and for the individual phone user, i.e. dial HARRY, or HAR, instead of 3245. Some also include the ability to interface to the call accounting system. So that who's in what corporate department corresponds to which department's bill. There's also that important thing called a Telephone Directory. It would be useful if you could hook a laser printer to the telephone system and tell it to print, in neat, photo-ready columns , an alphabetical (by last name), departmental or any other sorted telephone directory. Some of the newer PBXs have "directory package" features which include some or all of the above. Most users find today's necessity of at least three different systems to be a pain in the behind. Rightly so. The three different systems are CDR, phone directory and extension dialing in the PBX. The three are often out of synch.
Directory Replication
A Windows NT term. The copying of a master set of directories from a server (called an export server) to specified servers or workstations (called import computers) in the same or other domains. Replication simplifies the task of maintaining identical sets of directories and files on multiple computers, because only a single master copy of the data must be maintained . Files are replicated when they are added to an exported directory and every time a change is saved to the file.
Directory Replicator Service
A Windows NT term. Replicates directories, and the files in those directories, between computers. See Directory Replication.
Directory Service
A simple term for the information service which the telephone company runs on 411 or 555-1212.

A computer networking term. The facility within networking software that provides information on resources available on the network, including files, users, printers, data sources, applications, and so on. The directory service provides users with access to resources and information on extended networks.
Directory Services
A service that provides information about network objects. DNS (Domain Name System) provides node address information. An X.500 Directory service provides any appropriate information an enterprise wishes to include in the X.500 directory itself.
Directory Synchronization
The reconciliation of user directories from two electronic mail post offices. Many gateways and messaging switches have software to automate reconciling these directories.
Directory Tree
A list of directories. A directory tree looks like an organizational chart and shows how your directories and subdirectories are related. The main directory is called the 'Root Directory'. these days directories are called folders.
DirectX
Microsoft's application programming interface (API) for developing games and multimedia applications for Windows. It gives programmers access to the hardware while hiding specific hardware details. There are six components, including Direct3D for 3-D imaging, DirectDraw for 2-D and (starting with DirectX 8) DirectVoice for communicating with other players during online game play. DirectX is used by many computer games on the market today. It is made and freely distributed by Microsoft for Windows users. Having the latest version of DirectX is essential to playing the latest games. To update your version of DirectX, go to http://www.microsoft.com/directx/. Download the latest version of DirectX.
Dirigible
A balloon capable of being directed by a pilot was called a dirigible in 1885. It comes from the Latin dirigere which means to direct.
Dirt Poor
In 17th century England many houses had dirt floors. Only the wealthy had something other than dirt, hence the saying "dirt poor."
DIRTBAGS
Digitally Initiated Resale of Telecommunications Bypass Applications by Scumbags. A term created by Ron Adams of Maryhurst College in Washington. There is some confusion between this definition of DIRTBAGS " Digitally Initiated Reorigination of Telecommunications Bypass Access Generated by Scumbags. It is ascribed to Karen Corcoran of MCI's Atlanta office to describe as a group the various hackers, phreakers, and others who invade our networks and/or steal long distance service.
Dirty Power
Dirty power typically refers to alternating current that is not a perfect sine wave and not perfectly 120 volt. There are all sorts of ways electricity can be made "dirty." It can be affected by spikes. Spikes are transient impulses (sometimes called glitches) of relatively high amplitude but very short duration. Spikes so short that a very high-speed oscilloscope is needed to observe them can often cause problems. Many spikes can occur in a fraction of a cycle.
Power can also be affected by sags and surges. Sags and surges are rapid changes in the amplitude of an AC voltage. These are generally caused by abrupt changes in the load on a power source or circuit (such as when an air conditioner starts up), and can range from a fraction of a cycle to several complete cycles. Power can also be delivered consistently beyond its rating. In New York Con Edison guarantees 120 volts plus or minus 10%. Any level below 108 volts or above 132 volts Con Edison would consider dirty power. These are called low or high average variations. And they occur when the average voltage is above or below a desired level for significant periods of time, usually measured in seconds, minutes or longer.
Other kinds of dirty power include: Blackouts or brownouts. They occur when the power is switched off or lost completely ( blackout ), or when the voltage feeding a load is deliberately or inadvertently reduced significantly for a sustained period (brownout). Common mode noise is a small (+1V-2V) signal that appears between a neutral line and ground (earth) where there should be no signal. High/low frequency variations occur when the instantaneous frequency of an AC power source differs from its normal frequency, e.g., 60 Hz, by 0.5 Hz or more. Phase angle variations can be observed in three-phase systems whenever the phase relationships vary from their normal 120 degrees.
DIS
Draft International Standard. As specified by ISO, a development step representing near final status on a specification. Once a specification has reached DIS status, companies are encouraged to develop actual products based on it.
DISA
Direct Inward System Access. DISA is a way of dialing into a phone system. It can be used to access one's voice mail, often over 800 lines. It can be used to make long distance calls, often on the theory that it's cheaper for employees to dial over the company's leased line phone network than to dial direct from their homes. DISA has been the major way crooks have dialed into PBXs and stolen toll calls. See Direct Inward System Access.

Data Interchange Standards Association, Inc. DISA is the Secretariat and administrative arm of the Accredited Standards Committee (ASC) X12 which has responsibility for developing Electronic Data Interchange (EDI) standards. DISA OnLine is an electronic messaging and information system designed for use by DISA's member constituency. www.disa.org.

Defense Information Systems Agency. DISA's mission is a combat support agency responsible for planning, developing, fielding, operating, and supporting command, control, communications, and information systems that serve the needs of the President, Vice President, Secretary of Defense, the Joint Chiefs of Staff, the Combatant Commanders, and the other Department of Defense (DOD) Components under all conditions of peace and war.
Disable
You figured this one. It means to prevent a hardware device from working. Unplugging it is the easiest way. It also refers to a tone or other signal which you send over a phone line to disable the equipment at the other end.
Disaggregation
Disaggregation the splitting of a spectrum license into two or more licenses of fewer frequencies.
Disaster Recovery
A generic term for all the tools and planning you need to bring your telecommunications facilities back to where they were before the disaster hit you.
Disaster Recovery Plan
The procedures that are to be executed to restore telecom, data, phone and network operations if catastrophe were to occur (i.e. a fire).
Disc
An older method of spelling DISK, as in Floppy DISK. Disc (spelled with a C) is now more commonly used to refer to optical storage devices, like CD (Compact Discs) and MO (Magneto Optical) discs. See also MS-DOS.
Discard Eligibility
DE. A bit set by the user in a Frame Relay network, to indicate that a frame may be discarded in the event of congestion.
Discharge Block
A protective device through which unwanted voltages discharge to ground.
Disclaimer
A provision in a license that allows a person or organization to deny responsibility for problems related to the use of misuse of the product. Some EULAs (End- User License Agreements) include a disclaimer that purports to free the manufacturer of a piece of software from liability for the product, even if the manufacturer knows of defects in the design. Where it applies, UCITA would make the law governing disclaimers uniform and limit the chance to collect damages in cases where a faulty product has caused actual harm.
Disco
Some phone and cable companies call orders to disconnect service "disco orders." See Disco Tech.

A club where annoying loud music is played, often similar to the "music on hold" on many PBXs.
Disco Tech
Slang expression for a technician who only handles disconnections.
Disconnect
The breaking or release of a circuit connecting two telephones or data devices.

Once upon a time, Teleconnect Magazine used to run comedy supplements in April called Disconnect, which poled fun at our industry. Sadly, the magazine is no more and neither are the supplements.
Disconnect Frame
Indicates in a fax call that the call is done. The sending fax machine sends the disconnect frame before hanging up. It does not wait for a response.
Disconnect Signal
The signal sent from one end to indicate to the other to shut down the connection.
Disconnect Supervision
The change in electrical state from off-hook to on- hook. This indicates that the transmission connection is no longer needed.
Disconnect Switch
In a power system, a switch used for closing, opening, or changing the connections in a circuit or system or for purposes of isolation. It has no interrupting rating and is intended to be operated only after the circuit has been opened by some other means, such as by a circuit breaker or variable transformer.
Disconnected Recordset
A recordset in a client cache that no longer has a live connection to the server. If something must be done with the original data source, such as updating data, the connection will need to be re-established.
Discontinuity
An interruption or drop out of the optical signal.
Discounted Payback Period
The number of years in which a stream of cash flows, discounted at an organization's cost of money, repays an initial investment.
Discounting
The process of computing the present worth of a future cash flow by reducing it by a factor equivalent to the organization's cost of money (or some other measure of the value of money as measured by an interest rate) and the time until the cash flow occurs.
Discoverable Device
A Bluetooth device in range that will respond to an inquiry " normally in addition to responding to page.
Discoverable Mode
A device that can respond to an inquiry is said to be in a discoverable mode. There are two types of discoverable modes: limited discoverable mode and general discoverable mode. The opposite of discoverable mode is non-discoverable mode. See also Silent Device.
Discovery Mechanism
A way of finding other servers on the network.
Discrete
In voice recognition, refers to an isolated word. A discrete word is preceded and followed by silence, hence isolated in speech. Discrete words need to be separated by about half a second of silence when spoken to a discrete recognizer.
Discrete Cosine Transform
DCT. A pixel-block based process of formatting video data where it is converted from a three dimensional form to a two dimensional form suitable for further compression. In the process the average luminance of each block or tile is evaluated using the DC coefficient. Used in the ITU-T's Px64 videoconferencing compression standard and in the ISO/ITU-T's MPEG and JPEG image compression recommendations.
Discrete Logic Device
Discrete logic devices are simple devices that typically serve one function " whether it's a gate, a buffer, a transceiver, etc. The list of discrete logic devices includes products that transfer bits of information across a backplane or bus in either a single-bit fashio or all the way up to 32-bit wide devices. In the ideal world, no designer would include discrete logic components on a printed circuit board. But the world is not ideal.
Discrete Multi-Tone
See DMT.
Discrete Wavelet Multi-Tone
DWMT. A transceiver technology that can be used in ADSL systems, DWMT uses a large number of carriers that are individually modulated. Unlike DMT, the carriers are not equally spaced. With DWMT, more carriers are allocated in the lower frequency spectrum.
Discretionary Preview Dialing
A single button dialing technique where the agent initiates a call with a single keystroke. Often used in association with a CRT tied to a database. Upon hitting a single button the system selects the phone number field from the screen and dials the number. Contrast this with Forced Preview Dialing. When the call ends, the computer brings up the next screen and starts dialing the call without the agent helping or hindering .
Discriminating Ringing
See Distinctive Ringing.
Discriminator
A specific type of FM detector circuit which senses phase relationships.
Discussion
A method of confirming others in their errors.
Disengage Request
Message with the Billing Information Token (which contains the duration of the call) sent by the gateway to the gatekeeper when a call ends.
Disengagement Denial
Disengagement failure due to excessive delay by the telecommunication system.
Disengagement Failure
Failure of a disengagement attempt to return a communication system to the idle state, for a given user, within a specified maximum disengagement time.
Dish
Typically a parabolic microwave antenna " used for receiving line-of-sight terrestrial signals or signals from satellites.
Disintermediation
The decline of middlemen companies that today operate between the buyer and maker of goods. Pundits predict this will happen with the rise of commerce on the Internet. For example: the insurance, auto, mortgage, news delivery, and stock brokerage industries may change dramatically over the next few years. The Internet allows many industries such as these to do business directly with their customers.
Disk
A piece of plastic or metal upon which a coating has been applied and which can thus, record computer information magnetically. The present convention is that a "disk" with a K refers to magnetic storage, while "disc" with a C refers to optical storage. A CD is a disc. See also MS-DOS.
Disk Array
Also called a Drive Array. Although any set of disk drives put into a common enclosure could be called an array, in terms of RAID technology disk arrays tend to be those drives which are subject to a hardware or software-based controller that makes them appear to be a single drive to the host CPU or operating system. In short, a disk array is a disk subsystem combined with management software which controls the operation of the physical disks and presents them as one or more virtual disks to the host computer.
Disk Cache
On a PC, a disk cache is the part of RAM that is set aside to temporarily hold data read from disk. A disk cache doesn't have to hold an entire file, as a RAM disk does, but can hold parts of running application software or parts of a data file. Disk-caching software manages the process of swapping data to and from the disk cache. See Disk Caching.
Disk Caching
A technique used to speed up processing. Each time your application retrieves data from the disk, a special program, called a disk caching program, stores data read from the disk in an area of RAM. When the application next requests more data, some of it may already be in RAM, thereby dramatically speeding the retrieval of data. See Disk Cache and Caching.
Disk Cloning
Making an exact copy of your hard disk on another hard disk. You do this because you want to back up your hard disk, software and data alike. It's not as easy as it sounds since you need to reinstall the hard disk on an identical machine, with identical hardware.
Disk Controller
A hardware device that controls how data is written to and retrieved from the disk drive. The disk controller sends signals to the disk drive's logic board to regulate the movement of the head as it reads data from or writes data from or writes data to the disk. Gateway Computers defines disk controller thus: "Circuitry that manages the physical activity of a disk drive, such as moving the drive heads and creating the actual signals recorded on the disks. The controller is usually a card on the underside of the drive itself. The expansion card that connects to the drive by a ribbon cable enables communication between the disk drive and the computer and is called an adapter or host adapter. Sometimes the adapter circuitry is directly on the system board. Older hard drives had two ribbon cables to the expansion card because one part of the card held controller circuitry and another part held the adapter circuitry."
Disk Dancers
Teenagers who use the America Online CDs and floppy disks given away in magazines and via direct mail to hop from one free account to another.
Disk Drive
A device containing motors, electronics and other gadgetry for storing (writing) and retrieving (reading) data on a disk. See Disk Duplexing , Disk Mirroring, Disk Operating System and other definitions below starting with the work "Disk." See also IDE and Enhanced IDE.
Disk Drive Performance
Three basic things affect your perception of the speed of the hard disk drive inside your PC.
The disk transfer rate " the speed at which data can be read from or written to the drive's media. This speed is governed mainly by drive mechanics " especially rotational speed, latency and seek time.

The controller transfer rate " the speed at which the drive's controller electronics can move data across the interface. This is governed by the design of the drive controller.

The host transfer rate " the speed at which the computer can transfer data across the interface. This is a matter of both CPU and bus speeds as well as the hardware that provides the bridge between the host bus and the disk interface.
Disk Duplexing
A method of failsafe protection, used on file servers on local area networks. Disk duplexing involves copying data onto two duplicate hard disks, each using a separate controller and a separate disk channel. Disk duplexing protects data against the failure of a hard disk or of the hard disk channel between the disk and the file server. The hard disk "channel" includes the disk controller and interface cable. If any component on one channel fails, the other channel continues to operate normally. (You hope.) The operating system sends a warning message to the workstations and PCs on the network to indicate the failure. It's a good idea then to fix the problem fast. Very fast. See also Disk Mirroring.
Disk Mirroring
A technique for protecting the information on your hard disk. Disk mirroring writes data simultaneously to two identical hard disks using the same hard disk controller. Here's how it works: You have a special hard disk controller card. That's the card which organizes getting information into and off your hard disk. When you come to write information to your hard disk, your hard disk controller writes first to the first hard disk, called the primary hard disk. The controller retains that information in its memory and then writes it to the second hard disk. This causes a 50% degradation in performance since it now takes twice as long to write to the disk. When the controller comes to read, it reads only from the primary disk. Thus there is no performance degradation in reading. Mirroring is designed to protect against mechanical problems with one of your hard disks. If one of the hard disks breaks, the other one will take over instantly. You will get a warning message. You will be told to repair the broken disk and you will be told to designate the other disk now as your primary disk (it may already be). That primary disk will now become your bootable disk, the one you boot your computer from. Mirroring does not protect against viruses, or corrupt data or losing data. Any idiocy you can perform on one hard disk you can now happily perform on two. Mirroring does not protect you against a lightning strike which could knock out both your hard disks. Mirroring does not protect against the loss of a controller card since you're only using one. Another protection technique called disk duplexing uses two separate controllers to drive two separate hard disks. See also Disk Duplexing.
Disk Operating System
See DOS.
Disk Pack
A series of disks mounted horizontally and arranged as a single unit. A disk pack contains more space for storing and retrieving information than one single disk.
Disk Sector
Magnetic diskettes are typically divided into tracks, each of which contains a number of sectors. A sector typically contains a predetermined amount of data, such as 256 bytes.
Disk Server
A device equipped with disks and a program that permits users to create and store files on the disks. Each user has access to their own section of the disk. It gives users disk space which they would not normally have at their own personal computers. The disk server is linked to the PCs via a LAN. The next level of sophistication would be a file server, which would allow users to share files.
Disk Spanning
When you want to save a single big file to several floppy disks, it's called disk spanning. Many of the zipping programs allow you to do this.
Disk Striping
Writing data in stripes across a volume that has been created from areas of free space on from two to 32 disks.
Disk Subsystem
A collection of physical disks and the hardware required to connect them to a host computer or network.
Disk/File Server
A mass storage device that can be accessed by several computers, usually through a local area network (LAN).
Diskless PC
Just what it says: a PC without a disk drive. Used on a LAN, a diskless PC runs by booting DOS from the file server. It does this via a read-only memory chip on its network interface card called a remote boot ROM. Diskless PCs are cheaper than PCs with disks, they're more compact and they offer better security since users can't make off with floppy disks of important and sensitive data or add their own virus-ridden programs to file servers. Diskless PCs appeal primarily to users interested in security. One system of diskless PCs allows the system operator to disable and physically lock the machine's various ports and the computer case itself. Should something go wrong with the machine, the ports can be restored to operating condition by letting the system allow a technician to attach a laptop computer and run diagnostic programs.
Diskless Workstation
See Diskless PC.
DISN
Defense Information Systems Network.
DISOSS
IBM's Distributed Office Support System.
Disparity Control
A function of the 8B/10B transmission encoding scheme, in which the two remaining bits are used for error detection and correction. 8B/10B transmits 8 bits as a 10-bit group, thereby leaving two additional bits for disparity control.
Dispatch
A radio communications technique where one communicates to many through short bursts of communication. Users of dispatch services include taxis, trucking companies and service personnel.
Dispatch Walkie-talkie Mode
Where one subscriber talks and all the subscribers listen on the same talk channel. the service is used by taxi cab and trucking companies, etc.
Dispersion
In the broadest sense, dispersion refers to the spreading out of a light signal. Optical fiber transmission systems variously suffer from a number of different types of dispersion. For example, chromatic dispersion describes a phenomenon in which an optical signal is distorted because the various frequency components of that signal have different propagation characteristics. (Note: Wavelength is the inverse of frequency. In the visible light spectrum, we see each wavelength as a different color, hence the term chromatic.) Now, a light source (e.g., laser diode), no matter how finely tunable, creates light pulses across a range of wavelengths. Each wavelength travels at a slightly different speed through the fiber core and, especially, through the clearer cladding that surrounds the core. As the pulse propagates through the fiber, therefore, it tends to lose its shape and overrun other pulses in a phenomenon known as pulse dispersion. Dispersion is a particularly significant problem in high-speed networks, which operate at Gbps speeds, and in long haul networks involving links exceeding several hundred kilometers. In order to defeat dispersion, the network must be optimized through the placement of regenerative repeaters at appropriate intervals, or through the use of one of several types of Dispersion Shifted Fiber (DSF). See also Chromatic Dispersion, DSF, Modal Dispersion, Polarization-Mode Dispersion, Pulse Dispersion, and Waveguide Dispersion.
Dispersion Compensation Grating
DCG. DCG overcomes the distortion of optical signals as they are transmitted through a network. Instead of trying to compensate for large amounts of signal dispersion at the end of a network, DCG periodically removes the distortion where needed along the transmission line. See DCG and Solitons.
Dispersion Compensating Fiber
A fiber that has the opposite dispersion of the fiber being used in a transmission system. It is a short length of fiber spliced into a fiber optic transmission in order to nullify the dispersion caused by that fiber.
Dispersion Shifted Fiber
See DSF.
Dispersion Management
Dispersion management comprises a number of techniques and mechanisms used in the system design of a fiber optic transmission in order to cope with the various types of dispersion experienced by signals traveling over optical fiber transmission systems.
Dispersion Penalty
Dispersion in an optical fiber causes individual pulses to lose their shape as the edges become smeared. As the edges smear, the receiver has more difficulty distinguishing between individual ones (pulses of light) and zeroes (non-pulses of light). See also Dispersion.
Display
The visual presentation of information, usually on a TV-like screen or an array of illuminated digits.
Display Driver
A piece of software which translates instructions from the software you are running into thousands of colored dots, or pixels, that appear on your video monitor. A display driver is also called a Video Driver. Symptoms of a video driver giving trouble can range from colors that don't look right to horizontal flashing lines to simply a black screen. In the Macintosh world, Apple rigidly defined video drivers. Windows, in contrast, is a free-for-all. Windows 3.1 defined the lowest common denominator of displays " namely 16 colors at 640 x 480 pixels. But most multimedia programs and many games won't run with only 16 colors. They require at least 256 colors.
Display Phone
A telephone that has a LED display. Also called an Executive Phone. Display phones are usually difficult to read because the displays are not backlit. Phone lines and PBX extension lines don't have enough power to run the display without an external power adapter and most telephone equipment makers don't want to sell phones with an external power adapter. It limits where phones can be placed and therefore how many can be sold. Display phones typically allow both "programmable keys", buttons that can be programmed for speed dial, conference, etc. and "soft keys", buttons that change function as different features are used, and also can show the number that is being dialed, and internal callers ' names and extensions.
Display Rotation
What the computer industry refers to as the ability to change a monitor from landscape (its normal mode) to portrait (useful portrai is supported, to switch to portrait mode you'll need to select a portrait display mode in Display Properties. Changing display
Displayboards
Also called Readerboards or Wall Displays. Readerboards are typically found in call centers. They are electronic displays, sort of like giant TVs. They are typically hooked into the ACD or PC monitoring the machine and they throw up information about how many people are waiting in line, how long the longest person has been in line, how well the agents are doing and, often, whose birthday it is today. The idea is that all the agents in the call center can see the Readerboards and change their behavior accordingly .
Disruptive Technology
A disruptive technology is a new technology which destroys an existing technology or an existing way of doing things by being better, faster and cheaper. The telegraph and the telephone were both disruptive technologies, as was the communications satellite, fiber optics and the Internet. Most disruptive technology is not introduced by existing companies. In his 1997 study of disruptive vs. sustaining technologies, Clayton Christensen of Harvard Business School pointed to the dilemma that all industrial leaders face. On the one hand, they have to listen carefully to their customers, who want predictable improvements in sustaining technology. Yet, on the other hand, they must also be ready for the mayhem that could ensue if, out of the blue, some radical , disruptive technology were suddenly to rewrite the rules and render their company's products irrelevant. Christensen tells of a meeting with Andy Grove of Intel in which Grove interrupted Christensen to exclaim, "I get it! It's not the technology that's disruptive, it is how the technology disrupts the business model!" Christensen has studied hundreds of technology introductions , and found that incumbent companies are expert at bringing new technology to market if it sustains their existing value proposition, but they are horrible at bringing disruptive technology to market. For example, if we were waiting for the leading mini-computer makers (DEC and Wang) to bring us PCs, we'd probably still be waiting.
Distance Learning
A form of instruction in which video and audio technologies are used so as to allow students to attend classes in a location distant from where the course is being presented.
Distance Sensitive Pricing
Product pricing based on the distance (airline mileage) between the originating and terminating locations of a call/data transmission.
Distance Vector
An approach, or algorithm, used by network equipment in selecting the best available network path by calculating the total distance over which a packet would travel on each alternative route. The shortest distance is usually the most preferred.
Distance Vector Protocol
A routing protocol designed to minimize the number of hops (i.e., link-level connections between routers) which a data packet must travel from the originating device to the terminating device. Such a protocol causes each router to regularly broadcast the entire contents of its routing tables to all neighboring routers. Each recipient adds its own "distance" vector by incrementing the distance value by 1, and passes the data to its neighbors, and so on. (Note that "distance" refers to the number of routers transversed, rather than the geographic distance over which the signal propagates.) This method automatically allows the involved routers to discover and rediscover any route failures and restorals, and to "converge" on consensus-level route selections. However, this method is bandwidth-intensive in large, complex networks, as large routing tables are passed around the network frequently; during such processes, the bandwidth available in support of user data is diminished significantly. Therefore, distance vector protocols are best used in relatively small router networks with relatively few inter-router connections. Network factors such as link speeds and congestion levels are not considered in distance vector protocols. Distance vector protocols include IP RIP, IPX RIP, and AppleTalk RTMP. Distance vector algorithms also are known are known as Bellman-Ford algorithms. See also Link-State Protocol, Path Vector Routing Protocol, Policy Routing Protocol, Router, and Static Routing.
Distant Learning
A Pacific Bell term for students sitting in front of TVs and phones and participating in classes that are being held and delivered elsewhere. In one of PacBell's trials, they used a T-1 signal, so the distant lecturer could see and hear his distant students using full-color video.
Distant Signal
An FCC definition. A television channel from another market imported and carried locally by a cable television system.
Distinctive Dial Tones
In some phone systems, dial tones sound different. An internal dial tone sounds different to an external dial tone. The logical reason for this is simply to alert the user as to whether he or she is making an intercom or an outside local or long distance call.
Distinctive Ringing
First, distinctive ringing is a feature that offers extra numbers which cause different ringing patterns on a line. When the main number is called, the called party will receive the normal ringing pattern. If one of the extra numbers is dialed, that line would ring with a different cadence. In North America, the normal ringing pattern is a single ring every six seconds. The distinctive ring patterns are 1) two short rings every six seconds, or 2) a short-long-short ring.
Different ringing patterns are also used in conjunction with such features as busy call return to indicate a freed line. One test done by Bell Canada set up a special ringing pattern (different from any of the featured distinctive rings) to indicate an incoming long distance call.
Each telephone company has its own name for this feature: Ident-a-Call, Teen Ring, Feature Ring, etc. In any case, different ringing patterns allow for calls to certain people, or to sort out different call purposes such as for voice, fax, modem, or answering machine.
Distort
To change some characteristic of a signal during its transmission. See Distortion.
Distortion
The difference in values between two measurements of a signal " for example, between the transmitted and received signal. "Distortion" typically refers to analog signals.

In imaging, distortion is any deformation of the on-screen image. Two common types of distortion are pincushion and barrel.

When used in relation to AC power distribution, this refers to deviations between the actual AC voltage waveform delivered to the user and the ideal sine wave of voltage. Total distortion is usually expressed as a percentage of desired sine wave, for example, a square wave has approximately 33% distortion. Distortion in AC power systems can also be resolved into a series of harmonics. In this case percentages for each harmonic (such as the third, fifth, seventh, etc.) are provided. The square root of the sum of the squares of the individual harmonics is equal to the total distortion. This definition courtesy APC.
Distributed Capacity
The capacity in a coil due to the proximity of the turns.
Distributed Common Control
There are two elements of telephone switching: the switching itself and the control of that switching. The earliest step-by-step telephone switches had their "Control" built into them. The dialing information at the beginning of the call physically moved switches. You could say, as a result, that control was distributed throughout the switching system. Then came the 1940s and crossbar exchanges, and the economics pointed to centralizing control. Then came computerized or stored program control (SPC) switches in which large computers were used centrally to perform virtually all the functions of the erstwhile electromechanical senders, registers, markers, etc. " those things which affect the setting up and tearing down of the call. As computers got smaller and as microprocessors appeared (the so-called computer on a chip), it became economical and efficient to place inexpensive microprocessors in the telephone circuits themselves , in essence getting much of the processing done before it hits the central processing unit. Increasingly, as special microprocessors (so-called "computers on a chip") for telecommunications evolve , we will see more and more of the processing being distributed to further and further away from the central point and closer and closer to the originating telephone instrument. It will be rare in coming years for telephones to come without microprocessors. One day, each phone will have its own switch and the rest of the system will just be one gigantic loop of cable " not unlike today's local area networks.
Distributed Component Object Model
See DCOM.
Distributed Computing Environment
DCE. A comprehensive integrated set of services that supports the development, use, and maintenance of distributed applications. Digital Equipment Corporation's DCE is an implementation of the Open Software Foundation's DCE (OSF DCE). In response to OSF's request for distributed computing technology, Digital submitted for consideration four of Digital's established distributed computing technologies:
Remote Procedure Call (RPC), a joint effort with HP/Apollo; Threads Service, based on Digital DECthreads; Cell Directory Service (CDS), based on the Digital Distributed Name Service (DECdns); Distributed Time Service (DTS), based on the Digital Distributed Time Service (DECdts). See DCE for more detail.
Distributed Data Processing
DDP. A data processing arrangement in which the computers are decentralized " i.e. scattered in various places. Hence, processing occurs in a number of distributed locations and only semi-processed information is communicated on data communications lines from remote points to the central computers. The object of DDP is to split processing among multiple computers, to save telecommunications charges and to improve network response time.
Distributed Database
A database managed as a single system even though it includes many clients and many servers at both local and remote sites. A distributed database requires that data redundancy is managed and controlled.
Distributed Denial of Service Attack
See Denial of Service Attack.
Distributed Environment
Refers to a network environment, or topology, in which decision making, file storage and other network functions are not centralized but instead are found through the network. This type of environment is typical for client-server applications and peer-to-peer architectures.
Distributed Feedback Laser
DFB. A type of laser used in fiber-optic transmission systems, at the distribution level of the local loop. DFBs are point-to-point lasers distributed among nodes in a geographic area such a neighborhood. They transmit and receive optical signals between the distributed nodes and the centralized node, where the signals are multiplexed over a higher-speed fiber link to the head-end (point of signal origin). DFBs can be more effective than the traditional approach of using a single laser which serves multiple nodes through a broadcast approach, as the available bandwidth can be segmented. DFBs have application in a FTTN (Fiber-To-The-Neighborhood) local loop scenario. See also FTTN and SONET.
Distributed File System
A type of file system in which the file system itself manages and transparently locates pieces of information from remote files and distributes files across a network. It can recognize multiple servers and be accessed independently of where it physically resides on the network.
Distributed Management Environment
A compilation of technologies now being selected by the Open Software Foundation to create a unified network and systems management framework, as well as applications. Those technologies will complement OSF's own Unix implementation, OSF/1, as well as other operating systems.
Distributed Microprocessor Common Control
In telephone systems, this means that the system employs many individual microprocessors to control system functions. The microprocessors may be located in central processing equipment or in the telephones themselves.
Distributed Name Service
A technique for storing network node names so that the information is stored throughout the network (either one LAN or many joined together), and can be requested from, and supplied by, any node.
Distributed Network Service
Introduced in March 1991, AT&T's Distributed Network Service was designed expressly for the switchless resale community unlike SDN. It allows resellers to purchase large volumes of services and receive progressive discounts on all direct dial domestic and international calls. Resellers may designate any number of locations to participate in the plan with the flexibility of adding locations.
Distributed Nodes
PBX and its "slave" switches which are physically in separate buildings , in separate areas of the campus, in separate parts of the town.
Distributed Order Management
The customer order drives the supply and demand chain " touching everything from marketing and finance to production " yet most companies today lack a cohesive architecture to address this critical piece of the business. Compounded by the increasing number of channels, suppliers, and customer relationships, these businesses are struggling to manage orders across their extended enterprise. Orders must be coordinated and fulfilled across internal divisions as well as external supply networks such as contract manufacturers and third-party logistics service providers. Thus the term Distributed Order Management.
Distributed Processing
A network of computers such that the processing of information is initiated in local computers, and the resultant data is sent to a central computer for further processing with the data from other local systems. The term also covers computing jobs "farmed out" from a central site to remote processors where faster processing or specialized databases are available. Distributed processing is often a more efficient use of computer processing power since each CPU can be devoted to a certain task. A LAN is the perfect example of distributed processing. See also Distributed Data Processing.
Distributed Queue Dual Bus
DQDB. A connectionless packet-switched protocol, normally residing in the Medium-Access Control sublayer of the data link layer. Definition from Bellcore in reference to Switched Multimegabit Data Service (SMDS). See also DQDB and SMDS.
Distributed Storage
Whether it's organizing documents, spreadsheets, music, photos, and videos or maintaining regular backup files in case of theft or a crash, taking care of data is one of the biggest hassles facing any computer user. Wouldn't it be better to store data in the nooks and crannies of the Internet, a few keystrokes away from any computer, anywhere ? A budding (but not yet here) technology known as distributed storage could do just that, transforming data storage for individuals and companies by making digital files easier to maintain and access while eliminating the threat of catastrophes that obliterate information, from blackouts to hard-drive failures.
Distributed Switching
When electronics and computers were expensive it made sense to centralize them and run individual lines out for miles to subscribers. Then the economies changed. Electronics and computers became cheaper and running phone lines for miles became very expensive. So switching companies started building small switches which they could put closer to subscribers. Thus, individual local loops would be shorter and the long lines going back to the larger central office would be more efficiently used " namely by more people. The remote, or distributed switches, are called everything from remote switches to slave switches (because they slave off the main one which is distant). Usually these remote switches are unattended.
Distribution
The portion of a switching system in which a number of inputs is given access to an equal number of outputs.

Refers to the arrangement of premises wiring runs and their associated hardware required to implement the planned customer premises wiring system extending from the network interface jack to each communications outlet at the desktop.
Distribution Cable
Part of the outside cable plant connecting feeder or subfeeder cables to drop wires or buried service wires that connect to the customer's premises. In simpler language, it's the cable from the serving area interface " a box on a pole, in the ground, etc. " to the lightning protection at the entrance to the customer's premises. See also Feeder Plant and Drop Wire.
Distribution Cable, Inside Plant
Cables usually running horizontally from a closet on a given floor within a building. Distribution cables may be under carpet, simplex, duplex, quad, or higher fiber count cables.
Distribution Cable, Outside Plant
The cable running from a central office or remote terminal to the side of a subscriber's lot.
Distribution Channel
The route which the goods or title to the goods follow from the original supplier to the end user, determined by the type of trading parties, e.g. wholesaler, retailer, etc.
Distribution Duct
A piece of rectangular metal or plastic within or just below the finished floor in your office or factory and used to extend AC power cables and telecommunications wires to a specific work area. Also called a raceway.
Distribution Frame
Cables coming in from thousands of subscribers need to connect to the correct ports on a central office. Similarly, cables coming in from many PBX extensions need to connect to the PBX. The cables could be directly wired to the CO or to the PBX. This would be inflexible . It would make future moves and changes a nightmare. So the solution is something called a Distribution Frame. Basically it's a giant wire connecting device made of metal. There are no electronics in it whatsoever. On one side we punch down the wires coming in from the outside world. On the other side, we punch down the wires coming in from the CO or PBX. Both sides are connected with wire that's called "jumper" wire. By pulling off one end of the jumper wire and moving it to another location we can quickly change phone numbers, add or subtract cabling (one, two or three pairs for normal or electronic phones, etc.). In big central offices, distribution frames can span whole city blocks and the "jumper" wires can be several hundred yards long. Designing distribution frames and their layout in advance is critical, otherwise, it becomes a mess and tracing where jumper wires go becomes an enormously time consuming job.
Distribution Frequency
The number of times used in the Internet for translating names of host computers into addresses. It is a network database system that provides translation between host names and addresses.
Distribution Group
A group made of phone extensions on a PBX arranged to share the load. In the Rolm PBX, each group is assigned a dummy extension number called a pilot number.

A group of telephone extensions on an automatic call distributor (ACD). The ACD answers the incoming calls then checks to see if any agents' phones are free. If none are free, it delivers the caller a message and then puts the caller on hold. Which line the call has come in on may determine which group of agents should handle that call. They would be called a Distribution Group. Once the call is released from hold, it may be sent to a member of that Distribution Group following some pre-determined mathematical formula " for example, so that everyone's workload is kept constant, or a group of people are kept busy.
Distribution Rack
A device used to mount communications equipment and cables.
Distribution Service
In ISDN applications, a telecommunications service that allows a one-way of information from one point in the network to other points in the network with or without user individual presentation control. See Distribution Services.
Distribution Services
In the world of B-ISDN (broadband ISDN) applications, distribution services are communications services that emphasize one-way, bandwidth- intensive transfer of information from one point in the network to other point(s) in the network. There are two classes of Distribution Services defined within this context, revolving around the issue of "Presentation Control:" Services requiring no presentation control include what we normally think of as broadcast services. Such services include such data as TV, Video On Demand (VOD), audio and multicast data. The data is broadcast or multicast across the network, with no requirement that the receiving device exercise any form of control over the transmission or presentation of the data. Services requiring presentation control include Interactive TV. While engaged in an Interactive TV session, a viewer might wish to control a TV broadcast in much the same way as he would control a videotape through a VCR remote control. While watching the Super Bowl, for instance, Ray Horak might wish to rewind and replay the touchdown scored by the Dallas Cowboys' Emmit Smith against the San Francisco 49'ers. Further, the viewer might wish to view that play from multiple angles covered by cameras positioned around the stadium. While the viewer is exercising these options, the live broadcast is buffered in large-scale temporary memory in the TV set of the future. Once the viewer has sufficiently relished the play, he can play rejoin the live broadcast, begin the program where he left off, or exercise other options. Harry Newton, on the other hand, might wish to exercise the same control over a tennis match broadcast from Australia.
Distribution Voltage Drop
The voltage drop between any two defined points of interest in a power distribution system.
Distributor
A company with a contractual relationship with a manufacturer to buy equipment at a preset price. The manufacturer provides training, advertising and warranty support. Often called an authorized dealer, although a dealer may be one step lower in the distribution chain. A distributor is often used as a generic term for any supplier. Therefore you should clarify whether a distributor is an authorized distributor.

See Cross-connect.
Disturber
A telephone company word for crosstalk. See Binder Group and Crosstalk.
DIT
Directory Information Tree. The global tree of entries corresponding to information objects in the OSI X.500 Directory.
Dithering
Dithering is an imaging term with at least two meanings. One meaning that is the processing of an image containing more colors than a system can handle to an image containing exactly the right number of colors that the system can handle. For example, some of the color images on my laptop contain 16 million colors. But my laptop (the way I have it set up) will only handle 256 colors. If I ask my image display software to display that image, it will "dither" it to 256 colors. This means it will give its best shot guess at what the image should look like.
In another meaning, dithering is patterning black and white dots to approximate shades of grey on a scanned image.
Diurnal Phase Shift
The phase shift of electromagnetic signals associated with daily changes in the ionosphere. The major changes usually occur during the period of time when sunrise or sunset is present at critical points along the path. Significant phase shifts may occur on paths wherein a reflection area of the path is subject to a large tidal range. In cable systems, significant phase shifts can be occasioned by diurnal temperature variance. See also Diurnal Wander and Wander.
Diurnal Wander
A loss of signal synchronization in digital cable systems caused by temperature variations over the course of 24 hours. (Diurnal means "daily cycle.") As the ambient temperature varies from the heat of the day to the cool of the night, the cable stretches and contracts, with the overall length of the cable changing, if only ever so slightly. As the length of the medium changes, the speed of signal propagation (the time it takes for the signal to transverse the cable) is affected. As a result, the number of digital pulses effectively stored in the medium changes. The end result is that the network elements (e.g., repeaters and multiplexers) can get out of synch. Diurnal wander affects all types of cable systems " twisted pair, coax cable, and optical fiber; it especially affects cables hung from poles, rather than buried, as such cables are more exposed to temperature variations and as the weight of the cable adds to the problem. The impacts of diurnal wander are particularly great in very high-speed transmission systems. See also Diurnal Phase Shift and Wander.
Diverse Entry
You have a building with phone service. You are concerned about the reliability of your phone service. You are concerned that the wires coming in from your phone company might be cut. So you organize to have service coming in from the phone company along different routes and entering your building from opposite sides of your building. Thus the term diverse entry.
Diversity
In microwave communications, the strength of a microwave signal can decrease for many reasons " heat, rain, fog, etc. This is not good if the objective is to get reliable communications. One solution is to simultaneously send and receive two microwave signals at slightly different frequencies. Since different frequencies respond differently to weather problems, the likelihood is that at least one will get through well. This is called diversity.

A means of effecting redundancy in a network, with the result being protection from catastrophic failure. Consider the typical end user " one cable entrance to one group of wire pairs housed in one cable connected to one central office provided by one local exchange carrier and connecting to one interexchange carrier. That is a catastrophe waiting to happen. Consider the alternative of full diversity. The fully redundant end user has several cable entrances into the building " this is Entry Diversity. The local loop connection is provided through multiple, non-adjacent pairs in multiple cables " this is Pair and Cable Diversity. The several cables follow different routes to the CO " this is Route Diversity. The local loops terminate in multiple COs " this is Central Office Diversity. The carrier connection is to multiple LECs and IXCs " this is Carrier Diversity. In this scenario of full diversity, no single point of failure can totally isolate the user organization from the network. Diversity is good " perhaps expensive and complex, but good.
Diversity Combiner
A circuit or device for combining two or more signals carrying the same information received via separate paths or channels with the objective of providing a single resultant signal that is superior in quality to any of the contributing signals.
Diversity Receive
A method commonly employed by cellular manufacturers to improve the signal strength of received signals. Uses two independent antennas that receive signals which differ in phase and amplitude resulting from the slight difference in antennas position. These two signals are either summed or the strongest is accepted by voting. The most popular methods include dual-antenna phase switching, dual-receiver audio switching and "ratio diversity" audio combining. The most effective method is ratio diversity combining.
Divestiture
On January 8, 1982 AT&T signed a Consent Decree with the U.S. Department of Justice, stipulating that on midnight December 30, 1983, AT&T would divest itself of its 22 telephone operating companies. According to the terms of the Divestiture, those 22 operating Bell telephone companies would be formed into seven regional holding companies of roughly equal size. Terms of the Divestiture placed business restrictions on the BOCs. Those restrictions were threefold: The BOCs weren't allowed into long distance, equipment manufacturing, or information services. In for the divestiture, AT&T would be allowed into the manufacture of computers. It had been restricted previously by the 1956 Consent Decree. See also Lucent Technologies.
Divorce
Rod Stewart says from now on he'll just avoid the whole marriage scene. "I'm going to find a woman I don't like and just give her a house."
Divx
A new DVD (Digital Video Format) format that supports encryption and timed rentals. Divx is essentially a more expensive version of DVD. The foremost difference between it and standard DVD is the disk's encryption technology. The second difference is the way the Divx system allows for an on-demand viewing experience. Divx disks require a Divx player, which will sell for about $100 more than the price of a standard DVD player, and which will also play standard DVD disks and audio CDs. Users buy a Divx disk for about $5, and can watch it as many times as they like for a two-day period; the period begins when they first hit "play" on the Divx player. After the initial two-day viewing period, customers can play the disk at a much later time by just paying a fee. Moviephiles can also buy a special password to gain unlimited playback of the movie. Future viewings are billed in two-day periods, just like the initial viewing. The player keeps track of the number of periods the consumer has used and transmits this information over a household phone line to the consumer's account; the consumer then receives a bill in the mail. This system includes the key characteristics of the video rental model, like convenience, variety and low cost, but with important advantages. For example, the user never has to return the disks so, there are never any late fees. "It basically moves DVD technology into the rental domain," said one observer at the time of the announcement of the Divx technology in the fall of 1997.
DIW
Type D Inside Wire. Originated as a specific AT&T cable. Now commonly used to describe any 22, 24, or 26 gauge PVC jacketed twisted-pair cable used primarily for inside telephony wiring.
DIX
Digital/Intel/Xerox. The early 1980s consortium of manufacturers that promoted the Ethernet Version 1 and Ethernet Version 2 variations of a CSMA/CD media access protocol. This DIX "standard" was then submitted to the IEEE, where after some modifications it was released as IEEE Standard 802.3. The DIX version did not include specifications for UTP or Fiber Optic cable.
DIX Connectors
A local area network connector. DIX connectors on the transceiver local area network cable link it to the network; the male DIX connector plugs into the SpeedLink/PC16 and the female DIX connector attaches to an external transceiver.
DIX Ethernet
The DEC, Intel, Xerox Ethernet standard, also known as Version 1 or Bluebook Ethernet. There are subtle differences between IEEE 802.3 and the DIX Ethernet.
Djam Karet
Pronounced Jam Karet. In Indonesian, it literally means rubber time. Appointments in Indonesia are either scheduled on "djam karet" time " meaning they start an hour or two late " or they are scheduled on "American time", in which case they start on time.
DL
Distribution List.

Distance Learning.
DLC
Digital Loop Carrier. Network transmission equipment used to provide pair gain on a local loop. The digital loop carrier system derives multiple channels, typically 64 Kbps voice-grade, from a single four-wire distribution cable running from the central office to a remote site. In the traditional deployment, Central Office Termination (COT) comprises multiplexing equipment in the central office (CO). A four-wire, twisted-pair circuit is deployed from the CO to the remote location at the point of Remote Termination (RT), where it terminates in matching DLC electronics. From the remote node, the interface is joined to individual voice-grade local loops which extend to the individual customer premises. Effectively, traditional DLCs are channel banks " devices which multiplex and demultiplex multiple channels over a high-bandwidth, electrical distribution facility. Such DLCs are used in situations in which the cost of the equipment is more than offset by the savings in distribution facilities through eliminating the need for a large number of individual copper pairs. Traditional DLCs also are known as SLCs (Subscriber Loop Carrier systems).

In a more contemporary scenario, the carriers deploy high-bandwidth fiber optic facilities from the COT to the RT. The carrier electronics at each end accomplish the optoelectric conversion process, as well as that of multiplexing/demultiplexing. The final leg of the local loop remains embedded unshielded twisted pair (UTP). This type of system can be characterized as a hybrid local loop system, and the DLC is known as a ngDLC (next generation DLC). ngDLCs support FTTN (Fiber-to-the-Neighborhood), which offers clear advantages in comparison to FTTC (Fiber-To-The Curb) and, certainly , to FTTH (Fiber-To-The- Home), given the high cost of the conversion processes. Additionally, the deployment of fiber optic distribution facilities yields much greater aggregate bandwidth " typically a minimum of 51.84 Mbps (SONET OC-1), which is the optical equivalent of 45 million bits per second (T3) in the electrical world. See also Channel Bank, DSLAM, Multiplexer, ngDLC, OC-1, SONET, and SLC.

See Data Link Control.

Direct Line Console. An AT&T Merlin term. An answering position used by system operators to answer calls, transfer calls, make calls, set up conference calls, and monitor system operations. Calls can ring on any of the line buttons, and several calls can ring simultaneously (unlike the QCC where calls are sent to a common QCC queue and wait until a QCC is available to receive a call).
DLCI
Data Link Connection Identifier. A Frame Relay term defining a 10-bit field of the Address Field. The DLCI identifies the data link and its service parameters, including frame size, Committed Information Rate (CIR), Committed Burst Size (Bc), Burst Excess Size (Be) and Committed Rate Measurement Interval (Tc). See Tuple Address.
DLE
Data Link Escape. A control character used exclusively to provide supplementary line control signals, control character sequences or DLE sequences. In packet switching, Data Link Escape is a name applied to the Control P non-print character which is used to swap the PAD from the data mode to the command mode in packet switched networks.
DLEC
Data Local Exchange Carrier. A company which delivers high-speed access to the Internet, and not voice.
DLL
Dynamic Link Library. A feature of OS/2 and Windows that allow executable code modules to be loaded on demand and linked at run time. This lets library code be field- updated " transparent to applications " and then unloaded when they are no longer needed. Unlike a standard programming library, whose functions are linked into an application when the application's code is compiled, an application that uses DLL links with those DLL functions at runtime. Hence, the term dynamic.

Data Link Layer driver. A driver specification developed by DEC primarily to work with DECnet PCSA for DOS. DLL is a shared driver specification, allowing multiple protocol stacks to share a single network interface card.
DLP
Digital Light Processing. It's a display technology based on Texas Instruments' Digital Micromirror Device (DMD) optical semiconductor chip. The chip's reflective surface holds many microscopic mirrors, each representing a single chip. These mirrors operate as optical switches to create a high-resolution, full-color image when hit with light from the projector's lamp. When I wrote this definition, TI had a chip out that sported 1.3 million mirrors and high-end DLP projectors gave out 7,000 lumens and use three DLP color chips " one for each RGB color. Some people think that DLP projectors are better than than LCD projectors. Some people like LCD projectors. DLP-based projectors are smaller and more portable.
DLPBC
Dual Loop Port Bypass Circuitry. FC-AL (Fibre Channel Arbitrated Loop) routing circuitry that makes it possible to add and remove nodes without disrupting the network.
DLPI
An ATM term. UNIX International, Data Link Provider Interface (DLPI) Specification: Revision 2.0.0, OSI Work Group, August 1991.
DLR
Design Layout Report. A description of how a circuit is engineered. Often used between LECs and CLECs. See LEC and CLEC.
DLS
Data Link Switching. IBM's method for carrying SNA and NetBIOS over TCP/IP operating at the Data Link layer. DLS, now an open Internet spec, can be used with OSPF or PPP.
DLSE
Dial Line Service Evaluation.
DLSw
DataLink Switching Workgroup. This workgroup has issued a new interoperability standard for integrating SNA and NetBIOS over the TCP/IP protocol. According to Cisco, the new DLSw standard provides interoperability and functionality not currently offered by Informational RFC 1434 or existing DLSw implementations .
DLTU
Digital Link Trunk Unit. An AT&T term for a device which provides the interface to digital trunks and lines such as T-1, EDSL, and remote line units.
DMA
Direct Memory Access. A fast method of moving data from a storage device or LAN interface card directly to RAM which speeds processing. In essence, DMA is direct access to memory by a peripheral device that bypasses the CPU.

Direct Marketing Association.

Document Management Alliance.

Designated Market Area. This term specifies the geographic area established by Nielsen Media Research for the purpose of rating the viewership of commercial television stations. DMAs represent the geographic areas covered by groups of competing commercial television broadcast stations. The boundaries of these areas are of considerable financial importance to the stations involved because they determine the number of viewers each station can claim, and, hence, the dollar amount the station can charge for advertising time. Section 76.55(e) of the FCC Rules provides that, for the purpose of the cable television must-carry rules, the local market area of a commercial television broadcast station is the Nielsen DMA. A map showing DMA boundaries may be obtained from:

Nielsen Media Research 1290 Avenue of the Americas New York, NY 10104-0061 212-708-7500
DMA Channel
A channel for direct memory access that does not involve the microprocessor, providing data transfer directly between memory and a disk drive. See DMA.
DMB
Digital Multipoint Bridge.
DMD
Differential Mode Delay. A fiber optic term. DMD refers to the fact that multimode and monomode (single mode) fiber optic cabling systems differ considerably in their performance characteristics. Specifically and in a LAN environment, some multimode systems are not capable of supporting signals from high-performance laser diodes, which operate at very high speeds and which emit narrowly-defined pulses of light. Traditionally, LEDs (Light- Emitting Diodes), which operate at lower speeds and which emit light pulses of a broader range of frequencies, have been use in conjunction with multimode fiber systems. In a LAN environment, such a combination has proved very satisfactory, even at high speeds and over relatively long distances. The combination of LEDs and multimode fiber also is much less costly. Ethernet at 10/100 million bits per second, Token Ring at 4/16 million bits per second, and ATM at 25/155/622 million bits per second all have made use of this traditional combination. However, the emerging Gigabit Ethernet standard requires the use of laser diodes to achieve such speeds. Multimode fiber, at least in some cases, appears to underperform in this environment, even over short distances. The problem is DMD, which yields unacceptably unmanageable levels of signal delay. See Modal Dispersion.
DMH
Data Message Handler.
DMI
Digital Multiplexed Interface. AT&T's Digital Multiplexed Interface. A PBX to computer interface that divides the T-1 trunk into 23 user channels and one signaling channel. Also used as a T-1 PBX to computer interface. See Open Application Interface.

Desktop Management Interface, a protocol independent management interface developed by the DMTF, the Desktop Management Task Force, a group working on improving network printing. Making network printers easier to use " more standard and easier to use " requires three basic elements: standardized definitions of printer objects, a protocol for communicating with those objects and an application interface.
Question: What is DMI?
Answer: The Desktop Management Interface (DMI) is a the result of a cooperative, industry-wide effort to make PC systems easier to manage, use and control. Specifically, DMI is a specification developed by the Desktop Management Task Force (DMTF), a consortium of hardware, software, and peripheral vendors. DMI describes hardware and software components in a format that can be easily accessed over a phone line by PC management applications and technical support personal. Thanks to DMI, technical support personnel and PC management applications can:
Access an inventory of hardware and software components

Access and change parameter values and settings

View data generated by software agents and diagnostics routines With DMI, technical support applications and PC management applications use a Management Interface (MI) to access data stored in Management Information Files (MIFs).
DMI-BOS
Digital Multiplexed Interface-Bit Oriented Signaling. A form of signaling, which uses the 24th channel of each DS1 to carry signaling information, allowing clear channel 64 Kbps functionality.
DMO
Digital Modification Order.
DMP
Device Management Protocol. The session-layer communications protocol used within the ICM. Different application-level protocols might be running beneath DMP.
DMS
Digital Multiplex System. Also the name of a line of digital central office switches from Northern Telecom, also called Nortel. There are DMS-10s, DMS-100s, DMS-100Fs, DMS-200s, DMS-250s, and DMS-300s and by the time you read this, probably more.
DMT
Discrete Multi-Tone. A new technology using digital signal processors to pump more than 6 megabits per second of video, data, image and voice signals over today's existing one pair copper wiring. DMT technology, according to Northern Telecom, provides the following:
Four "A" channels at 1.5 million bits per second. Each "A" channel may carry a "VCR"- quality video signal, or two channels may be merged to carry a "sports"- quality real-time video signal. In the future, all four channels operating together will be able to transport an Extended Definition TV signal with significantly improved quality over anything available today. ("A" channels are asymmetric " carrying information only from the telephone company to the subscriber's residence. All other channels within ADSL are symmetric or bi-directional .)

One ISDN "H zero" channel at 384 Kbps (kilobits per second). This channel is compatible with Northern Telecom's multi rate ISDN Dialable Wideband Service or equivalent services. This channel could also be used for fast, efficient access to corporate LANs for work-at-home applications, using Northern Telecom's DataSPAN or other frame-relay services.

One ISDN Basic Rate channel, containing two "B" channels (64 Kbps) and one "D" channel (16 Kbps). Basic Rate access allows the home user to access the wide range of emerging ISDN services without requiring a dedicated copper pair or the expense of a dedicated NT1 unit at the home. It also permits the extension of Northern Telecom's VISIT personal video conferencing to the home at fractional -T-1 rates (Px64).

One signaling/control channel, operating at 16 Kbps giving the home user VCR-type controls over movies and other services provided on the "A" channel including fast- forward, reverse, search, and pause.

Embedded operations channels for internal system maintenance, audits , and telephone company administration.

Finally, the home user can place or receive telephone calls over the same copper pair without affecting the digital transmission channels listed above. And since ADSL is passively coupled to the POTS line, the subscriber's POTS capability is unimpaired in the event of a system failure.
DMTF
Distributed Management Task Force. A consortium of vendors working toward a set of standards for network management software which will ease the management of desktop systems, their components, and peripherals. Activities address "standard groups" such as software, PC systems, servers, monitors, network interface cards (NICs), printers, mass storage devices, and mobile technologies. The most notable of its accomplishments is the development of the Distributed Management Interface (DMI). According to their web site, www.dmtf.org, "We are the industry organization leading the development, adoption and unification of management standards and initiatives for desktop, enterprise and Internet environments. Working with key technology vendors and affiliated standards groups, the DMTF is enabling a more integrated, cost effective, and less crisis-driven approach to management through interoperable management solutions." See also DMI.
DMZ
DeMilitarized Zone. Also known as a screened subnet, a DMZ is a host computer or computer network which is inserted as a neutral zone between two other computer networks, one or both of which are untrusted. Most commonly, a DMZ sits between the Internet and an internal corporate network, and generally comprises a firewall and a bastion host. The firewall is some combination of software and hardware which examines TCP/IP packet traffic, blocking that packet traffic which does not meet pre-defined security requirements. The bastion host is a gateway designed to defend against hostile attacks launched from the external networks (i.e., the Internet), and aimed at the internal network. No connections are permitted from the untrusted network to the private network. Rather, remote users accessing the corporate network (e.g., Intranet or Extranet) through the Internet connect through the DMZ, which provides all services to remote users which the corporate network chooses to make available. Thereby, damage to the internal network is prevented, or at least made more difficult to accomplish by hackers and other unsavory characters. Further, the DMZ is not equipped to establish outgoing connections to the Internet, which prevents its being used as a tool to launch cascading attacks on other company networks. The term DMZ comes from the buffer zones established to separate untrusting nations which previously had been at war. At the end of WWII (World War II), a DMZ was established along the 16th Parallel, which separates North Vietnam and South Vietnam. That DMZ no longer exists, as the North Vietnamese were successful in reuniting the country. In 1953, at the end of the Korean Conflict (a euphemism for Korean War), a DMZ was established along the 38th Parallel between North and South Korea. That DMZ still exists, as the two nations technically remain at war, since no armistice was ever signed. See also Screened Subnet.
DN
Directory Number or subscriber number or telephone number entry. The Directory Number is officially the seven digit number (723-8231) listed in the directory, hence the name. The Telephone Number is officially the 10-digit number (613-723-8231) of that subscriber, hence it includes the area code. The subscriber number used to be in the old days the same as the line number, the last four digits (8231) of the directory number. Nowadays, the subscriber number is synonymous with the directory number.
Following are the three stages the North American Numbering Plan went through (I will tell you the long story to include it in future issues when we get together for a coffee):
The modern numbering plan went through at least three major changes:
N 0/1 X - LLX - XXXX L = Letter on the rotary dial; N = 2-9; X = 0-9; 0/1 = 0 or 1 N 0/1 X - NNX - XXXX (N 0/1 X) = Area Code, NNX = Office Code, XXXX = Line Number N X X - NXX - XXXX
DN is typically the phone number associated with a telephone line. The international format for a phone number consists of four items:
A + plus, which indicates that the caller should dial whatever digits are necessary to get him internationally. In the U.S., the prefix is 011.

The country code. The country code for the U.S. and Canada is 1. For Australia, it's 61. For England, it's 44.

The routing code, which is also called an area code.

The local number. In North America it's 7-digits. But in other countries it varies. At one stage in Sydney, Australia, some local numbers were five digits; some were six, some were seven and some were eight.
See Directory Number.
DN Directory Number or subscriber number or telephone number entries.
DNA
Digital Network Architecture. The framework within which Digital Equipment Corporation (DEC) designs and develops all of its communications products. DNA includes many standards of the OSI Model. Some of these standards will be adopted into ISDN. Acronym also by Network Development Corporation for their network offering.

Dynamic Node Access. A high-speed bus invented by Dialogic to join together multiple voice processing PEB-based systems. PEB stands for PCM Expansion Bus. See PEB.

Distributed Network Administration is an AMP wiring architecture that decentralizes network electronics, into closets on every floor. It saves money on initial installation and works especially well in multi-tenant building and small workgroup situations where you don't share want to share facilities, according to AMP. Distributed Network Administration can be executed with optical fiber or with Category 5 UTP. Since closets will be placed throughout the building, distance is usually not an issue in the choice of the medium.
DNA Computing
Deoxyribonucleic Acid Computing. (This is not a joke.) DNA computing was first tested successfully by Leonard Adleman, a professor at the University of Southern California in Los Angeles. DNA computing is technique that takes advantage of massive parallelism through the use of DNA, test tubes, enzymes, electrophoretic gels and beads, gold-plated glass slides, and E. Coli bacteria. While several prototype DNA computers exist, the development of a practical system is years away.
DNAL
Dedicated Network Access Line.
DNAR
Directory Number Analysis Reporting.
DNC
Dynamic Network Controller.
DNIC
Data Network Identification Code. An address to reach a host computer system residing on a different packet switched network than the one you're on. The data equivalent of a telephone number with country code and area code. Typically the DNIC is a four digit number. The first three digits of a DNIC specify a country. The fourth digit specifies a public data network within that country. See also Data Network Identification Code.
DNIS
Dialed Number Identification Service. DNIS is a feature of 800 and 900 lines that provides the number the caller dialed to reach the attached computer telephony system (manual or automatic). Using DNIS capabilities, one trunk group can be used to serve multiple applications. The DNIS number can be provided in a number of ways, inband or outof-band, ISDN or via a separate data channel. Generally, a DNIS number will be used to identify to the answering computer telephony system the "application" the caller dialed. For example, a 401K status program may be offered by a service provider to a number of different companies. The employees of each company are provided their own 800 number to call to access their account status. When the computer telephony system sees the incoming DNIS number, it will know to which company the call was directed, and can so answer the phone correctly with a customized "you have reached the 401K line for xyz company. Please enter your personal account code and password..."
Here's another application: You use one 800 phone number for testing your advertisements on TV stations in Phoenix; another number for testing your ads on TV stations in Chicago; and yet another for Milwaukee. The DNIS information can be used in a multitude of ways " from playing different messages to different people, to routing those people to different operators, to routing those people to the same operators, but flashing different messages on their screens, so the operators answer the phone differently. In Ireland, incoming toll free phone calls from the rest of Europe arrive with DNIS. As a result a phone call arriving from Germany is routed to a computer telephony system playing messages in German. The advantage of DNIS is basically economic: You simply need fewer phone lines. Without DNIS you would need at least one phone line for every different 800 or 900 number you gave out to your callers. Make sure you understand the difference between DNIS and ANI and Caller ID. DNIS tells you the number your caller called. ANI or Caller ID is the number your caller called from. See 800 Service and 900 Service.
DNP3
Protocols define the rules by which devices talk with each other. DNP3 is a protocol for transmission of data from point A to point B using serial communications. It has been used primarily by utilities like the electric companies. A typical electric company may have a centralized operations center that monitors the state of all the equipment in each of its substations. In the operations center, a computer stores all of the incoming data and displays the system for the human operators. Substations have many devices that need monitoring (are circuit breakers opened or closed?), current sensors (how much current is flowing ?) and voltage transducers (what is the line potential?). The operations personnel often need to switch sections of the power grid into or out of service. One or more computers are situated in the substation to collect the data for transmission to the master station in the operations center. The substation computers are also called upon to energize or de-energize the breakers and voltage regulators. DNP3 provides the rules for substation computers and master station computers to communicate data and control commands. DNP3 is a non-proprietary protocol that is available to anyone. This means a utility can purchase master station and substation computing equipment from any manufacturer and be assured that they will reliably talk to each other. Vendors compete based upon their computer equipment's features, costs and quality factors instead of who has the best protocol. The theory is that electric utilities are not stuck with one manufacturer after the initial sale.
DNPA
Data Numbering Plan Area. In the U.S. implementation of the ITU-T X.25 network, the first three digits of a network terminal number (NTN). See also Data Numbering Plan Area.
DNPIC
Directory Number Primary InterLATA Carrier.
DNPS
Divisional Network Product Support.
DNR
Dialed Number Recorder. Also called a Pen Register. An instrument that records telephone dial pulses as inked dashes on paper tape. A touchtone decoder performs the same thing for a touchtone telephone.

Dynamic Network Reconfiguration. Allows IBM networks to change addresses without reloading and bringing the network down.

A Satellite Term. Dynamic Noise Reduction is a filter circuit that reduces high audio frequencies such as hiss.
DNS
The Domain Naming System is a mechanism used in the Internet and on private Intranets for translating names of host computers into addresses. The DNS also allows host computers not directly on the Internet to have registered names in the same style. The DNS is a distributed database system for translating computer names (like ruby.or-a.com) and vice-versa. DNS allows you to use the Internet without remembering long lists of numbers. On TCP/IP networks (like the Internet), the Domain Naming System provides IP address translation for a given computer's domain name, or URL (Uniform Resource Locator). DNS would change a computer name such as harry.newton.com to the machine's actual numeric IP address, which is in the format xxx.xxx.xxx.xxx. The DNS makes it easier to remember where you want to go. Reverse DNS does just the reverse, translating an IP address into a URL. See also DNS Name Resolution and Domain Naming System for a more detailed explanation. See also 1983 and Reverse DNS.

Domain Name Server. Domain Name Servers, also known as resolvers , are a system of computers which convert domain names into IP addresses, which consist of a string of four numbers up to three digits each. Each applicant for a domain name (e.g., www.harrynewton.com) must provide both a primary and a secondary DNS server; a domain name which fails to provide both primary and secondary DNS servers is known as a "lame delegation." See also the first definition above.

See Distributed Network Service.
DNS Flood Attack
See Domain Name Server Flood Attack.
DNS Name Resolution
The matching of domain name to an IP number is known as DNS name resolution. In other words, you type in www.TechnologyInvestor.com and bingo the web site http://209.35.112.118/.
DO
A word in a high-level language program which comes before a collection of things to be done, i.e. statements to be executed.
Do-Not-Call
A legal requirement to remove from a calling list the telephone numbers of people who have asked that they not receive unsolicited telephone calls. See Telephone Consumer Protection Act.
Do-Not-Disturb
Makes a telephone appear busy to any incoming calls. May be used on intercom-only, by extension line-only or both.
Do-While
A programming statement used to perform instructions in a loop while a certain condition exists " i.e. do something while the variable Y is less than 20.
DOA
Dead On Arrival. A term several manufacturers use to refer to equipment which arrives at the customer's premises not working. A person who receives a DOA machine will ask the company for a NPR number " New Product Return number. This allows them to return the product and have the factory replace it with another new one.
DoB
Denial of Business. See Impact Analysis.
DOC
Department of Communications. Canadian government department. The federal Department of Communications was merged into another department, Industry Canada, in the early 1990s.

See Dynamic Overload Control.
Dock
To insert a portable computer into a base unit. Cold docking means the computer must begin from a power-off state and restart before docking. Hot docking means the computer can be docked while running at full power.
Docket
Formal FCC/State regulatory commission proceeding, also referred to as a case.
Docket Number
An FCC term. A number assigned to a proceeding opened by the issuance of either a Notice of Proposed Rule Making or a Notice of Inquiry, or if an adjudicatory or tariff proceeding has been instituted. Since January 1, 1978, the docket numbers indicate the year they were initiated and the Bureau which initiated the docket (e.g.,MM89-494 and CC 87-313).
Docking Station
Base station for a laptop that includes a power supply, expansion slots, monitor, keyboard connectors, CD-ROM and extra hard disk connectors. A user slides his laptop into a base station and in effect, gets the equivalent of a desktop machine.
Docobjects
See Document Objects.
DOCSIS
Data Over Cable Service Interface Specification. A North American cable modem initiative, DOCSIS is now known as CableLabs Certified CableModem, a term trademarked by CableLabs. The specifications themselves remain known as DOCSIS, and are of several versions. DOCSIS 1.0 specifications, set in the 1995-1996 timeframe, specifies the relationship between customer premises equipment in the form of cable modems and the CMTS (Cable Modem Termination System) at the head end of the service provider's network, and the specifics by which two-way data channels are carved out of the coaxial cable distribution systems. DOCSIS 1.1 (1999) enhancements include QoS (Quality of Service) mechanisms, support for concatenation and fragmentation, the addition of security in the form of authentication, support for SNMPv3 (Simple Network Management Protocol version 3). DOCSIS 2.0 is a developing specification that is intended to support upstream- intensive applications such as, peer-to-peer networking, videoconferencing, Web hosting, VOD (Video-On-Demand), and on-line gaming (i.e., gambling). See also CableLabs, CableLabs Certified CableModem, CMTS, Concatenation, DOCSIS 1.1, DOCSIS 2.0, DVB (European standard) and SNMP.
DOCSIS 1.1
While DOCSIS 1.0 is successful in delivering its designed task - high-speed data transmission over the cable network - it does not provide all of the Quality of Service (QoS), latency controls, and authentication capabilities. DOCSIS 1.1 was created in 1999 to incorporate the technology enhancements in the above areas. DOCSIS 1.1 opens a technological doorway to augmented revenue streams for cable providers. Equipment built to comply with the DOCSIS 1.1 specification becomes the foundation for expanding the list of advanced cable services offered by cable providers, including home networking through the CableLabs CableHome project, and packet telephony and multimedia services through CableLabs PacketCable project. Overall, DOCSIS 1.1 enables cable operators to deliver twice the level of functionality while reducing operating costs by half. See also DOCSIS.
DOCSIS 2.0
DOCSIS 2.0 is a major future cable data initiative spearheaded by CableLabs to further extend the capability of existing DOCSIS 1.0 and 1.1 standards. With DOCSIS 2.0, cable operators should be able to realize higher revenues through new upstream-intensive broadband applications, including voice-over-Internet protocol (VoIP), peer-to-peer networking, video conferencing, Web hosting, video-on-demand, on-line gaming, and application services. Through the inclusion of advanced physical layer technologies, such as S-CDMA and A-TDMA, DOCSIS 2.0 not only increases the critical upstream data bandwidth, but also reduces susceptibility to noise and interference and guarantees backward compatibility and coexistence with DOCSIS 1.0 and 1.1 systems. CableLabs plans to complete the 2.0 version of the specification this year, and intends to accept DOCSIS 2.0 devices for certification and qualification in 2002. See also DOCSIS.
Document Camera
A specialized camera on a long neck that is used for taking pictures of still images " pictures, graphics, pages of text and objects which can then be sent stand alone or as part of a video conference.
Document Commenting
A Microsoft Web-based feature in which users will be able to add comments to a document, which are then saved in a database, not as HTML. Once the document is posted on a Web site, only users on a special discussion list will be able to view the comments.
Document Database
An organized collection of related documents.
Document Image Management
DIM. The electronic access to and manipulation of documents stored in image format, accomplished through the use of automated methods such as high-powered graphical workstations, sophisticated database management techniques and networking.
Document Objects
DocObjects for short. Microsoft Office for Windows95 has an app called Office Binder which is a "document container that enables a user to manipulate text files, spreadsheets, graphics presentations, and other documents as a single entity." DocObjects is the "core technology that makes Office Binder work." This technology can support document containers other than Office Binder and document server as well. "The DocObjects technology consists of a set of extensions to OLE Documents. One application for this technology is in Internet browsers; a user would only need one navigation tool to browse and view all documents, whether local or network-based. A document provided from a DocObjects server is essentially a full-scale, conventional document that is embedded as an object within another DocObjects container (binder, browser, etc.)."
Document Recognition
The ability to capture all the information on a page (text and images) and perform not only character recognition, but page structure analysis as well.
Document Root
On a Web server, a directory that contains the files, images, and data you want to present to all users who access the server with a browser.
Document Type Definition
DTD defines how XML markup tags should be displayed by an application. See DTD.
Documentation
Written text describing the system, how it works and how to work it. In most cases of high technology products, documentation is awful. Better documentation helps sell equipment and software. Please write your instruction manuals better. Please.
DOD
Direct Outward Dialing. A PBX trunk that supports outgoing dialing, only, and without the intervention of an operator or attendant. In PBX and hybrid phone systems, you pick up the phone, get "soft" (i.e., internal PBX) dial tone, dial 9, listen for a "hard" (i.e., outside) dial tone, and then dial the number you want to reach. In some phone systems, you don't have to listen for the second dial tone. You can dial straight through. All phone systems now have DOD. Traditionally, DOD trunks supported outgoing calling, only, and did not support incoming calls. More recently, some manufacturers allow individual channels in a given T-1 PBX trunk to be defined as DOD, some as DID (Direct Inward Dialing), and as combination (both inward and outward). See also Combination Trunk and DID.

Department of Defense.
DOD Master Clock
The U.S. Naval Observatory master clock, which has been designated as the DoD (Department of Defense) Master Clock to which DoD time and frequency measurements are referenced. This clock is one of two standard time references for the U.S. Government in accordance with Federal Standard 1002; the other standard time reference is the National Institute for Standards and Technology (NIST) master clock.
Dodgy
British slang for slightly suspicious. See also Bollocks.
DOE
Direct Order Entry, now moving to the Internet for many industries.