iDVD is a part of history because before Apple introduced it in early 2001, the only tools available for people who wanted to make their own DVDs were prohibitively expensive.
Not only was the software complex and pricey, but the DVD burners themselves cost more than many computer systems. For example, before iDVD came out, the only available DVD burner cost about 4,000 U.S. dollars, the Pioneer DVR-S201, shown in Figure 18.2.
Figure 18.2. Pioneer DVR-S201 DVD burner.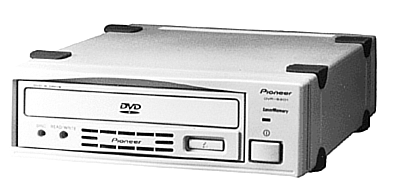 Basically, Apple got together with a few different companies including Pioneer, and made some deals that benefited the digital videomaking public. The result was that Apple was able to introduce a desktop G4 Power Mac model that included a DVD burner, as well as iDVD software, for the same price that just a DVD burner alone cost at the time. This DVD burner, known as the SuperDrive, brought the power of DVD authoring to the masses, giving them the ability to take digital video and make it into DVD video (see Figure 18.3).
Figure 18.3. The revolutionary SuperDrive, on countless desktops around the world, with a blank DVD disc. Thanks, Apple.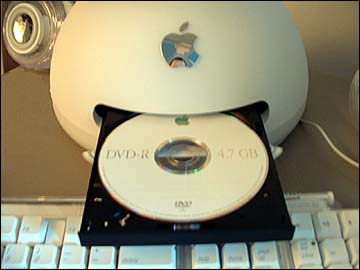 Apple issued an important update for some SuperDrive-equipped computers. This update prevents permanent drive damage when some models of SuperDrive manufactured by Pioneer are used with newer high speed media. To see if you need to install this update, follow these steps:

Open the Apple System Profiler application, which can be found in the Utilities folder in the Applications folder.

Open the Devices and Volumes tab.

Expand the CD-RW/DVD-R item by clicking the disclosure triangle.

Examine the information given. If Pioneer is the vendor, you may need the update. To find out for sure, look at the Product Identification code. For drives with the Product Identification DVR-104, no update is required if the Device Revision number is A227 or higher. For drives with the Product Identification DVR-103, no update is required if the Device Revision number is 1.90 or higher.

If your drive comes from Pioneer and doesn't have the upgrade in place, go to the Apple Web site (www.apple.com), search for "SuperDrive update," and then download and install it before attempting to write a DVD.