Are you still buying movies on videotape? Well, that's a technology that might eventually go the way of 8-track tape. The fastest growing consumer electronics product is the DVD player. A DVD puts the contents of an entire movie on a disc the same size as a CD.
Using Apple's iDVD, you can now create your own DVDs, complete with navigation menus and motion (moving) menus .
iDVD, shown in Figure 10.4, allows you to share your home movies and still images, and integrates with both iPhoto and iMovie.
Figure 10.4. iDVD lets you share your digital video and digital images using professional-quality features.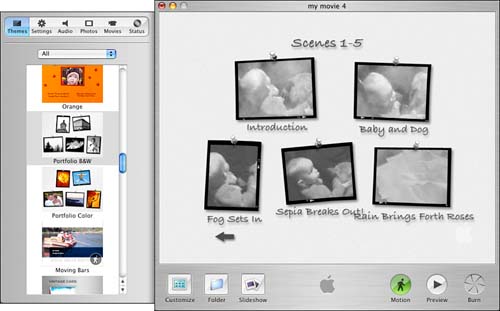 To run iDVD, your computer must be equipped with a special optical drive that Apple dubs the "SuperDrive." This drive, manufactured by Pioneer or Sony, the large Japanese consumer electronics companies, can play CDs and DVDs, and burn both.
| | |
| --- | --- |
| | To burn your own DVDs, you will need DVD-R discs. While they may look like CDs, their capacity is much greater "4.7GB, which is large enough to hold at least an hour of average video and many, many image files. |
| | |
| --- | --- |
| | The DVDs you write will play on most DVD players and the DVD drives on a personal computer. However, some of the oldest DVD players, made during the first year the format was introduced, cannot play them. Check Apple's Web site, at http://www.apple.com/dvd/compatibility/, to see a list of the players that have been tested and found compatible. Newer players, even if not listed at the site, will likely work without any problem. |
Like the other applications included in iLife, iDVD was designed to offer a wide range of features that are easy to use. We'll talk more about iDVD's features in Chapters 18 through 20.