An important analytical tool is the State, Gap, and Trend Analysis (SG&TA). [3] The SG&TA permits us to conceptually define where we are today and project to where we think the market will be at some distant point in the future. With this understanding, we can then discern likely drivers and plot a road map from the present to the future. An example of the telecommunications service provider industry SG&TA is shown in Figure 2.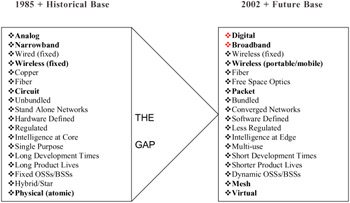 Figure 2: State, Gap and Trend Analysis
[3]Hilliard Consulting Group, Inc., McKinney, Texas. Model was first developed by J. Nugent at the Hilliard Consulting Group, Inc. in 1999.

Wireless Communications and Mobile Commerce
ISBN: 1591402123
EAN: 2147483647
Year: 2004
Pages: 139