| | |
| --- | --- |
| only for RuBoard - do not distribute or recompile | |
8.5 Tape Libraries
8.5.1 HP SureStore E Tape Library 20/700
Figure 8-23. HP SureStore E Tape Library 20/700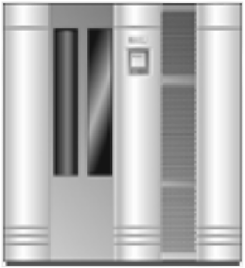 8.5.1.1 Overview
Hewlett-Packard considers the HP SureStore E Tape Library 20/700 to be the industry s most capable tape library. It has a combination of high availability, performance, and capacity. It is the tape library of choice for backing up HP s SureStore E Disk Array XP256, especially in large storage area networks.
8.5.1.2 Scalability and Speed
The tape library has a maximum capacity of up to 56 TB ( assuming 2:1 compression). It can be configured with 228, 396, or 690 cartridge slots, which allows capacity to expand from 4 TB to 56 TB.
The tape library operates with high-capacity DLT8000 tape drives or high-performance HP 9840 tape drives. It supports a maximum of 20 DLT8000 tape drives, 12 HP 9840 tape drives , or a mixed combination in the same library.
The 20/700 robotics allow over 400 jobs/ hour . A full audit of the library s 690 cartridges and 20 drives is two to three times faster than its competition.
8.5.1.3 High Availability
The HP SureStore E Tape Library 20/700 has hot-swappable, redundant components throughout its design, including power supplies and fans.
All serviceable parts are easily accessible, and all major components are hot-swappable and customer-serviceable with no special tools required. No lubrication or belt retensioning is ever required.
8.5.1.4 Features
Up to 20 DLT 8000 or 12 HP 9840 drives

228 to 690 cartridge capacity

432 GB/hr maximum throughput

4 TB to 56 TB compressed storage capacity

SCSI and Fibre Channel optical fiber connectivity

Supported with HP OpenView OmniBack II and other leading storage management software

Supported on HP-UX, Windows NT, and MPE/iX platforms
8.5.1.5 Platform, I/O Bus, and Operating System Support
UNIX
Windows NT
HP NetServer LX Series: LXr, LXr Pro, LXr Pro 8

Windows NT 4.0 Service Pack 3
MPE
8.5.2 HP SureStore E Tape Library 2/20
Figure 8-24. HP SureStore E Tape Library 2/20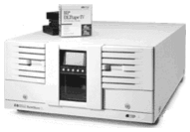 This library contains one or two DLT8000 drives, a SCSI or Fibre Channel interface, remote management functionality, and a 20-tape capacity.
It is only 8.75 inches tall, and has the smallest volume of any two-drive library on the market. There are also many expansion and upgrade kits available.
Kits are available that allow the 1- or 2-drive, 20-slot library to be field upgraded to a 2- or 4-drive, 40-slot library, or a 2-, 4-, or 6-drive, 60-slot library.
HP s Remote Management option lets you obtain status and diagnostics information. You can also manage library function from a remote location by way of built-in remote management tools, or use remote management tools that integrate into leading enterprise management software.
The HP SureStore Tape Library connects with a SCSI or Fibre Channel interface. The Fibre Channel solution provides high-speed data access and long-distance connections to multiple servers sharing one or more libraries. Fibre channel technology allows you to create a LAN-free backup that eases network congestion and data-access contention inherent in LAN-based backup. SCSI-to-Fibre Channel upgrade kits are available to allow SCSI-based library customers to upgrade to Fibre Channel as their IT needs change.
| | |
| --- | --- |
| only for RuBoard - do not distribute or recompile | |