If the section on vi has left you longing for the safety and logic of the graphical world, you might want to explore the simple editing alternative of Pico. Originally written as part of a text-based email system called Pine, Pico has taken on a life of its own and is included in many Unix distributions, including Mac OS X. Figure 4-3 shows the test file from the earlier example in Pico.
Figure 4-3. Pico, a simpler alternative to vi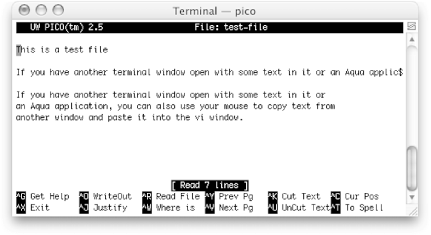 Pico offers a menu-based approach to editing, with on-screen help. It's a lot friendlier than vi, whose primary way to tell you that you've done something wrong is to beep. Pico offers a comfortable middle-ground between text editors such as TextEdit and hardcore Unix text editors such as vi. It's a friendly editor that you can launch from the command line and never have to take your hands off the keyboard to use. To learn more about Pico, type Control-G while within the editor, or use man pico to read the manpage .