In addition to working in Acrobat on your own workstation, you can take advantage of PDF-oriented services available over the Web. You can create PDF documents from web pages, search them, and even preflight them.
| | |
| --- | --- |
| Note | You need Acrobat, not just Adobe Reader, to participate in most web-oriented services. |
It s easy to convert websites and pages into PDF documents. When you do so, all internal and external links can be maintained , and the PDF format is easy to manage and navigate. You can convert internal links into bookmarks, which makes navigating some web pages faster, easier, and more intuitive as PDF documents than they are as a website. The conversion into PDF also makes the printing of the web pages a more dependable and predictable event since the web pages are divided into standard page sizes.
Here s how it s done. Connect your computer to the Internet and launch Acrobat. Then do one of the following:
Choose File > Create PDF > From Web Page.

Click the Create PDF From Web Page button in the toolbar.
The Create PDF From Web Page window appears (Figure 10.3).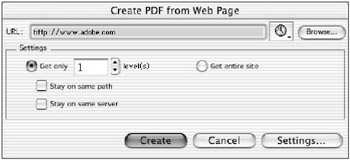 Figure 10.3:

Create PDF From Web Page dialog
Configure this window as follows :
URL Type in the address of the website you would like to convert into a PDF document, or click the Browse button to find the site you want.
Get Only _ Levels Designate the number of layers you would like to capture. For big sites, 1 "3 levels is a safe initial bet. Add more on other tries .
Get Entire Site Be careful of this one. I rarely check this option unless I am very familiar with the site. Some websites have many levels and may take hours to download, especially if you do not have a broadband connection.
Stay On Same Path and Stay On Same Server On big sites "and particularly if I am looking to capture only a specific portion of a site, such as product sales information for printers but not copiers "I often check both of these options. Checking Stay On Same Server will limit the download of pages to the same domain name . Checking Stay On Same Path will further restrict the download to pages that occur on the same address path, such as the path leading to printer sales (http://ABC/products/printers/sales.html) but not the path to copier sales (http://ABC/products/ copier /sales.html). Large websites often contain so many internal and external hyperlinks that if you do not restrict the download parameters, you may end up trying to download most of the Internet, which would be pretty slow at dial-up speeds.
Click the Create button to begin the download and conversion process. If it is a large site, be prepared for an extended download.
Fine-Tuning Settings for Web-to-PDF Conversion
The first time you capture a website, you will likely just use the default settings. But you may want to fine-tune the results you get, and here s how you do it:
Click the Settings button in the Create PDF From Web Page dialog (shown back in Figure 10.3). The Web Capture Settings window will appear (Figure 10.4).


Figure 10.4: Web Capture Settings

Click the General tab. Here are some tips on setting up this portion of the dialog:

Create Bookmarks Check this option to automatically create linked bookmarks to each web page that is converted into a PDF document page. This creates a very handy way to navigate a website.

Place Headers & Footers On New Pages Check this option to place a header with the Web Page title name and a footer with the URL name, page number, and date and time of download.

Create PDF Tags Check this option to tag all the page elements (paragraphs style sheets, graphics, etc.) for later use. ( Chapter 9 for information on how PDF tags can be used to restructure a PDF file.)

Save Refresh Commands If you intend to use and reuse the external hyperlinks preserved from the web page to the PDF, check this box. This will require you to create a list of HTML links, which can then be updated later.

Click the Page Layout tab, where you can set the dimensions, margins, and orientation of your PDF document s pages.

| | |
| --- | --- |
| Note | The page orientation will not automatically change if you swap width and height measurements. |

Scaling If the web pages are of different sizes and orientations, you may want to have Acrobat scale the contents to fit your page size and/or have Acrobat flip the orientations if the scaling would exceed a certain value (the default is 70%).

Click the General tab again and, under File Type Settings, click HTML or Text.

Click the Settings button in the upper-right corner of the General tab (alternatively you can just double-click the HTML or Text setting). This will activate a Conversion Settings window for the appropriate file type (Figure 10.5).


Figure 10.5: HTML Conversions Settings, General options

Web and PDF Pages

You can designate any page size,orientation, and margins for your PDF document pages. The web pages content will be automatically formatted to fit into the space you create. Often there will not be a one-to-one match between the numbers of web pages and PDF pages, because larger web pages will be converted into multiple PDF document pages. Remember that web pages of varying size and orientation (some Landscape and some Portrait) are not a problem for a PDF document, which can accommodate both in the same document.

Select the General tab, and set it up as you wish. For HTML, the options are as follows:

Default Colors Choose your preferred colors (by clicking the color swatches associated with each) for Text, Alt. Text, Links, and Background. If you want your color selections to apply to all the specified page elements throughout the web page, then check the Force These Settings For All Pages box. Otherwise, the colors you specify in the swatches will be applied only to page elements to which no colors have been previously applied. I typically want to see and use the supplied colors in a website, so I usually leave this box unchecked.

Background Options Web pages often have background colors or graphic elements, some of which may be tiled. Include these elements by checking these boxes, or exclude them by not checking them.

Line Wrap Some web pages have really long lines of text. If the one you are converting has long lines of copy, you will want to set a limit (the default is 10 ³ ) here.

Multimedia You will want to decide how to handle any multimedia links:

Choose Disable Multimedia Capture if you intend to primarily print or just use the text content.

Choose Embed Multimedia Content When Possible if you want to use the multimedia content offline.

Choose Reference Multimedia Content By URL if you want to use it but the PDF will have access to the content online.

Convert Images and Underline Links If you want to include the website images in the converted PDF and underline any active URLs, check the appropriate boxes.

| | |
| --- | --- |
| Note | Embedding the multimedia content can significantly increase download and conversion times as well as the size of the final PDF document. You will need to decide how important those links are to your use of the converted website. |

Background Elements

Backgrounds and background colors often enhance the look and feel of a web page when viewed on screen. Retaining these elements can significantly increase download and conversion-to-PDF times if they are included (and particularly if you do not have a broadband connection). If you intend to print your resulting PDF document pages, it may be to your benefit to exclude (uncheck) these background elements, because they can muddy the look of a printed piece.

| | |
| --- | --- |
| Note | Including graphics files will increase download time and PDF size but usually not as much as embedding multimedia content. |

Click the Fonts And Encoding tab (Figure 10.6). Here are some guidelines for configuring this window:


Figure 10.6: HTML Conversion Settings, Font And Encoding options

Input Encoding Select the language set of fonts you want to use.

Language Specific Font Settings You can adjust the font characters that will be used to apply text in your converted PDF document by clicking the Change button and setting your choices for Body Text, Headings, and Pre-formatted text.

Font Size You can assign a base or minimal font size here. I adjust this if the website has really small type on it. (This will alter the look and line breaks of the web pages, but it may be an okay price to pay for better readability.)

Font Embedding If you want your PDF version of the converted website to look as much like the original as possible, check this box.
Fonts and Websites
Most websites are constructed with commonly used fonts, such as Arial, Helvetica, Times, and Times New Roman on sites using European languages. This is done to promote easy and consistent viewing of web pages on many different computers. Display text created with special fonts is often converted into and displayed as graphics to prevent any mismanagement, such as font substitution, when the websites are viewed. Sometimes you may encounter a website with different fonts or variable font use (usually the sign of a technically challenged website designer). These are the times when you might want to either embed the font files or simply create some consistency on your own by designating your own font choices in the Select Fonts window (File > Create PDF From Web Page > Settings > General Tab > Plain Text (File Type Settings list) > Settings > Fonts And Encoding).
Controlling Captured Web Elements
Some web conversion controls are located in the Acrobat Preferences settings. These affect how web links in PDFs are opened and viewed and how Acrobat should handle secured web pages and stored graphics. Open the Acrobat Web Capture settings: Acrobat/File > Preferences > Web Capture (Figure 10.7). The following are descriptions of these preferences: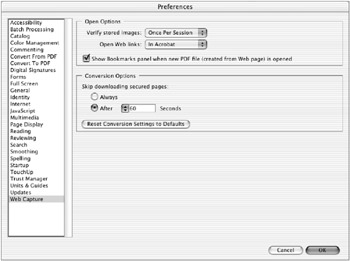 Figure 10.7:

Acrobat Web Capture Preferences
Verify Stored Images If you are interested in having your captured PDF file updated with respect to its graphics content, and you are regularly connected to the Web, then you can specify how often Acrobat will check for updated graphics content here.
Open Web Links You can designate whether web links in your PDF documents will open in Acrobat or in a web browser (if the browser is PDF capable). If you just want to quickly view the pages, the browser is okay. But if you want to have access to Acrobat s substantial navigation, management, and adjustment tools, select In Acrobat.
Show Bookmarks Panel I suggest checking this option because it will automatically present the panel with all the bookmarked web pages. Many people do not think to look at the Bookmarks panel, and checking this will encourage them to use this very helpful navigation feature.
Conversion Options Some web pages are secure, that is, not downloadable. The Skip Downloading Secured Pages setting controls when Acrobat will skip these pages and move on to capturing and converting pages to which it has access.