To upload a document, the user first needs to have the appropriate rights in the document library to do so. The process is as follows:
1.

Click Upload Document from within the document library, and the interface shown in Figure 5.3 appears.



Figure 5.3. Upload Document page.




2.

Click the Browse button, and the Choose file window opens, allowing you to browse the network or your local drives for the desired document.



3.

Select the document to upload and click the Open button.



4.

The name and path of the document should appear in the Name field. Click Save and Close. Note that if the library has metadata columns added, some additional fields may need to be filled out at this point. If a field has a red asterisk next to it, you must fill it out before the document can be uploaded. Although this might require a few extra minutes of work, it adds value to the document library by helping users find the document that best meets their needs.



5.

The document will be uploaded to the library (unless it is of a file type that is not permitted, thus generating an error message). If the Overwrite existing file(s)? box is checked, the new document will overwrite a document of the same name in the document library. The new document will typically be tagged with "!New" in green text, which remains for 24 hours.


If Office 2003 is installed on your computer, you will see the Upload Multiple Files option. Clicking this option will bring up a more complex interface, as shown in Figure 5.4. From this interface, you can choose multiple documents in the same directory and then click the Save and Close button. Note that you can't select a file from one directory and then select a file from a different directory. Only the files selected on the screen will be saved when Save and Close is clicked.
Figure 5.4. Upload Multiple Documents page.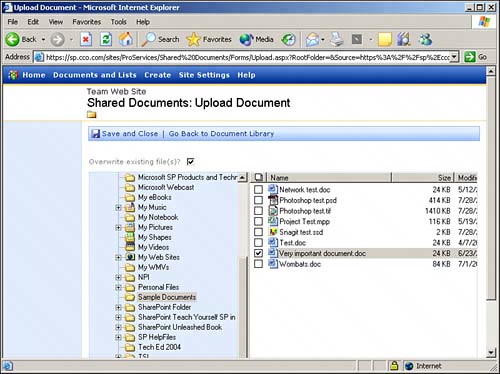 TIP
| | |
| --- | --- |
| | You can also use the Explorer view to upload documents, and this will be covered in Lesson 10. This is often the recommended way to move a large number of files to a SharePoint document library. |