Putting all the parts together allows a highly optimized storage device to be placed on the network with a minimum of network disruption, not to mention significantly reduced server OS latency and costs, where configuration flexibility and management are kept to a minimum. The NAS solutions are available for a diversity of configurations and workloads. They range from departmental solutions where NAS devices can be deployed quickly and in departmental environment settings to mid-range and enterprise-class products that are generally deployed in data center settings.
The Departmental NAS Architecture
NAS is most often used to support the high growth of file servers that populate Windows client-based networks. An example is shown in Figure 9-4. Its an almost perfect solution for consolidating unoptimized file servers (for instance, Windows NT or Windows 2000 servers that operate only as network file servers for clients on the network).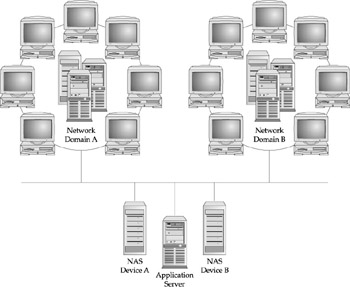 Figure 9-4:

The departmental NAS configuration
The Internet NAS Architecture
An optimized solution is a more scalable and cost-effective answer as multiple servers can be consolidated into a single NAS device. NAS is also heavily used and is a good solution for interoperable access to files within web environments, as illustrated in Figure 9-5. NAS is the perfect storage solution for Internet connections to web-based files accessed through HTTP.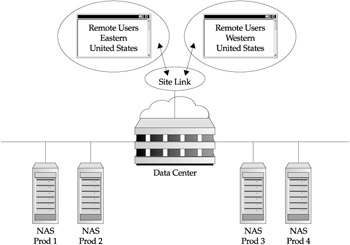 Figure 9-5:

The Internet NAS architecture
The Enterprise NAS Architecture
At the high end are solutions that support large capacities of data, usually having reduced user transaction rates yet high I/O content. The storage and usage of unstructured data characterizes these workloads, although other structured data exhibiting these same characteristics can be NAS candidates. Figure 9-6 shows a specialized application being supported though high-end NAS devices.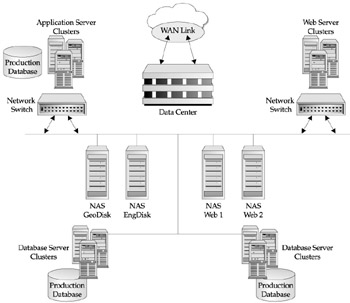 Figure 9-6:

Enterprise NAS configurations