One product that can help if you're using a high- color , high-resolution system and are worried about what your readers will see when viewing your graphics on the Web is Ulead's SmartSaver Pro software (see Figure 42.18).
Figure 42.18. Ulead's SmartSaver Pro.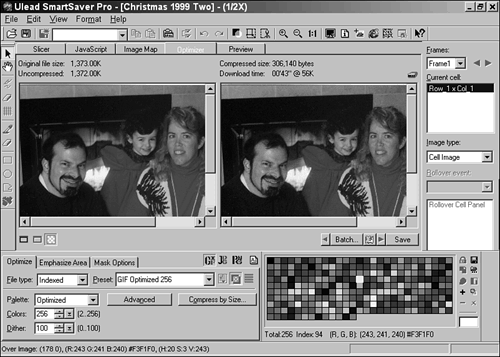 Although this book shows the preview in black and white, you can probably tell that there's not much difference between the original on the left and the image on the right. The image on the right is what a family photo would look like when displayed using a 256 color GIF file. The download time posted at the top left is minimal, so you can see that I struck a good bargain between quality and download time. Using SmartSaver, you can play around with your images, as I did, until you find the exact format and color depth that you can live with.
SmartSaver Pro valuable for more than its preview screen, though. This software also enables you to choose from a wider range of colors than would normally be available. Notice the Colors spin control near the bottom left of Figure 42.18. You can set any value between 2 and 256. Playing with the numbers means that you can shave some extra weight off your images while keeping the colors and quality at an acceptable level.
SmartSaver Pro works with GIF, JPG, and PNG images and lets you set a variable quality for all images, as well. SmartSaver Pro acts as a "File, Export" extension to Paint Shop Pro. You can also use SmartSaver Pro on a standalone basis. Either way, SmartSaver Pro is something to consider if you create a lot of Web graphics.
SmartSaver Pro is a shareware product available from Ulead. Registration is about $60. You can download a trial version from Ulead's Web site at http://www.ulead.com. Although SmartSaver Pro doesn't overcome the Web palette limitations, it reduces the frustration level.