Multi-Image Printing
Introduced in version 6 and continuing in version 7, Paint Shop Pro offers the capability to print multiple images on one page. The images must currently be open in Paint Shop Pro for this tool to do its magic.
With the images you would like to print open in Paint Shop Pro, choose File, Print Multiple Images. Doing so will open a new window, showing you the open images on the left and a blank canvas on the right.
To add the images you want to print, simply drag and drop them onto the canvas where you want them (see Figure 33.8). You can resize the images when they are on the canvas.
Figure 33.8. The multi-image printing.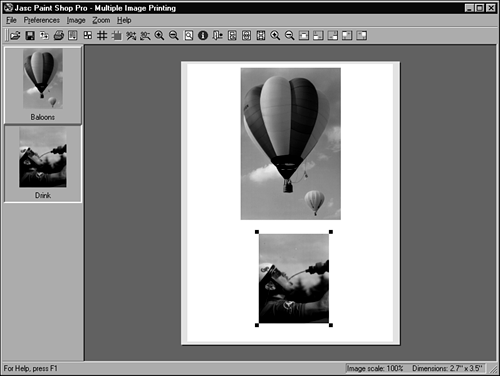 You can save and open layouts that you've created. This can be a real timesaver if you are creating several layouts with the same number of images placed in the same way.
This new feature also can save you money as well as time if you find yourself printing photo-quality images on expensive photo paper. You simply can print photo paper.