Instead of surfing blindly to various retailers and auction houses to find a particular item, you can call upon any of several services that search the shopping sites for a particular item and provide a list of links to sites that offer it. The price or current bid is included for each site (see Figure 15.9). These sites are sometimes called "shopping agents ."
Figure 15.9. Sites like MySimon search multiple shopping/auction sites to help you find out who has the product you want for the best price.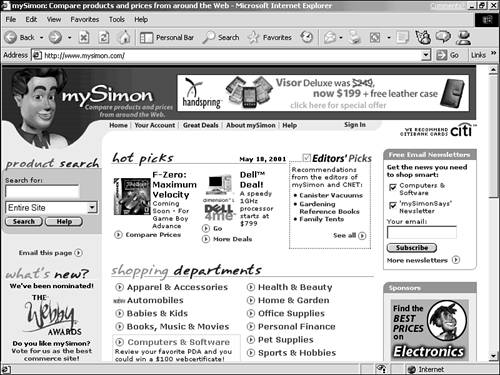 New shopping agents are coming online all the time. If you want to try one, it's a good idea to use a search engine to search for "shopping agents" and find the most recent sites.
Agents aren't foolproof "they can't find absolutely every site that might offer what you want. They'll only search the most popular shopping sites, or sites that have made a special business arrangement with them. But they might help you ensure that you get the best price (or best source) for that special item. And they often feature product information, reviews, and comparisons that can help you choose which product to buy. Check out:
www.mysimon.com

DealTime.com

shop.Lycos.com

ValueFind.com