Shopping 'Til You Drop
Whattaya wanna buy? Whatever it is, you can probably buy it from a Web page that sells products, also known as a virtual storefront (see Figure 15.1).
Figure 15.1. Virtual storefronts are the hip way to buy online, 24 hours a day, with no snotty clerks standing over you to make sure you're not shoplifting.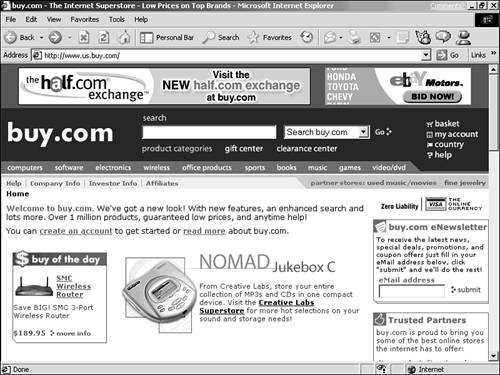 "Virtual storefront" is just a fancy, highfalutin' buzzword for a Web page from which you can buy stuff. In coming years , you'll see the word "virtual" tacked onto all sorts of online activities to make them sound cooler : virtual jobs, virtual travel, virtual dentistry.
Using only the Web-surfing skills you already possess, you can enjoy the benefits of online shopping:
24- hour , 365-day shopping Except for rare moments when the server is down for maintenance and repair, online stores are always open .

Access to product photos and specifications While you're browsing an online catalog, you often can click links to display product photos, lists of options, and even detailed measurements or other specifications. Such stuff can help you make an informed buying decision.

Search tools Pages with extensive product listings often include a search tool for finding any product available from the merchant.

Web specials Some merchants offer discounts or other deals that are available only to those ordering online and not to phone, mail order, or in-person customers.

Custom ordering Some stores feature forms that let you specify exactly what you want (see Figure 15.2). For example, PC sellers that are online, such as Dell or Gateway, let you choose your PC's specificationsprocessor, hard disk size, CD-ROM speed, and so onfrom lists in a form. When you finish, the price for your system appears, along with a link for placing the order. At an online clothing shop, you can specify exact measurements, color , monogramming, and other custom specifications.

Figure 15.2. Forms on virtual storefronts can help you configure a custom order or get a price quote on one.

Mailing lists Many online merchants offer a form for subscribing to a mailing list with updates about new products and specials.

You know this already, but it bears repeating: Making an online purchase usually requires typing your credit card number and other sensitive information in a form. That's something you should never do on a site that's not secure.
Explore virtual storefronts to your heart's content, comparing prices and other terms to make the best buy. But when you arrive at the actual page where you fill in your order form or open an account with the merchant, confirm that the page is secure. In most browsers, a secure site is indicated by either a locked golden padlock or a solid (unbroken) gold key near the bottom of the window. If you see a broken key, an unlocked padlock, or no icon at all, buy elsewhere.

Caveat emptor buyer bewareonline as anywhere else. As an online consumer, it behooves you to be an informed one. You can find reviews of products and merchants all over the Web. One good way to find reviews is to use the product name along with the word "review" as a search term .
You might also want to check out the Web pages of consumer advocates who alert us to schemes, scams, and duds:
Consumer's Union (publishers of Consumer Reports magazine): www.ConsumerReports.org
Consumer World: www.consumerworld.org
Using Accounts and Shopping Baskets
You already know how to fill out a form, and usually that's all there is to shopping. But many merchants equip their storefronts with either or both of the following to make shopping there more convenient :
Accounts When you set up an account with an online merchant, you give that merchant a record of your name and shipping address, and often your credit card information, too. After entering this information once, you can shop and buy there at any time without having to enter it again. All you have to do is enter an account username and password, and the site knows who you are, how you pay, and where to ship your stuff.

Shopping baskets (a.k.a. shopping carts) A shopping basket lets you conveniently choose multiple products and then place the order for all of it, instead of having to order each item as you select it. Shopping baskets also provide you with a chance to look over your list of selections and the total price so you can change or delete items before committing to the order.

Often, accounts and shopping baskets require the use of cookies on your computer. If you have configured your browser to reject cookies and you try to set up an account or make a purchase, you might get a message from the site informing you that you must accept cookies in order to shop there.
In the following example, you can get a feel for accounts, shopping baskets, and virtual storefronts by finding and ordering music CDs from CD Universe, a popular source for CDs, tapes, and videos . Note that you don't actually have to make a purchase; I'll show you how to cancel before committing.

If music is what you want to buy, note that there's no need to buy a CD. Often, you can get exactly the tunes you want in near-CD quality MP3 files online, either free or for a fee that's lower than the cost of a CD. You can play your MP3 tunes on your PC, or on a handheld MP3 player. See Chapter 11, "Plug-In and Add-On Programs."
Go to CD Universe at www.cduniverse.com (see Figure 15.3).

Figure 15.3. Step 1: Go to CD Universe.

In the Quick Search form at the top of the page, type the name of a recording artist in the box to the right of the Artist box, and then click Go (see Figure 15.4).

Figure 15.4. Step 2: Enter the name of a recording artist and click Go.

After a few moments, a list appears with titles available from that artist (see Figure 15.5). If CD Universe isn't sure which artist you want, a list of artists matching your search term appears first. Choose one to display the list of titles.

Figure 15.5. Step 3: Review the list of albums.

Choose a CD or tape by clicking its price (see Figure 15.6). If you're not sure which CD you want, click the title of the CD to learn more about it, including a list of songs.

Figure 15.6. Step 4: Choose a CD or tape by clicking its price.

Review the info on the Shopping Cart screen, and then click Continue Shopping. Choose another title by clicking its price, and you will again see your Shopping Cart, now with two CDs listed (see Figure 15.7).

Figure 15.7. Step 5: Choose another title to be added to your cart.

Click Complete Your Order to start the purchasing process. You will see the Account Entry screen (see Figure 15.8). To quit without purchasing anything, just leave the site now. To order your selections, click New Account, complete the form that appears, and follow any prompts.

Figure 15.8. Step 6: Either cancel your order now or fill out the New Account form to order your selections.

Immediately after you place an order from an online store, some sort of confirmation of your order should appear in your Web browser. Many stores also email you a confirmation of your order.
Make a note of any information that appears in the confirmation especially anything called an order number and save any email message you receive. You'll need this information to query the merchant if your merchandise doesn't arrive within the time promised , or if it isn't what you ordered. If your order confirmation doesn't appear right away, find a shopping cart button to click to see your order.
Buying Stocks and Such
The Web is a great place to sell intangible goods, such as stocks or securities. After all, if the product is intangible, why shouldn't the transaction be?
Obviously, such purchases carry the greatest risk of all online shopping activities. They generally involve moving around large amounts of money and putting it at risk in investments. But if that's your thing, you should know that trading online can be substantially cheaper than using a traditional broker, and in many cases your transactions are executed much more quicklyusually within minutes.
The steps for online investing are roughly the same as those for buying anything else online. Typically, you set up an account with an online brokerage, after which you may buy and sell at will.
However, note that opening an account with an online broker typically requires disclosing detailed information about yourself. You'll have to disclose your bank account numbers , Social Security number, and other private, sensitive information you don't have to reveal when making other kinds of purchases online.
Investment Starting Points
To learn more about investing online, or to take the plunge and buy those 1,000 shares of PepsiCo, consult the following sites.
For Financial Information and Advice
To learn more about online investing, read company profiles, and explore other money matters, check out the following sites:
Stockpoint www.stockpoint.com

CNN's Financial News Network cnnfn.com

Wall Street Journal www.wsj.com

Dow Jones Business Information Services bis.dowjones.com

MoneyAdvisor www.moneyadvisor.com

Success Magazine www.successmagazine.com

Yahoo! Finance quote.yahoo.com

The Motley Fool www.fool.com

NASDAQ www.nasdaq.com
For Making Investments
If you're ready to go ahead and put your money on the line (online!), visit these online brokers :
Mr. Stock www.mrstock.com

American Express Financial Services Direct www.americanexpress.com/direct

E*Trade www.etrade.com

Charles Schwab www.eschwab.com

Datek www.datek.com