On the most basic level, Microsoft BizTalk Server 2002 transforms and routes data (in the form of XML-based messages) within and between organizations, including organizations that use a variety of software and hardware platforms.
Companies use the basic capabilities of BizTalk Server to build and deploy business processes of many types, such as:
Transforming data between different formats, including XML, EDI, flat-file, and others.
Managing the transmission, translation and routing of messages among trading partners, between applications, and between applications and systems.
Integrating external data sources; and executing transactions over the network.
To make this possible, BizTalk Server provides a central, data-driven, integration server and a set of tools for performing Enterprise Application Integration (EAI) and business-to-business (B2B) transactions.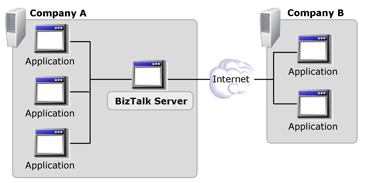 BizTalk Server 2002
BizTalk Server contains the following feature areas:
Administration. Configure global server group properties, such as the location for the Shared Queue database and the Tracking database. Configure server settings. Configure and manage receive functions. View and manage document queues.
Document Tracking. Track the progress of documents processed by Microsoft BizTalk Server 2000. Search for, display, view, and save complete copies of any interchange or document processed by BizTalk Server. Create queries to extract essential information from the Tracking database in an easy-to-view format. Extract, store, and analyze important user-defined data from within documents.
Orchestration Design. Create drawings that describe business processes, and programmatically implement these drawings within an integrated design environment. Compile XLANG schedule drawings into XLANG schedules. Define the flow of data between messages within business processes.
Messaging Services. Manage the exchange of data locally or remotely using BizTalk Messaging Manager. Create and manage channels, messaging ports, document definitions, envelopes, organizations, and distribution lists.
XML Tools. Create and manage specifications. Create records and fields, and set their properties. Map records and fields from a source specification to records and fields of a destination specification. Use functoids to implement powerful data-transformation functionality. Functoids enable complex structural manipulations between elements.