Increasingly demanding and more knowledgeable customers, global competition, and price pressures are just a few of the significant market challenges organizations in our study face today. These business challenges, and those mentioned in Chapter 3, will continue to drive organizations to become more efficient and effective in creating lasting and valuable relationships with customers. As products become more commoditized and prices become more transparent, organizations must differentiate themselves in the marketplace and sell on the additional value they can bring to their customer.
Computer technology and the Internet have profoundly changed the way customers buy because their access to a wide range of detailed product, pricing, and competitive information gives them a distinct advantage vis-à-vis suppliers. Access to this information decreases switching costs, provides more options to customers, and allows customers to play competitors off each other to gain the best deal. Organizations in our study see this development as both a challenge and an opportunity. Intier Automotive Inc., a Canadian supplier of interiors and closure systems to the major North American original equipment manufacturers (OEMs), said that smarter customers have put the pressure on both themselves and carmakers as they noted, "The way the Internet has affected us is now we have smarter consumers—those who purchase vehicles. With the Internet they can access safety ratings and learn about new features like SUV folding or removable seats. They don't have to wait for the next consumer product reviews. They know what they want and who has what to offer." According to Intier Automotive, as a result, OEMs are placing more pressure on them to be a full-service supplier and to know what end users want and need.
Another important reason organizations must have a good sales technology strategy is the complex nature of data and service requirements stemming from the growth in outsourcing and the multiple relationships that customers and suppliers are creating across each other's organization. Particularly for strategic key accounts, though even for transactional customers, there are many touch points within the supplier organization. For example, multiple sales channels (phone, Web, in person), product ordering, shipping/delivery, and after-sales service all represent activities within an organization that exchange data with customers.
A companywide CRM system is critical for managing data flowing to and from the customer at multiple points within the company. It reduces coordination errors between external sales and office-based personnel, between different sales teams, and between other functional areas with responsibility for customer interaction. For instance, when a customer accesses product information over the Internet and purchases by phone, that product and price data must be consistent. Customers have come to expect "seamless" sales and service from suppliers irrespective of the channel or point of contact.
Low-Tech Business Benefits from High-Tech CRM: Yellow Book USA
When it comes to sales activities, high technology has not played much of a role in selling yellow pages advertising to small businesses. Indeed, Yellow Book USA, the largest non-Bell publisher of yellow pages, has done well as a relatively low-tech, paper-based organization. Small business customers are not technologically sophisticated—"they are pen-and-pencil type of businesses," and computers and other technologies do not sit well in face-to-face sales calls with small "mom and pop" businesses.
This view is changing, however, as Yellow Book explores the opportunities of applying technology to manage the customer relationship process and automate daily activities for improving the effectiveness and efficiency of servicing customers. The company is rolling out a CRM system that will be able to "control and pinpoint specifics of the marketplace and automate many sales activities." According to one respondent, "This system gives the management team the opportunity to develop the market and find areas that have been missed." Although Yellow Book "will never be at the cutting edge of technology, and it may be some time before the field is completely automated, the system will provide salespeople with more capabilities for managing their territory, accounts, and selling activities."
The system will be used for customer account history, payment status, and allowing representatives to pull customer's artwork off a computer to take with them on the sales call. The system will be used by sales, the in-bound call center, and service and collections. According to one respondent, "[W]e know what advertising companies buy and when they buy it, and we have been doing a lot of systems integration over the past few years that have enabled consistent sales reporting and tracking. But the new system will do more to enable sales reps to cross-sell across territories and allow management to identify trends as they arise."
New technology being developed also will allow the sales representative to "key in contracts at the end of the day and the system would electronically identify errors or exceptions rather than having checkers manually proof documents." As one executive noted, "Eventually, contracts, artwork, everything will be online, but it may be a few years before we have that." Ultimately, according to one manager, "Moving toward a single platform for all sales activities will achieve economies of scale and increase customer face time."
Technology for Salespeople, Customers, and the Organization
The successful CRM system creates a powerful link between suppliers and customers, allowing better decisions for salespeople, customers, and the supplier because it enables enhanced processes that rely on data. For the salesperson, these decisions include targeting customers, and planning and optimizing customer interaction management. For the customer, decisions are enhanced around optimal product selection, solution configuration, and optimal post-sales service. For the organization, CRM both increases knowledge of customers and sales activities in the field and improves decision making regarding optimal pricing, product configuration, service options, and sales strategies.
The salesperson benefits from increased efficiency—executing sales activities faster and at a lower cost—and improved effectiveness—doing things better. CRM systems allow sales-people to more easily qualify customers with greater accuracy, and to improve leads and customer selection/targeting information through development of large customer databases. Many of the organizations we studied expected that their CRM system would eventually allow the salesperson to more quickly produce complex proposals that required input from various parts of the organization, configure products more accurately and rapidly, and address special pricing and delivery needs. Automated ordering, invoicing, and tracking systems also can reduce cycle time and overall costs of sales. (See Figure 4.2.)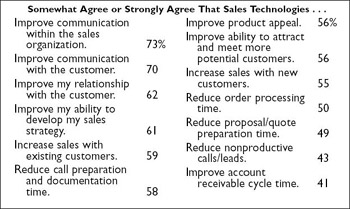 Figure 4.2: Benefits of Sales Technologies
While increasing the efficiency and effectiveness of sales activities should make life easier for salespeople, many organizations have not yet realized this potential. According to a Selling Power/AchieveGlobal (Selling Power, 2002) study, only 36 percent of salespeople were very or somewhat satisfied that technology improved their overall job performance, and only 30 percent were very or somewhat satisfied that technology improved the sales process.
For customers, CRM capabilities can provide more information for making buying decisions through better access to accurate and current data on product selection, price, and availability. It also can make ordering, payment, and post-sales service more effective and efficient. Ideally, for the customer, there is a seamless interface irrespective of the sales channel and easier product selection, configuration, and compatibility that may involve electronic catalogs, mockups, virtual designs, and customer input capabilities. Faster and easier access regarding bids, ordering, tracking, delivery, inventory levels, and electronic invoicing are hallmarks of a successful CRM system.
CRM is capable of allowing customers to enjoy the same level of service regardless of the sales channel. Successful organizations have integrated their customer servicing and problem resolution processes into their overall CRM system. At Marriott, CRM "provides seamless customer interactions across sales channels without having to ask the customer the same questions and reenter data." TD Waterhouse credits its CRM system with "moving the company's brokers from mere order takers to being more proactive in their customer service and selling efforts."
Finally, successful CRM implementation also benefits the organization overall, and sales management in particular. Because at the core of CRM is customer data, sales managers can more effectively monitor sales activities and their salesperson's performance, and assess stages of the sales cycles with individual customers, allowing managers to provide better coaching and forecasting. Sales managers at TD Waterhouse are better able to keep track of customer call notes and guide brokers to pay attention to the right customers. This has resulted in reduced down times and helped them to move leads along more quickly. According to the organizations in our study, management's access to this information also eliminates the "island of information problem" and improves institutional knowledge by collecting databases that salespeople populate.
While there have been claims that these capabilities have led to "micromanagement" by sales managers, several organizations in our study claim just the opposite. Stora Enso, an international manufacturer of forest products, said that its CRM allows managers to view information from a "more strategic, big-picture perspective, thus eliminating the need for managers to question salespeople or observe closely day-to-day sales activities, which takes time for both salespeople and managers and disrupts the work flow." For many of the organizations we spoke with, CRM was designed as an effective coaching tool for management rather than merely an oversight mechanism.