IM is becoming an essential business tool. Use this program to stay logged into several IM clients at once while you're on the go.
IM isn't just for your teenage children anymore! There is no denying that instant messaging has come into the mainstream. In many businesses and industries, it has become as ubiquitous and as essential as email. If you'd like to stay connected on IM on your BlackBerry, you can use a program called VeriChat to connect to various IM services from your device. You may also want to check out the BlackBerry Messenger that RIM is including in the latest handheld software [Hack #20] it is an instant messaging client that rides on top of PIN messaging [Hack #27]. You can use the BlackBerry Messenger only with other BlackBerry users, whereas you can use the VeriChat client to communicate with IM users on a variety of services and protocols.
4.9.1. Install and Configure VeriChat
There is an over-the-air download of VeriChat available at http://www.pdaapps.com/ota/VeriChat.jad or, if you prefer to install using Application Loader, you can download the install from http://www.verichat.com/verichat_bby/index.html. Once installed, run the program from the Home screen, and you'll immediately be able to set up your instant messaging accounts for MSN, Yahoo!, AIM, and ICQ. Figure 4-26 shows the configuration of the MSN client. For each protocol you configure, use the trackwheel to bring up the menu and choose Continue to proceed to the setting for the next protocol. If you don't want to configure an account with a certain protocol, choose Skip/Delete from the menu.
4.9.2. Chat with Verichat
After you've configured your accounts, you can log in and begin chatting. Figure 4-27 shows the professional-looking login screen that displays as VeriChat logs you in to the various IM protocols you've set up.
After logging in, your buddy lists are displayed (VeriChat pulls them down from the IM network you've logged into so you don't have to type them all over again on your BlackBerry). You can control whether all your buddies appear in the list or whether only you're online buddies are displayed. Given the size of the screen, you'll find that displaying only your online buddies will save you valuable screen real estate.
Figure 4-26. Configuring MSN IM in VeriChat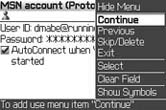 Figure 4-27. Logging in with Verichat

As Figure 4-28 shows, your buddies appear in alphabetical order, regardless of the IM service through which you're connected to them. The icon next to the buddy name indicates which service's buddy list that user is on.
Figure 4-28. Your buddy list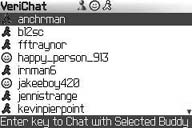 VeriChat integrates nicely with the BlackBerry and conforms to the standards you're accustomed to. For example, most normal chat functions don't require use of the trackwheel just click the Enter key to start a chat with a particular user. Of course, if you prefer the trackwheel, you can use it for most functions as well.
Once logged in, you can have VeriChat run in the background, and then you can continue your normal, everyday BlackBerry routine. When you get a message from someone, you'll get a notification, as shown in Figure 4-29, no matter what BlackBerry program you happen to be using at the moment.
Figure 4-29. You've received a message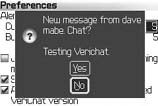 As you would hope, selecting No simply returns you to exactly what you were doing before. Selecting Yes on this screen takes you right into a chat session with your buddy, as shown in Figure 4-30, where you can chat much like you would on a desktop computer.
Figure 4-30. Chatting in VeriChat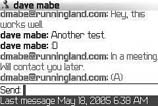 You have access to predefined messages that allow you to send a commonly used response without typing it. Figure 4-31 shows the ones that are available in the program by default. You can add your own by clicking the trackwheel and selecting Add from the menu. You can also use emoticons in your chats (see Figure 4-32). Note, however, that the actual icon won't appear in your chat window only the text that represents the emoticon.
Figure 4-31. Adding a new predefined message
Figure 4-32. Emoticons in VeriChat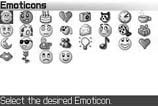 4.9.3. See Also
There are a few other IM clients for BlackBerry that are worth looking into:
Causerie IM for BlackBerry (http://www.mantragroup.com)

IM+ for BlackBerry (http://www.shapeservices.com/eng/im/BLACKBERRY/)