This lesson examines some of the core Windows NT network services and configurations that will affect your Windows 2000 infrastructure design or that might necessitate fundamental redesign prior to deployment. The physical and logical network topology of the Windows NT network and the services it offers to clients will dictate such design issues as these:
The creation of site boundaries
The placement of global catalog servers
The type of organizational and domain structure to be adopted
---
After this lesson, you will be able to
Identify and assess network services crucial to the operation of your business.
Design for services that need to be running during and after migration.
Estimated lesson time: 25 minutes
---
Network Documentation
Prior to migration, you should ensure that all diagrams of your network environment are current. Layouts displaying both the physical network and the logical network are required. The physical network diagram shows how the machines are actually connected and must contain the following details:
Communication links. The physical media used to link the systems (Ethernet, twisted pair, ISDN, and so on) and the protocols running over them (for example: TCP/IP, NetBEUI, IPX/SPX, DLC and/or Apple Talk).
Servers. The name, IP address, and location of each server (if applicable) and its network role (PDC or BDC or standalone server, DHCP server, DNS server, WINS server, Web server, specialized application server).
Devices. The location of devices such as printers, routers, hubs, switches, and modems, and their network addresses and connections, where applicable.
WAN links. The connection points of each WAN link, the type of link, and the bandwidth available on each. Try to use analyzed real-world bandwidth figures rather than theoretical maximum figures.
Users. The number of users in a given site, the configuration of clients, and the software programs and versions running on the clients.
Figure 4.1 shows an example of a physical network diagram and the required types of information.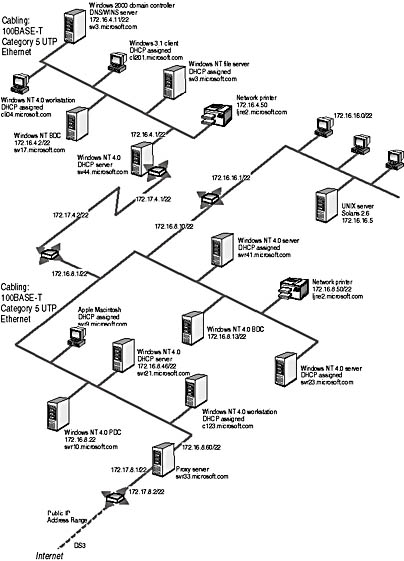 Figure 4.1 Physical network diagram
The logical network diagram should provide the following information:
Domain architecture. The domain hierarchy, the addressing scheme in use, and the number of users and network resources contained in each domain.
Server roles. The roles of the servers in the domain, which servers are PDCs or BDCs, and any fallback arrangements that are in place.
Trust relationships. The representation of any trust relationships in use between domains. The direction and nature of the trusts (transitive, one-way, or two-way) should also be shown.
Resource distribution. The identification of systems that host user resources and applications. Include statistics on how often these resources are accessed and by which groups of users, and consider this data in relation to potential network bandwidth requirements during normal use.
Figure 4.2 provides an example of a logical network diagram. Compare the information it contains to the physical network diagram in Figure 4.1.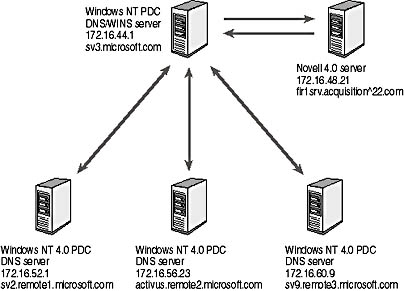 Figure 4.2 Logical network diagram
A fundamental understanding of your current Windows NT domain structure will help determine the following design factors:
Whether Windows NT domains should be mapped into OUs or into Windows 2000 domains
Which Windows NT domains should be restructured or merged into other domains
The type of migration, upgrade, or restructure for each domain
Whether the corporate IT backbone will be able to cope with additional traffic from new services such as systems management and certificates
Understanding your physical network infrastructure will help with such Windows 2000 design issues as these:
Creating site boundaries
Avoiding potential bandwidth problems and traffic bottlenecks
Strategically placing servers in their proper roles
Detailed information on the server roles listed next can be found in the MCSE Training Kit—Microsoft Windows 2000 Active Directory Services. If you don't understand these special server roles, you should read the Active Directory Services book or attend a course on Active Directory directory services before considering a migration from Windows NT. The strategic physical placement of these servers will facilitate faster delivery of network services.
Server types that exist in Windows NT and are carried over to Windows 2000 include:
Updated Windows 2000 DNS servers
Updated Windows 2000 DHCP servers
WINS or other servers providing NetBIOS services (for backward compatibility)
Updated Windows 2000 Routing and Remote Access Service (RRAS) servers
Intranet servers
Proxy servers for Internet access
Specialized application servers
Directory/file replication servers
Server types that are new and unique to Windows 2000 include:
Global catalog servers
PDC emulators
Relative ID (RID) masters
Infrastructure masters
Schema master
Domain naming master
Certificate servers
Designated backup controller for seizing any of the forest-level roles listed above should disaster occur
Remember that several of these services can be held on the same server, so the infrastructure design issues might not seem as enormous. However, do try to include servers that can act as backups for fault-tolerance purposes. For example, once your new Windows 2000 infrastructure has been established, you should plan for a server that could take on the role of PDC emulator in case the current one for that domain fails or in case you need to take it offline for routine maintenance such as a memory or hard disk upgrade.
Monitoring Network Activity
Examining the physical and logical network arrangements will give you an idea about where high amounts of network traffic are likely to occur. This can be confirmed by gathering information on the bandwidth usage and then analyzing what would happen if extra traffic from the migration or the new infrastructure were added to that area of the network. You should perform this analysis when you know the network is busy—for example, at the start and end of a work day.
You can use the Systems Management Server (SMS) Network Monitor component of Microsoft BackOffice to collect data on network loading and activity. The data will then allow you to establish a baseline requirement for network and server performance and the amount of spare capacity that will be available for use during the migration.
CAUTION

---

When assessing network traffic for design considerations, remember to build in capacity for other services in addition to Windows 2000, such as Microsoft Exchange Server 2000, workstation management services such as SMS, and online video training.
Establishing Bandwidth Use and Requirements
Having established the network's baseline requirement under normal loading, you can consider the additional traffic that will be imposed during the migration and the bandwidth requirements of the final system. Two volumes of the Microsoft Windows 2000 Server Resource Kit (Microsoft Windows 2000 Server Deployment Planning Guide and Microsoft Windows 2000 Server Distributed Systems Guide), provide information about bandwidth requirements for replication and authentication traffic within Active Directory.
Network Contingency Planning
The failure of a server or network connection can seriously affect the configuration's overall performance as replication and authentication traffic is redirected. You should consider the impact of such failures as part of the analysis of the network infrastructure, both during and after the upgrade, and you should make contingency planning a part of your recommendations.
Unless the Big Bang approach is being adopted (in other words, the complete conversion of your Windows NT environment overnight), many of the network services just mentioned will need to be available to users during the migration. Hence, part of your migration plan must include how to minimize potential interruptions to the numerous network services that are running. For example, how will you maintain DHCP services while migrating the DHCP server so that users' systems will still be able to access the network? Your migration plan should minimize the impact on the business by keeping as many of the network services running as possible (see Chapter 12, "Business Continuity," for further information). The communications team should keep users informed of the teething problems they'll face during this period.
Lesson Summary
In this lesson, you learned to plan server locations by having an understanding of the physical and logical network topologies. You also looked at how the various network services need to be maintained during and after migration to keep the business running.