Red Hat also provides an easy interface for keeping your system up to date, and it is actually called up2date. This program is the front end to Red Hat's Red Hat Network, a premium service that nevertheless offers a free demo service. In this case, the demo is no less functional than the full product, and you can use it to keep your system patched and up to date without spending any extra money. Getting started with the program takes a few more steps than Mandrake Update to use up2date, you need to register with the Red Hat Network. The registration dialog is launched automatically if you are starting up2date for the first time.
The limitation of the demo service becomes evident during busy periods, at which times your up2date client will politely inform you that network load is too high to allow nonpaying customers to use the service. I've found that waiting until after business hours to perform updates is usually a satisfactory solution. For pricing and premium services on the Red Hat Network, visit http://rhn.redhat.com.
Running up2date
You'll find up2date under the System Tools submenu (under the big K) but it may be listed as Red Hat Network instead. Optionally, you may start up2date from the shell or by using your <Alt+F2> command quickstart and typing up2date. Because this program requires administrator privileges to do its work, you'll be asked to provide the root password.
If this is your first time using the service, the Red Hat Network Configuration dialog will automatically launch. Take a moment to fill out the form you'll need to provide a username, password, and email address (you don't have to use your own login id or password in fact, you should create a completely different user). When you click Forward, you'll get another, more detailed registration screen, but everything there is optional. You may, if you wish, just click Forward past this point. Finally, as part of registration, the program will suggest a profile name for your system. You are free to accept it or to select something new. With this information, your profile (including a list of packages installed on your system) will be created.
You need to go through this registration process only once. When up2date starts the next time, you'll only get a little welcome message. Just click Next and you'll be asked to confirm what "channel" you are subscribed to in other words, what release of the Red Hat system you are running. You should just be able to click Next past this point.
The available packages for update may consist of two passes. The first are packages flagged to skip (usually the kernel, but this is configurable), and the second is a list of all available packages. Check off the packages you would like to install as part of your update (if you aren't sure, just check the Select all packages button, shown in Figure 12-2). When you have made your selection and clicked Next to continue, package dependencies will be checked (if you need additional packages installed, up2date will alert you), and the download will begin.
Figure 12-2. Fetching packages with Red Hat's up2date.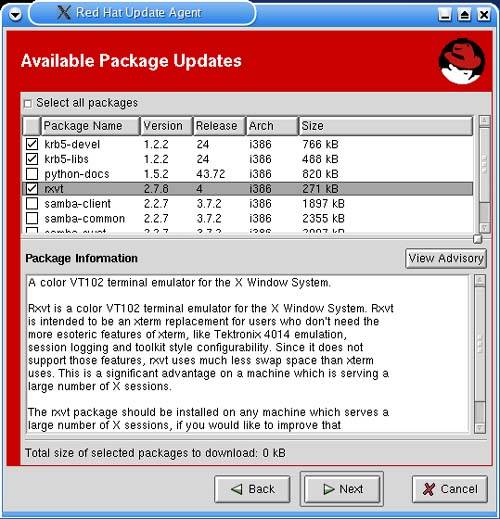 As packages are downloaded, a progress bar will indicate a percentage of completion for both the current package and the whole download. When all packages are downloaded, you will click Next again to install them.