8.

Model Checking

Information provided from playfield zone recognition and camera motion analysis is used to create temporal logic models of the highlights. In fact the highlights can be characterized by the playfield zone where they happen, and how the action develops through the playfield. For instance the forward launch requires that the ball moves quickly from midfield toward the goal box. The models of all the actions have been implemented as FSM. Figure 5.20 and 5.21 show two FSM, one for the goal shot and one for the turnover.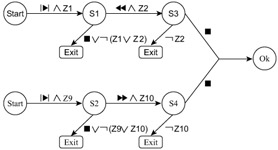 Figure 5.20: Shot model— on the arcs are reported the camera motion and playfield zones needed for the state transition. The upper branch describes a shot in the left goal post, the lower branch the shot in the right goal post. If state OK is reached then the highlight is recognized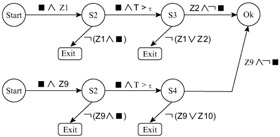 Figure 5.21: Restart model— the final transition requires a minimum time length.
The system has been tested on about one 80 sequences, selected from 15 European competitions. Tables 5.3 and 5.4 report the results. From the results it can be noticed that those highlights that can be easily defined (free/penalty kicks and shots on goal) obtain a good recognition rates.
Table 5.3:

Highlight classification results. The Corner/Penalty kick class comprises also free kicks near the goal box zone

| | Detect. | Correct | Miss. | False |
| --- | --- | --- | --- | --- |
| Forward launch | 36 | 32 | 1 | 4 |
| Shots on goal | 18 | 14 | 1 | 4 |
| Turnover | 20 | 10 | 3 | 10 |
| Corner/pen. kick | 13 | 13 | 2 | 0 |
Table 5.4:

The Other class contains actions that were not modeled. The Corner/Penalty kick class comprises also free kicks near the goal box zone.

Actual highlight

Classific. result

Fwd. launch

Sh. On goal

Turnover

C./p. kick

Other

Fwd. launch

32

1

1

0

2

Shots on goal

1

14

0

0

3

Turnover

0

0

10

0

10

Corner/pen. kick

0

0

0

13

2
Recognition of shots on goal is very good, especially if we consider that the false detection is due to attack actions near the goal box. Since the ball often moves too fast and is too small, we did not attempt to detect the goal. Anyway this highlight could be recognized combining together the shot on goal and the caption that shows the new goal count. Also the good result of forward launches detection is encouraging, since this highlight is usually very similar to other actions. It must be noticed that while this highlight is not important per se, it is linked to other important highlights, such as counterattacks. The recognition of turnovers is critical since its definition is quite fuzzy; probably adding other features such as player position would reduce the false detection. Other improvements may arise considering more cues, such as players trajectories, obtained from the object motion analysis described in section 3.

Handbook of Video Databases: Design and Applications (Internet and Communications)
ISBN: 084937006X
EAN: 2147483647
Year: 2003
Pages: 393