---
A fundamental role in the analysis of implications of ICT adoption on IO relationships should be acknowledged to the work of Venkatraman (1994). In defining the business-transformation levels, he identified four different functions where ICT would have enabled the redesign of the network of relationships of a business: transaction processing, inventory movement, process linkage, and knowledge leverage. The expected redefinition of companies' boundaries through the adoption of ICT should have then produced potential benefits on three main fronts: efficiency, differentiation, and learning.
In a recent extensive review of the literature, Dewett and Jones (2001) investigated the impacts of ICT on organizational characteristics and results by studying the moderating and beneficial effects of information efficiencies and synergies (like higher efficiency, organizational innovation, increased coordination, and collaboration). The study highlighted the effects on IO relations and the resulting benefits in terms of:
Cost savings

Lower transaction costs, governance costs, and exposure to opportunism

Smaller firm size

More efficient suppliers and customers linkage, and customer lock-in

Divergent value chains linkage

Support to the building of innovative capabilities

Collaborative learning process enhancement
Despite this richness of studies suggesting wide IT impacts on IO relationships, a large part of the software industry, as well as a lot of research in the IS field, has been focusing on a more specific matter: the automation of economic and financial transactions.
Well before the advent of the Internet, electronic fund transfer (EFT) and electronic data interchange (EDI) systems had reached a high degree of spread. More recently, the opportunities of Internet technologies have been driving software companies to differentiate their offers, also following the hypes of e commerce, e procurement, e-supply chain management solutions. Such a differentiation makes it difficult to understand the range of applications of each type of system.
On this matter, Pavlou and El Sawy recently summarized several theories on interfirm relations and proposed the reach of relations as the most appropriate dimension with which to examine business relationships (Pavlou & El Sawy, 2002). The reach of relations measures the number of potential partners to which a firm has access, i.e., potential trading partners in a B2B exchange. The cross-analysis of this dimension for buyers and suppliers results in a two-dimensional classification scheme that allows for the identification of four forms of interfirm relations (Figure 1a).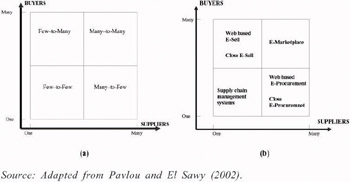 Figure 1: The two-dimensional classification scheme of interfirm relations (a) and ICT solutions (b).
Source: Adapted from Pavlou and El Sawy (2002).
Within each of the four cells of the scheme, it is possible to map a wide set of ICT solutions for IO relationships (Figure 1b):
E-marketplaces (many to many): This is defined as a virtual place where multiple buyers and suppliers are able to transact, buying or selling goods or services, asking for cost estimates, offering, and stipulating commercial relationships (Giamminola, 2001). E-marketplaces make it possible to match demand with offer so that buyers can reduce procurement costs and suppliers can improve the visibility of their companies and products (Neef, 2001; Phillips, 2000; Raisch, 2001). On the other hand, the number of firms involved in this type of exchange precludes strong interfirm relations (Pavlou & El Sawy, 2002).

E-procurement systems (many to few): This is a solution that allows (Pavlou & El Sawy, 2002, p. 13) "traditional powerful buyers [to] capture benefits by leveraging their existing physical power [...] into online B2B exchanges"

E-sell systems (few to many): This is a virtual sales channel through which few big suppliers put their products and catalogs at many buyers' disposal. It is a mechanism that closely follows the primary model for business-toconsumer e-commerce.

Supply-chain management systems (few to few): These are solutions that support close and strategic relationships between a small number of firms. They benefit from Web-based technologies to exceed the substantial costs that limited the spread of EDI solutions for this type of relationship.
Although providing a systematic representation of a segment of the software market, this scheme can only partially contribute to the aims of the present study. With respect to such aims, Pavlou's work lacks in completeness, because relationships not dealing with an economic transaction are simply excluded, and in practical relevance, because each of the ICT solutions supports only one type of relationship at a time. It is unrealistic (in terms of costs involved and time needed) that a business association can implement and integrate a set of different solutions supporting each single interfirm relation. The proposed framework should consider a wider range of dimensions, thus including more agents and ICT solutions.
On the other hand, there is evidence that business associations are already making use of Internet technologies to support their members. On this subject, we collected data (in February 2003) by searching the Internet for the available Internet services offered by the Italian business associations listed by Confindustria (Italian main manufacturers association) (www.confindustria.it) and the Australian business associations listed by Business Entry Point (www.business.gov.au). The outcomes of this research clearly show that most of the Italian and Australian business associations are already present on the Internet, even though they provide members typically with mere information services through Internet portals (Table 1).
Table 1:

Business associations and Internet services

| | Italy (n / %) | Australia (n / %) |
| --- | --- | --- |
| Informative Portal | 85 / 70.8% | 58/69% |
| Portal unreachable or Not Checkable | 18/15.0% | 3/3.6% |
| No Presence | 17/14.2% | 32/27.4% |
| Total | 103/100% | 84/100% |
The potential improvement of services offered by business associations is thus evidently big, while, it is likewise necessary to overcome a buyer–seller approach in order to develop a solution tailored on business associations' requirements. We name this solution the Virtual Association Platform (VAP).
---