---
Like almost all new Internet-related technologies, the immediate opportunities from Web services have been overstated, although the eventual impact could be huge (Hagel, 2002). This can be demonstrated by the immediate and key role of Web services, which is to provide a paradigm shift in the way businesses manage IT infrastructure (Uden, 2002). It provides intelligent enterprises with the capability to overturn the accepted norms of integration and thereby allow all businesses to rapidly and effectively leverage the existing IT and information assets at their disposal. Intelligent enterprises currently running outsourcing services are already seen to be one of the early areas to benefit from the Web service revolution. However, there will be others as enterprises discover the hidden value to their intellectual assets.
Considering most enterprises have until now used the Internet to improve access to existing systems, information, and services, one can envisage the days when Web services promise new and innovative services that are currently impossible or prohibitively expensive to deploy. With such development anticipated to promote the ASP business model, Web service integration is considered to be at the heart of this expectation. Through this process of connecting businesses, ASP will be able to quickly capitalize on new opportunities by combining assets from a variety of disparate systems, creating and exposing them as Web services for the end-game of fulfilling customer expectations (Irani & Love, 2001).
Any inter-organization considering an ASP business model should at least investigate the potential impact of Web service integration, as this will sooner or later become another permanent business necessity and not simply competitive advantage material (Porter & Millar, 1985; Porter, 1998). Those inter-organizations that have adopted our suggested approach will not only gain advantage now in business with lower costs and better returns on assets, but are also expected to develop valuable experience for the first decade of the 21st century. Considering the IS trajectory, as Web services become the standard and the expertise of ASP becomes more established, figures for ASP uptake and vendors' profits should begin to move in one direction only.
Strategic Positioning of Web Services Providers
Observers of business trends can confirm that a major change in the way applications are bought and deployed is already underway. Web services are about to fundamentally change the software industry by introducing a revolution in the way applications are built and deployed. The first generation of the World Wide Web linked users to applications using HTTP and HTML. The second generation, using the XML (Web services) technology, links applications to applications (Uden, 2002). Surprisingly, the enthusiasm for Web services is not confined to the vendor side of the equation, as customers seem to be embracing the technology. In the United Kingdom, a steady stream of organizations has installed Web services technology and services, including UK supermarket giant Tesco. According to a December 2002 survey by IT market research company
Forrester Research, more than a quarter of European financial and investment companies have an ongoing Web services deployment (see Figure 5).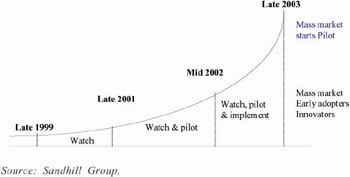 Figure 5: WEB services trajectory Source: Sandhill Group.
One thing that is just about clear now is that every globally recognized enterprise software supplier has endorsed Web services, and many have already released specific Web services tools, platforms, and services or upgraded their existing products to handle the technology. Could this be because they are competing with traditional foes, as well as new companies (Tebboune, 2003)? The blue chip companies making up the first set to take up the challenge include Microsoft, Oracle, Sun, IBM, BEA Systems, and Novell. They are beginning to successfully provide development tools, application servers, and integration and deployment tools, often around a common set of interfaces and standards. A second set of companies focuses on the enterprise application integration market provided by Web services. These companies are Tibco, Vitria, and Iona, that argue that their products will benefit from standardized interfaces and tools and an expanding market for integration tools. But, these companies are simultaneously fighting a marketing battle against the ones that say that eventually the functions they supply will be commoditized by Web services-based tools.
Another set of companies further down the chain makes up the third grouping, including PeopleSoft, SAP, and JD Edwards. They regard Web services as an approach to provide their own processes and functions using Web services interfaces, and then make these accessible using new Web services brokers, exchanges, and applications servers. This group is closely followed by hundreds of niche suppliers of Web services tools, platforms, and services, many of which are start-ups.
Web Services Market
Figure 5 does not mean that a clear or well-defined market has yet to emerge or that it will ever emerge for Web services. Most researchers not only see Web services as a mere evolutionary step, but also as a disruptive technology. In some sense, the evaluation could be true only if it follows the predicted pattern of rapid take-up, a frenzy of activity, new suppliers, new markets, and then rapid consolidation and ubiquitous take-up.
Web services sceptics could laugh at the current figures being thrown about. While organizations spent $1.7 billion on Web services products and services in 2002, IT research company, Ovum, estimates an increase to $39.8 billion by 2006, though Gartner puts the figure at $21 billion by 2005 for software using Web services standards (Currie & Seltsikas, 2001).
Web services is a major partner in the move to horizontally networked companies. The main players are companies that have many services bought in from outside, which allows them to benefit from Web services' most immediate opportunity of integrating new and existing systems. Considering the biggest contribution of Web services will be integration, it puts the enterprise application integration vendors and their products in the spotlight, thereby explaining why sales of such products have continued to rise, even through the recession and the emergence of Web services.
Some researchers believe integration will not only be easier but also cheaper (Chang, Jackson, & Grover, 2002; Chatterjee, Grewal, & Sambamurthy, 2002). Web services technology can reduce the cost of an integration project by between 9% and 16% the first time an application is integrated and by between 13% to 20% when the integration points are reused, according to San Hill Group, an IT market research company (Chang, Jackson, & Grover, 2002). However, the extent to which customers will share these dividends remains to be seen. Along with this, Web services technology may also have a more profound effect, driving the two or three distinct markets of integration tools, development tools, and applications together, possibly around one platform or a set of interworking tools.
That could put the big suppliers—Microsoft (.NET), IBM (WebSphere), Sun (SunONE), Oracle (Oracle Application Server) and BEA Systems (Web Logic)—in a better position, because they supply middleware tools along with integrated development environments. The fact that IBM and Microsoft have rolled out new Web services tool kits in 2002 and 2003 (closely tied to their new and existing infrastructure products) means one can single them out as the early leaders. However, the ultimate shape of this development and middleware market is unclear, because application development involves managing fine- grained components, while integration involves linking processes together. It is not clear that the two will remain separate indefinitely.
The early, committed involvement of all the big suppliers will definitely leave room for many smaller and specialist companies (Tapscott, 2001). These providers will have an important role to play in the adoption of Web services, although one can be forgiven for being pessimistic about the prospects from other niche Web services platform and tools suppliers. A rather safe bet can be made on infrastructure heavyweights, such as Microsoft, IBM, or Sun, probably acquiring these smaller vendors trying to hold onto a little niche (Tebboune, 2003). Remember that Web services are still in their early days, and there will be new companies and opportunities, especially in managed services.
Web Application Problems
When Web problems occur at high-profile sites, the publicity is embarrassing and often damaging, but it is also typically short-lived. Researchers have found that there is little outside analysis of what went wrong, mainly because of sketchy details and of management's attempts to limit damage. Two of the recent incidents in the United Kingdom involved (Maclver, 2003):
The Inland Revenue: A security flaw breached rules on confidentiality and data protection and forced system downtime, undermining a campaign to win public confidence in filing. In May 2002, the Inland Revenue's self- assessment-only tax returns service suffered a major security breach. As a result of a problem with one Internet service provider, the system regarded two online filers as the same individual, resulting in them sharing a single online session and being able to view each others' submissions. It resulted in 60 known "shared sessions" and 13 where individuals were aware they were viewing others' forms. The revenue admitted there were another 665 cases where it could not be certain a tax return had not been seen.

Argos: A security flaw exposed customer records, triggering large-scale customer inconvenience. In September 1999, Argos found its Web site the center of unwanted attention as a result of a rudimentary programming error that resulted in television sets worth 399 being "rounded up" to the bargain price of 3. Unsurprisingly, the site was swamped with more than 1 million-worth of online orders—including one person asking for 1700 sets.
---