There might be times when the information that is held in a list is too sensitive to be included in the index. If the wrong persons were to find this information, the consequences would be too costly. Because of this, Microsoft has given the end-users the ability to remove a list from the index so that content items in the list are not indexed and thus, cannot appear in any result set. The end user can remove individual lists from the SSP's index by simply turning off indexing for that list. Users will not need to do this if their sole motivation is to ensure that the wrong people don't see the list's information in their result set. Users can turn off indexing for compliance reasons or because the information in the list is of such a sensitive nature that they don't want to take the chance that incorrectly secured information becomes available to the wrong users.
To disable searching on a list, navigate to the list's Settings, then to Advanced Settings, and then scroll down to the bottom of the page. There you'll find (as shown in Figure 17-7) that there is an Allow Items From This List To Appear In Search Results? option. Your site administrators will be able to make this selection without notifying you or your SharePoint team of their decision.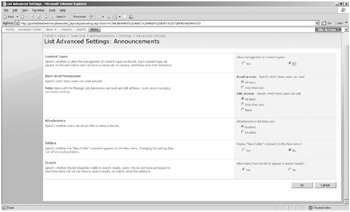 Figure 17-7: Disabling searching on a list
You can also select metadata to be indexed as part of a list to help build list views faster for large lists. This setting can be configured by entering the list's properties and then scolling down the page to the Columns section. In this section, you'll see a link called Indexed Columns (as shown in Figure 17-8). When you click this link, you're presented with a page to select the columns that you want to pre-index.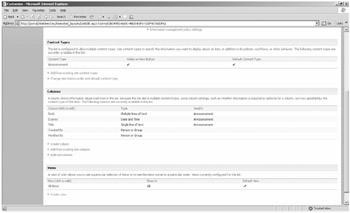 Figure 17-8: The Indexed Columns link
Indexing these columns does not make the content available because that content is already indexed by Search. What it does do is allow customized views that are configured to show or filter on certain columns to be rendered more quickly instead of having to enumerate, filter, or do both to the column's contents on the fly when the user clicks the view link in the quick launch pane.