In Microsoft Office SharePoint Portal Server 2003, you were accustomed to thinking about a single-server product. The generic phrase "SharePoint Server" would often be equated to a single product: SharePoint Portal Server 2003. In SharePoint Server 2007, you'll find that the generic phrase "SharePoint Server" refers to a suite of server components under the "SharePoint" name. Those components and their features are listed in Table 1-1.
Table 1-1:

SharePoint Server 2007 Feature Areas
Open table as spreadsheet

Component area

Features

Portal

Enterprise Portal template

Site directory

My Site

Social networking

Privacy control

Search

Enterprise scalability

Contextual relevance

People and business data search

Content Management

Integrated document management

Records management

Web content management with policies and workflow

Business Forms

Web forms-based front ends

Line-of-Business (LOB) actions

Pluggable Single Sign-On (SSO)

Business Intelligence (BI)

Server-based Excel spreadsheets and data visualization

Report Center

BI Web Parts

Key Performance Indicators (KPIs) and dashboards

Collaboration

Documents, tasks, and calendars

Blogs and wikis

E-mail integration

Project management "lite"

Outlook integration

Offline documents and lists
Portal Services
Portal services in SharePoint Server 2007 are now available through the Corporate Intranet site template. This template automatically creates several sub sites, including a Sites Directory, Document Center, News page with Real Simple Syndication (RSS) capabilities, a Report Center, Search Center, and access to My Site. (See Figure 1-1).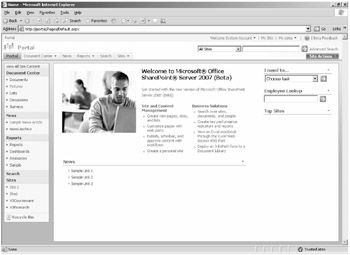 Figure 1-1: Default portal in SharePoint Server 2007
If you take a long step back from the actual page, you'll see that the portal is aggregating content from various locations and presenting that content to the user in a single view. The primary goal of SharePoint Server 2007 is to provide each of your users with a single location from which they can access or find all the information they need to do their jobs. The SharePoint Server 2007 portal goes a long way toward accomplishing that goal.
My Site
Included with portal services are the user's personal portals, called My Site. In SharePoint Server 2007, My Site serves three important functions. First, My Site forms part of a larger targeting picture that is rather compelling. SharePoint Server 2007 now allows information to be targeted to the user so that the user doesn't have to remember where the information resides. The ability to develop a robust targeting topology for end users is a nice feature in SharePoint Server 2007. Table 1-2 illustrates how the targeting topology can work.
Table 1-2:

Targeting Information to Users Using My Site
Open table as spreadsheet

| Items that can be targeted | Where items can be targeted to | Where targeted items can show up |
| --- | --- | --- |
| Any SharePoint list item | Rules-based SharePoint Audiences | Any SharePoint page |
| Web Parts | SharePoint groups | Any SharePoint page |
| Links for navigation | SharePoint groups | Links in the Office client file dialog box |
Second, My Site can be used to allow the end user to aggregate information in a single location, employing nearly any organizational method that seems to make sense to the end user. Items that can be aggregated include the following:
My documents, tasks, e-mail messages, and other SharePoint lists

My SharePoint sites

My Colleagues

My Web/RSS feeds

My Outlook Web Access
Third, using some interesting yet flexible privacy controls, end users are able to deliver information about themselves to the enterprise, to a predefined set of colleagues, or somewhere in between. For example, users can take the information about themselves that is imported from Active Directory-or any Lightweight Directory Access Protocol (LDAP) version 3.0-compliant directory-and make that information available to individuals and groups that they can define. In addition, they are able to provide information about themselves-such as skills, keywords, and other self-descriptors-for someone else's consumption.
Other information that can be distributed by end users includes organization profile information, such as common managers, colleagues, site memberships, and e-mail distribution lists.
Knowledge Network
Knowledge Network software does not ship with the SharePoint Server 2007 product, but you'll be wise to download and install it to enhance the social-networking capabilities of your users. Knowledge Network addresses the following familiar problems:
Most information is not documented in a formal sense.

It's often difficult to connect the information you have with the right person.

"Weak ties" are not easily discoverable.
The term weak ties refers to folks who know people whom you know. They are usually secondary or tertiary contacts made through your family and friends. In an organizational sense, they are often people who work at your company but with whom you have only occasional contact. People whom your colleagues know are your "second degree contacts" or what we call your "colleagues' colleagues." The friends and contacts of your second degree contacts are your "third degree contacts." These second and third degree contacts form your "weak ties." In social networking theory, weak ties connect together cliques or subgroups, which can provide powerful connections to new ideas, information, and opportunities. An organization needs to have a deep social network and expertise profile for an individual if that profile is to have any worth. Automating the creation of that profile is the key to unlocking that person's tacit knowledge-that is, knowledge that is not readily available in a documented form.
Common Features
As you might expect, the taxonomy features of SharePoint Server 2003 have been retained in SharePoint Server 2007, so you still have a Sites Directory to organize sites across your organization, a News page to organize and present news and announcements that pertain to the consumers of the portal, and the ability to use the portal's home page as your intranet's home page.
Search and Indexing
Aggregated search and indexing is enhanced and extended in SharePoint Server 2007 from its predecessor in SharePoint Server 2003. Microsoft has implemented a common search engine across the entire SharePoint platform in such a way that it doesn't matter whether you install Windows SharePoint Services 3.0 or SharePoint Server 2007. Either way, you will get the same basic search and indexing engine. However, the version of search that ships with SharePoint Server 2007 has many more features than Windows SharePoint Services, including the ability to index nearly any type of content. The search engine for Windows SharePoint Services is able to search only content hosted in a SharePoint site.
In addition, Microsoft has made significant investments in relevance capabilities, which ensure that the right information (or the most relevant information based on the query) appears at the top of the result set.
Microsoft has also made the search result set more customizable and certainly more user friendly. For example, if you misspell a word in your search query, the Did You Mean (DYM) feature prompts you to repeat the search using the correct spelling.
Content Management
Under this broad umbrella are three very distinct and needed feature categories: Web content, records management, and document management. All three are now included in SharePoint Server 2007. In addition, you can both secure and privatize content by using a combination of permissions and Windows Rights Management Services (RMS).
Content management provides end users with the capability to author content on a Web site and publish that content to a public-facing Web site either manually or on a schedule. Embedded in the publishing model is workflow for approval routing. Auditing is included as part of this process so that security and regulatory compliance needs can be achieved using SharePoint Server 2007.
Web Content
The features and functionalities of what used to be known as Microsoft Content Management Server 2002 are now included with SharePoint Server 2007. As a product, Content Management Server (CMS) no longer exists. The Web content management feature essentially has become the publishing model for Web content using the CMS features and ideas from the CMS product line. Now users have a spot in which they can create new Web content, run it through an approval process, and then publish that content to another, public Web site. This staging feature covers not only Web content but also custom code and modifications to the site.
In addition, for developers, the solutions management features in SharePoint Server 2007 neatly eliminates the significant problem that existed in SharePoint Server 2003, wherein developers were tasked with writing code but did not have an acceptable method of moving that code from alpha to beta to production environments.
Records and Document Management
Records management is also provided by SharePoint Server 2007. By using content types, you can now manage bits of information, such as e-mail messages, that have traditionally existed across a wide range of repositories.
Document management allows an organization to create a single location at which finished documents can be placed for consumption by parties with the correct permissions. Inherent in this process is the ability to audit what happens to the document and place expiration dates on documents that should expire after a given amount of time.
Both records and document management allow an organization to leverage SharePoint Server 2007 as it attempts to comply with SOX regulations in the United States and similar types of legislation in other countries. What follows is an example of how SOX regulatory compliance can be achieved using SharePoint Server 2007.
Legal Requirement (Paraphrased):

| | |
| --- | --- |
| q | The signing officers of the corporation must certify they have reviewed the financial report by signing the report. |
| q | The officers' signatures certify they found the financial report to be accurate and the figures to be accurately derived. |

What this Requirement Means to IT:

| | |
| --- | --- |
| q | Data used in the financial report must be of known origin and derivation, have correct formatting, and be used in the appropriate context. |
| q | The processes must have owners and the data must have owners. |
| q | Supporting and final documents must be managed under change control. |

Specific Collaboration Software Requirements:

| | |
| --- | --- |
| q | Metadata to provide classification and context for the data. |
| q | Collaboration sites must share information in an ordered fashion between stakeholders. |
| q | Central document libraries must provide contributors with a single set of documents to use for editing purposes. Ultimately, the final documents will be published as authoritative change-managed documents. |
| q | Document change control must provide audit trails and controls for changes made to authoritative documents. |
| q | Central issues logs to provide a forum for contributors to officially draw attention to problems and issues that might have an impact on SOX compliance. |
| q | Workflow management. |
| q | Automatic alerts and notifications. |
| q | Authentication and access control. |
Because many corporations and organizations operate in multilingual environments, SharePoint Server 2007 allows for documents to be translated and indexed across multiple languages. For example, a Microsoft Office Word document can be created using French and then opened in a German version of Word, appearing in the German language. The localization of content for users in different locations speaking different languages is one of the new, key features in SharePoint Server 2007.
Rights Management
In addition, RMS, which allows content to be privatized, is embedded in the SharePoint Server 2007 platform. The difference between permissions (who can access the resource) and privatization (the actions that can be committed by those who do have permissions to the content) is important. With SharePoint Server 2007, you'll be able to both secure and privatize content by using a combination of permissions and information rights management. If you're not accustomed to working with certificates, you'll need to ramp up on Public Key Infrastructure (PKI) because implementing RMS will require a working knowledge of PKI. For more information about PKI, see Microsoft Windows Server 2003 PKI and Certificate Security (Microsoft Press, 2004) and also review the topic "Designing a Public Key Infrastructure" found on the PKI TechCenter on Microsoft TechNet (http://www.microsoft.com/windowsserver2003/technologies/pki/default.mspx).
Business Forms
As part of the new suite of SharePoint Server 2007 server-side products, Microsoft is introducing Office Forms Server 2007. Office Forms Server 2007 allows companies to capture critical data in electronic formats and then automate processes for this information once it is captured. Web-based forms can be created and consumed across the enterprise using Forms Server 2007.
This means that you can extend data-gathering activities to anyone who has a browser and nothing more. Hence, you can make your forms-driven business processes accessible to customers, partners, and suppliers through a Web browser. By using the advanced browser-based form-rendering technology built into Forms Server 2007, you can design cool forms that provide a positive user experience.
In addition, you can create forms to act as front-end data-gathering tools for your Line-of-Business (LOB) applications. You can also connect multiple forms to existing data systems using Web services.
Some other features of Forms Server 2007 include the following:
Advanced form functionality that can be created without having to write code

Data validation at the time of entry

Mobile device access to certain kinds of forms
Business Intelligence
Microsoft Business Intelligence (BI) is a focal area for Microsoft software in SharePoint Server 2007. Part of the premium content services, BI is focused on aggregating information into a report structure and presenting those reports in a report center. BI is much more than simple information regurgitation. BI is a prepackaged solution that combines SQL Server 2005, SharePoint Server 2007, and the 2007 Microsoft Office system client to help deliver the right information at the right time in the right format. Three main parts to this solution exist and can be used separately or in conjunction with each other.
The first part is the business scorecard solution, Microsoft Business Scorecard Manager 2005 (BSM). Also offered as part of the larger Microsoft Office PerformancePoint Server 2007 brand, this solution enables you to keep track of employee productivity. Office PerformancePoint Server 2007 offers scorecard capabilities that help users better understand what is happening in their business and align their actions with corporate strategy. Users can build and manage personalized scorecards without looping in IT as well.
Note

There are three parts to BSM: the server, builder and client. BSM was written for the .NET 1.1 platform as well as Windows SharePoint Services 2.0. You can install BSM on a SharePoint Server 2007 platform, but you'll need to do some tweaking of the install process. Be sure to check out the blogs that are focused on BSM, such as Patrick Husting's blog at http://bimvp.com/blogs/bsm/.

In addition, you can learn more about PerformancePoint at http://office.microsoft.com/en-us/assistance/CH101649551033.aspx
The second main area of BI in SharePoint Server 2007 is the Microsoft Office Excel Calculation Services. Microsoft Office Excel has long been a favorite tool for analyzing information, and this product now delivers Excel functionality in a zero-client format if needed. In addition, Excel users gain a server-side component wherein the spreadsheet can be configured to maintain a persistent connection between their Excel spreadsheet and the data source. Moreover, new features include complete support for SQL Server 2005 Analysis Services, greatly expanded spreadsheet capacity, improved sorting and filtering capabilities, rich data visualization schemes in both Excel and Microsoft Office Visio, and enhanced PivotTables and PivotCharts.
The third main area of business intelligence is SQL Reporting Services and Analysis Services. These services allow you to aggregate granular information from multiple data sources using SQL Server Integration Services, build complex analyses of the data using Analysis Services, and then use Reporting Services to build accurate, easy-to-consume reports.
Collaboration
Rich collaboration features ship with Windows SharePoint Services 3.0 and are leveraged by SharePoint Server 2007. The number and depth of features is complex and varied and we'll be dicussing many of them later in this chapter in the section "Improvements to Windows SharePoint Services 3.0." But at a high overview level, the collaboration features include elements such as blogs, wikis, e-mail integration, "lite" project management, Outlook integration, as well as v2 features that have been retained.
One of the main drawbacks of Windows SharePoint Services 2.0 was the lack of a security-trimmed user interface (UI). The UI in Windows SharePoint Services 3.0 is now security trimmed so that users will see only links to which they have permissions to perform actions or access resources. In concept, this feature stems from the Access Based Enumeration (ABE) with Windows Server 2003 Service Pack 1. The idea is that if a user can see, but not use, a resource, this is still a security problem. On file servers, this can be especially critical when a user can see the file names of files to which she does not have access. In SharePoint, the administrative links don't represent access to resources, but they do represent access to actions that users should not see if they can't perform the action. This keeps users from "wandering" a site, trying to perform administration actions that they shouldn't be trying to perform.
Other new features in Windows SharePoint Services 3.0 include the following:
Large list indexing (via the SQL Full-Text Search engine, not the Microsoft Search engine)

Versioning and per-item security for all list items in all list types

Addition of multivalued lookup fields

Ability to use list views from another Web

Creation and consumption of Content Types across all lists

Two-stage recycle bin for sites and site collections

Auditing of user actions with application programming interface (API) to allow independent software vendors (ISV) to write auditing into their own applications

Explicit login/logout

Search scoped to "this site and down"