You may have noticed by now that sometimes when you do something within Lotus Notes or when the program wants to inform you of something important, a message will appear on the Status Bar at the bottom of the page.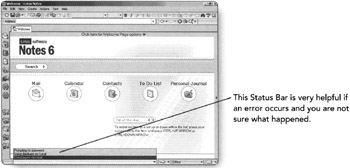 You can change the way the Status Bar notifies you of different activities within the Status Bar Preferences.
Click on File.

Click on Preferences.

Click on Status Bar Preferences. The Status Bar Preferences window will appear.

Within this window you can choose the notifications that you would like to appear on the Status Bar, and even the size of text within it.

Click on OK to save any changes you might have made or Cancel to exit the Status Bar Preferences window.