I am sure that you are familiar with Microsoft Internet Explorer as a Web browser you can use to surf the Internet. You might not know that a number of other Web browsers are available thatin the opinion of many professionalsprovide better security; features such as pop-up, spyware, and virus blocking not available in Explorer; and faster page downloading.
Of course, you'll have to decide for yourself which Web browser you prefer using when you are on the go. But why not at least try some of the alternatives before you settle on Explorer as the only choice?
Alternative browsers include
Firefox, available as a free download from the Mozilla project, http://www.mozilla.org

Navigator, available as a free download from Netscape, http://www.netscape.com.

Opera, available as a free download with banner advertising or in a paid version without ads for $39 from Opera, http://www.opera.com.
Should you decide to use Internet Explorer, when you prepare to take your mobile computer on the road, particularly if you will be using it at public hotspots, you should pay attention to some of the settings in the Internet Options window.
To open the Internet Options window, choose Internet Options from Internet Explorer's Tools menu. You should probably spend some time looking through the various tabs and settings in this window, butto start withyou should make sure that Security and Privacy are set high enough.
To set Security, open the Security tab, shown in Figure 4.2.
Figure 4.2. Use the Internet Explorer Security tab to change security options.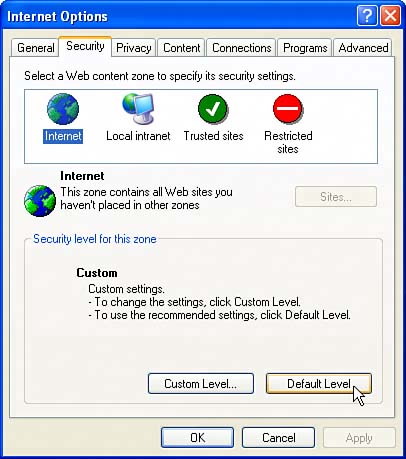 In the Security tab, at a minimum, you should select the Internet icon shown on the left of Figure 4.2, and click the Default Level button to make sure that default levels of security are in place.
Next, click Privacy to open the Privacy tab, shown in Figure 4.3.
Figure 4.3. Use the Internet Explorer Privacy tab to change privacy options.
The slider, shown on the left-hand side of Figure 4.3, is used for privacy settings. At a minimum, privacy should be set to Medium, as shown in Figure 4.3.
TIP
You can tweak the security settings by clicking the Custom Level button.
I don't leave home and go mobile without a really cool add-on to Internet Explorer, the Google Toolbar, which is shown in Figure 4.4.
Figure 4.4. The Google Toolbar is a great Internet Explorer add-on for mobile users.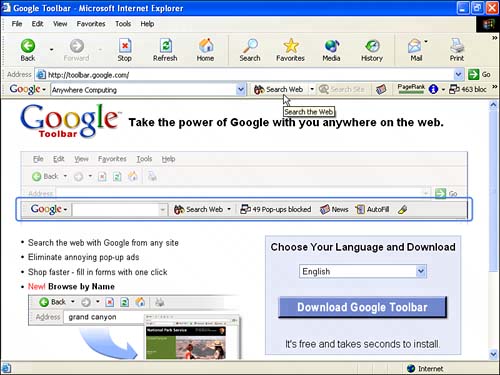 The Google Toolbar can be downloaded free from http://toolbar.google.com. As you'd suspect, it offers you the ability to search Google no matter what web page is open in your browser. It also offers some really useful features, such as a pop-up blocker and the ability to auto-fill Web forms with your personal information (so you don't have to re-type it all the time).
TIP
High privacy, rather than Medium Privacy, is even more appropriate when using a public hotspot.