The default site templates fulfill common organizational needs and serve as a foundation for solutions specific to your organization and environment. They are grouped into four categories: Collaboration, Meetings, Enterprise, and Publishing.
| | | |
| --- | --- | --- |
| | Tip | An additional 40 templates, which will be added to a tab labeled "Applications," are available from http://www.microsoft.com/technet/windowsserver/sharepoint/wssapps/v3templates.mspx. They include such templates as Board of Directors, Call Center, IT Team Workspace, and Time Card Management. |
The Collaboration and Meetings templates are available with Windows SharePoint Services, but the Enterprise and Publishing templates require SharePoint Server 2007. All of the templates are described in this chapter, along with the Web Parts and resources that they include.
Collaboration Site Templates
Collaboration Site Templates are the ones that are used most often and are probably the most useful. The following templates are included with Windows SharePoint Services and SharePoint Server:
Team site Team sites are used to create, organize, and share information. Team Site templates contain a Shared Document Library, Announcements, Site Image Web Part, Calendar, and Discussion list.

Blank site Blank sites are team sites without any initially displayed Web Parts, document libraries, or lists.

Document Workspace sites Document Workspace sites manage collaboration on a single document or possibly a group of similar documents. The Document Workspace template includes a Shared Document Library, Announcements, Calendar, Link list, Tasks list, Discussion list, and a Site Users Web Part.

Wiki site Wiki sites are used to create repositories of knowledge tailored to the people who use it. Users can add, edit, and link Wiki pages, and these pages can be linked using key words. A history of changes is maintained, allowing restoration of pages if required. A Wiki Site template includes the Wiki Pages Document Library.

Blog site A Blog site provides online journals in which users can share ideas and information. Users can record comments about blog entries, and these comments are organized in chronological order. The Blog Site template includes a Shared Documents Library, Announcements, Calendar, Links list, Team Discussion, and Site Users Web Part.
Meeting Site Templates
Windows SharePoint Services and SharePoint Server provide Meeting Site Templates. These templates are designed to organize meetings and the resulting tasks, including agendas, documents, and attendees. The following is a brief description of the Meeting Site Templates:
Basic Meeting Workspace A Basic Meeting Workspace organizes a meeting with team members. Members can set an agenda, define objectives, record attendees, and manage documents related to the meeting. A Basic Meeting Workspace includes a Document Library, Agenda list, Attendees list, and Objectives list.

Blank Meeting Workspace A Blank Meeting Workspace is much like the blank collaboration site. It has the same features as a Basic Meeting Workspace, but they have not yet been added to the site.

Decision Meeting Workspace A Decision Meeting Workspace adds the ability to track tasks and decisions.

Social Meeting Workspace The Social Meeting workspace includes a Picture Library, Attendees list, Directions, Things to Bring, and Discussion Board.

Multi-Page Meeting Workspace The Multi-Page workspace is the same as a Basic Meeting workspace, but includes two extra tabbed pages to manage multiple meetings.
Enterprise Site Templates
Enterprise sites, such as a Document Center or Records Center, require SharePoint Server 2007. The following Enterprise Site Templates are included:
Document Center The Document Center template should be used as a central document storage site and is available only as a subsite.

Records Center The Records Center site is for official file storage and management. Although it can be created as a subsite, it does not accept routed documents when created as such. It includes specialized document libraries for the purpose of classifying data and placing "holds" on documents to prevent them from being expired when they are required for auditing, investigation, or litigation.

The Records Center also includes Announcements and Tasks.

Personalization Site A Personalization Site includes Web Parts that integrate with your My Site and provide connections to the portals of which you are a member.

Site Directory The Site Directory is a specialized site to allow navigation of numerous sites, including your portal. It includes several custom Web Parts and is covered in detail in Chapter 9, "Configuring SharePoint Server Portals."

Report Center The Report Center should only be used as a subsite. It contains many features that organize and present business intelligence data, such as dashboards and Key Point Indicators. It includes the Team Site Web Parts, in addition to sample dashboards and workflow tasks.

Search Center with Tabs This site template is used to create multiple tabbed interfaces for custom searching. It includes custom tabbed results lists, in addition to the Basic and Advanced Search Box Web Parts.

Search Center The Search Center provides the Basic and Advanced Search Box Web Parts.
Publishing Site Templates
Publishing Site Templates are new to this version of SharePoint Server and provide robust functionality enabling Web Content Management. Although any site in a SharePoint Server farm can be upgraded to a Publishing Site, you can use the extended in-browser editor when creating a Publishing Site from these templates only:
Publishing Portal The Publishing Portal is used as your Internet-facing Web site template. It provides extensible and easily customized navigation, search, and content editing functionality. It includes workflow, search, sample press releases, and forms-based authentication. The Publishing Portal also provides an easy-to-use in-browser editor, as shown in Figure 5-1.

Collaboration Portal The Collaboration Portal is used most often in the root of a Web application to provide centralized aggregation, organization, and presentation of pertinent enterprise content. This Site Template includes a Sample News Article, Employee Lookup Web Part, Tasks Web Part, and the following tabbed subsites:

Document Center

News Center

Report Center

Search Center

Site Directory

Publishing Site The Publishing Site template is similar to a team site, but includes the native Publishing Site versioning, Editor, navigation, and workflow.

Publishing Site with Workflow This Site template extends the Publishing Site template with native approval systems.

| | | |
| --- | --- | --- |
| | Tip | The Publishing and Publishing Site with Workflow templates may only be created as subsites, and only beneath sites that have the Office SharePoint Server Publishing Infrastructure feature activated. To activate this feature navigate to Site Actions > Site Settings > Site Collection Administration > Site Collection Features. |

News Site A News Site can only be a subsite; it is used to present information via News articles or the RSS (Really Simple Syndication) News Web Part. It also includes the This Week in Pictures Web Part.

My Site Host Site The My Site Host Site is commonly applied to the root of a Web application that will host My Sites.

| | | |
| --- | --- | --- |
| | Important | Enabling the Office SharePoint Server Publishing Infrastructure in other than Publishing Sites is done at the site collection level. Browse to Site Actions > Site Settings > Site Collection Administration > Site Collection Features. From there you can activate the Office SharePoint Server Publishing Infrastructure feature. |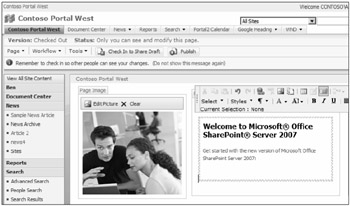 Figure 5-1: The built-in editor enables nontechnical personnel to edit and maintain Web content.