Final Cut Pro ships on multiple discs. But on Mac OS X 10.4 systems, once you've started installing the software, all you need to do is insert discs when prompted. The first disc in the FCP box provides all the files required to install Final Cut Pro 5, LiveType 2, Cinema Tools 3, and Compressor 2. Subsequent discs contain the standard LiveType media elements, including LiveFonts, templates, objects, and textures.
Note
The initial disc also includes PDF documentation for all of the FCP applications and an Extras folder that contains LiveType extras, EDL access, head leaders for Cinema Tools, and the DVX-100 Audio Sync tool.
Note
If you're installing FCP as part of Final Cut Studio, the process is essentially the same, but you will also have discs for DVD Studio Pro 4, Motion 2, Soundtrack Pro, and various media assets. Users upgrading from Final Cut Pro 4 should note that Soundtrack has been replaced with a new application called Soundtrack Pro, which is only available as a stand-alone application or as part of Final Cut Studio.
Working Through the FCP Installation
Before you install Final Cut Pro, use Software Update as described in the previous lesson so both Mac OS X and QuickTime are completely up-to-date. As with system updates, you should also make sure that you have a current backup of your important datacatastrophes may be uncommon, but if something should go awry, you'll be better able to recover.
Note
Final Cut Pro 5 requires Mac OS X 10.3.9 or Mac OS X 10.4 (or later).
The Final Cut Pro installer functions a little differently depending on which version of Mac OS X. New features streamline and consolidate the process on Mac OS X 10.4 systems to make FCP a one-click install. Variations in the way the installer behaves will be noted in the following exercise, but if you require separate instructions for Mac OS X 10.3.9, these are included in your Final Cut Pro documentation.
Custom Installation
If you don't need the complete Final Cut Pro package or require the optional media filesperhaps you're using a PowerBook G4 and don't need to maximize the space on your hard driveyou can easily customize your installation to meet the needs of your workflow.
1.

Insert the Final Cut Pro 5 installation disc.



Tip

Although you can install each Final Cut Studio application one at a time using the independent installers on the individual discs, your serial number probably won't work unless you start with the main installation disc.

2.

Double-click the Install Final Cut Pro 5 icon to launch the installer application.



3.

Click Continue to perform a system check.

This is used to confirm whether your system meets the Final Cut Pro 5 minimum requirementsthe installer will only work on supported systems.



Note

If you are installing Final Cut Studio, you may find that you can install some applications and not others. For example, some systems may not be able to offer the graphics performance required by Motion 2. In this situation, you should still be able to install the other applications.

4.

After you have read the onscreen welcome information, click Continue.



5.

If you accept the terms of the Software Licensing Agreement, click Continue and then Agree to continue with the installation.



6.

Select the startup disk and click Continue.



Note

You need to select your startup disk at this stage even if you ultimately intend to install different components on separate drives.

7.

Enter your registration information in the Licensing dialog.

Type the serial number exactly as it is printed on the label. If you're upgrading FCP, the installer will search your system for an earlier serial number. If it doesn't find one, you'll need to enter it manually to continue.



Note

If your computer is not connected to the Internet, you'll need to register Final Cut Pro later. You can register products online manually (https://register.apple.com) or mail the registration card included in your FCP box.

8.

In the Custom Install window, choose only the applications that you need for your workflowfor example, if you don't work with film matchback, you're not required to install Cinema Tools.



Note

If you're installing FCP on a Mac OS X 10.3 system, you need to click Custom Install before you can select individual components.

An item that is checked but dimmed is a required component that

must

be installed. An item that is dimmed and unchecked cannot be installed because your system does not meet the minimum system requirements.



Tip

Position the mouse pointer over any unchecked items to reveal the requirements that are not met.

9.

Click the LiveType disclosure triangle to reveal additional items.



Note

On Mac OS X 10.3 systems, you need to configure and install media files in a separate operation.

10.

If you want to change where the LiveType media files are stored, click the LiveType Media folder icon and select a new location to store the files on your hard drive.



Tip

FCP media files can be stored anywhere on your local system and on external drives. Installing the files on SAN volumes is not recommended howeverperformance will suffer because the files and packets are too small to be managed efficiently. In a multiuser environment, you need to make sure that everyone who requires access to the files has the appropriate permissions. Refer to the section on permissions in the previous lesson for further information.

11.

Click Install or Upgrade to begin the installation.



Note

It is normal to see the Upgrade button, even if you are installing FCP for the first time. In this context, the Upgrade button appears because the installer has identified at least one file it has in common with the target system.

The installer opens a dialog with a list of all the discs required for the installation.



12.

Click Continue Installation.



13.

Enter an admin username and password to authenticate the installer, and click OK.

You can track the installation process by watching the progress bar. The installer will prompt you to insert additional discs as they are required until the installation is complete.



Note

If you're installing FCP on a system running Mac OS X 10.4, you do not need to click anything outside the installer application. With earlier versions of Mac OS X, you will need to install LiveType media files separately.

Note

QuickTime no longer needs to be registered separately. It is now registered automatically as part of the Final Cut Pro 5 or Final Cut Pro Studio installation process.

14.

Click Close after the installation is complete.



Note

If you have a volume license for Final Cut Pro or Final Cut Studio, disk images can save you time with multiple installations. If you mount the individual images, the installation will progress without the need for you to insert the individual optical discs.
Updating Final Cut Pro
You can download FCP updates through Mac OS X Software Update (as described in the previous lesson). It's generally recommended that you keep your applications current because new versions may have improved feature sets, performance enhancements, and increased stability. On a high-end system, it's important to make sure your third-party software and hardware support the update before you apply it.
Note
Occasionally, you'll encounter an update for Pro Application Support, which is used to unify features, functionality, and interface components among Apple's professional applications.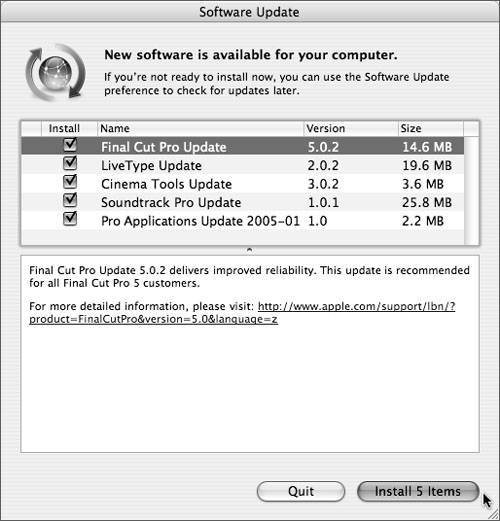 Final Cut Pro Support
There's a vast array of resources to support FCP users from Apple as well as the wider community. You can reference a number of useful tools directly within the application. From the Help menu in Final Cut Pro, you can access the onscreen user's manual, Final Cut Pro Web sites, and a directory of Apple Certified Training Centers. On the Apple Web site, you will find links to educational information, discussion boards, external Web sites, regional user groups, third-party products, and a list of Apple Certified Pro Users around the world.
Tip
In the previous lesson, you learned how to create copies of the FCP user's manual so it could be indexed by Spotlight. If you open the manual via the Final Cut Pro Help menu, you will open the original files inside the FCP package.
AppleCare provides three primary tiers of official support for Final Cut Pro: Knowledge Base (KB) articles, telephone support, and a service called Professional Video Support.
AppleCare Knowledge Base
KB articles are freely available in the Support section of Apple's Web site. If you want to access the site through FCP, make sure you're connected to the Internet, then choose Help > Final Cut Pro Support to open the home page of Apple's FCP Support site in your default Web browser.
Note
If your editing system is not connected to the Internet, meaning you cannot access the site through FCP, you can use any Web browser to manually navigate to the same site: www.apple.com/support/finalcutpro.
From the Support home page, you can select direct links to different KB articles, PDF documents, downloads, discussion boards, training facilities, external resources, and information on professional assistance.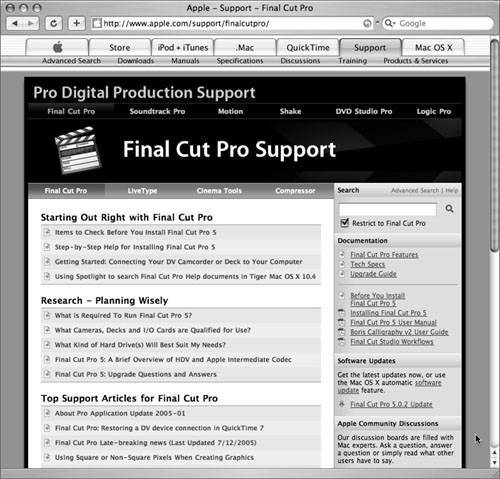 AppleCare Telephone Support
Registered users in the United States, Canada, Europe, and Japan are automatically eligible for 90 days of complimentary telephone support from the day they purchased Final Cut Pro. This 90-day service is only intended to provide assistance with fundamental tasks for novice users, such as basic installation, launch, and recovery of FCP.
Note
Standard AppleCare coverage varies from region to region. Users in other territories should check their product documentation for details and contact information.
Apple hardware is also covered by AppleCare support. Standard coverage includes the same complimentary 90-day telephone support and also a 1-year limited warranty on parts and services. Purchase of an AppleCare Protection Plan will extend coverage to three years.
AppleCare Professional Video Support
Professional Video Support is a premium package designed for professionals working with high-end systems and any of the Final Cut Studio applications. Subscribers are guaranteed expert email and telephone support 12 hours a day, 7 days a week for 1 year. Services cover Apple hardware integration in addition to software troubleshooting.
Contacting AppleCare
If you telephone AppleCare, be ready to provide them with the following information:
Final Cut Pro Support ID (not to be confused with your serial number), which is included in the information that came with FCP

The specific model of your computer

The version of Mac OS X currently installed on your system

How much RAM is installed in your system
Tip
You can locate more detailed information about your computer and software using Apple System Profiler. (Go to Applications/Utilities/System Profiler or click the More Info button in the About This Mac window.)
The specific version of Final Cut Pro on your system (In FCP, choose Final Cut Pro > About Final Cut Pro)

The amount of memory assigned to FCP (In FCP, choose Final Cut Pro > System Settings and click the Memory & Cache tab)

The make and model of any third-party hardware components installed in your system

The name and version of any third-party plug-ins or other software you're using in conjunction with FCP
More Info
See the Apple Service and Support Guide document that came with FCP for further details on AppleCare support.
Support Profile
Another way to gather the information AppleCare requires about your system is to create a support profile. A support profile is an archived collection of text files that provide an exhaustive profile of your system configuration. AppleCare Support may ask you to create a support profile and email it to them to help with troubleshooting your system.
1.

In Final Cut Pro, choose Help > Create Support Profile.



2.

Choose a location to store the new profile.



3.

Click Save.



4.

In the Finder, navigate to your new profile.



5.

Double-click to open the archive file.



6.

Open the ProfileData folder, and use a text editor to view the individual files.



Tip

Support profiles are a great way to compare system configurations, identify issues, and diagnose problems. Rather than examine each file line by line, use an application like TextWrangler (www.barebones.com/products/textwrangler) to automatically compare the differences between documents.