From time to time, you might need to send Final Cut Pro project files, and perhaps some XML content files, over the Internet to another FCP user.
Remote facilities are often used to create offline edits of a project, for example. When the cut is complete, the project file is emailed to another facility to complete the project.
If you find yourself using the Internet to send these kinds of files, the facility that receives your file probably did not do our exercise to force the Finder to recognize .fcp file extensions. What now?
One approach is to preserve the HFS metadata for Mac files by encoding them into a compressed wrapper. That way, every aspect of the file, including its metadata type, is preserved during the encode.
Zipping and Stuffing
To preserve the file system metadata of files such as FCP project files, or even small QuickTime movies, your best bet is to encode them into a compressed file using OS X's built-in pkzip feature or a third-party utility such as Allume's StuffIt.
Think of this process as placing your files in a weatherproof Pelican case, readying them for the arduous journey through the perilous Internet. This way, your offering can be unencoded on the other end, with your files' icons, file system metadata, and actual content intact. The following sections show examples of each method.
Zipping a Single File
1.

In the Finder, Ctrl-click your FCP or other file and choose Create Archive of [filename] from the shortcut menu.



In a moment, a zipped archive of the file, with an extension of .zip, will appear.


Zipping Multiple Files
Use this method to create a .zip archive of a group of files you want to send through the Internet.
1.

In the Finder, place all of your files into a newly created folder.



2.

Ctrl-click the folder and choose Create Archive of [folder name] from the shortcut menu.



In a moment, you'll see your archive of the folder, with a .zip file extension, ready for sending.


Using Allume's StuffIt
Allume offers several file encoding products, including the all-encompassing StuffIt Deluxe. But their no-frills offering, StuffIt Standard, comes preinstalled on OS X, and you can get updates to this free version from Allume's Web site (www.stuffit.com).
You can use StuffIt in lieu of OS X's built-in .zip file maker, in case your recipient requests it. The process is the same, except you'll drag the file or folder onto the DropStuff application in order to make the file.
1.

Drag your FCP or other file onto Allume's DropStuff application.



You might encounter a registration request for the program. You can either register the application or click Not Yet.

The StuffIt file, with an extension of .sitx, will appear, with a little cardboard box icon to boot.


Attaching Encoded Files to an Email
Now that you have the file or files encoded inside of an archive wrapper, you can simply place the file in an email as you usually do, by dragging and dropping.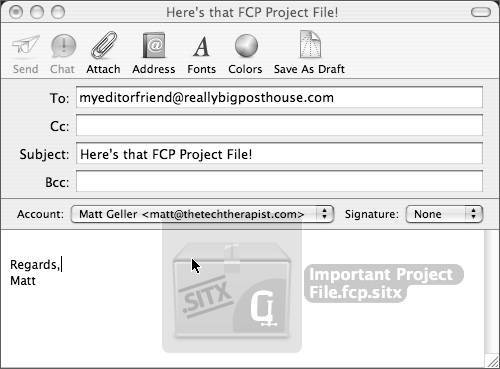 Placing Files on an FTP Site
Your files can also be uploaded safely to an FTP site, using an FTP client such as Transmit (www.panic.com).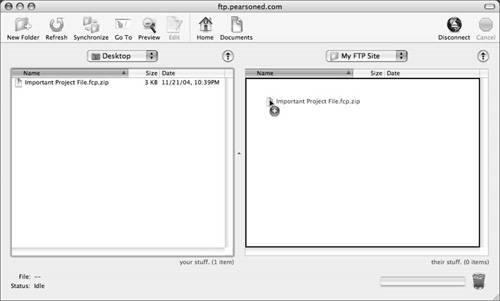 Unencoding on the Other End
When the user receives the email or downloads the FTP file you have sent, all she needs to do is double-click the archive. OS X's built-in unzipper or Allume's StuffIt Expander will decode the archive and deliver the file, with its metadata intact.