You can set the various preferences for Evolution, including mail, calendar, and task preferences, in the Evolution Settings dialog box.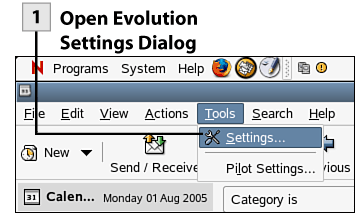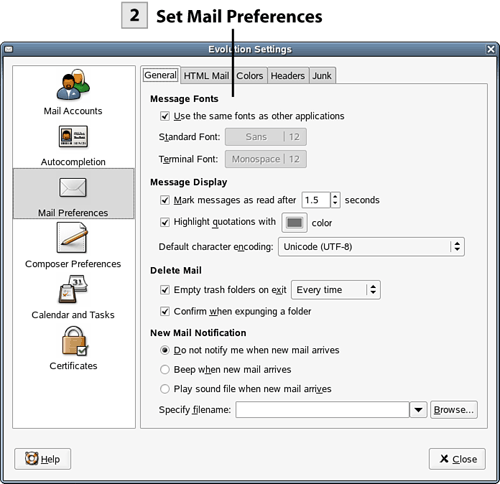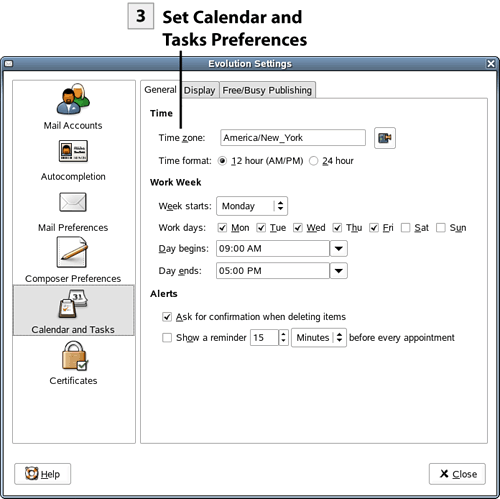 Open Evolution Settings Dialog
To open the Settings dialog box, select Tools, Settings.

Set Mail Preferences
Select the Mail Preferences icon. You can then set mail preferences including message fonts, message notification settings, and the headers shown for each email message (such as To:, From:, CC:, and so on).

Set Calendar and Tasks Preferences
Select the Calendar and Tasks icon. Set preferences as needed including time zone, work week parameters, and alert settings. After you have completed setting your preferences, select Close to close the Settings dialog box.
Tip
To set preferences related to composed messages select the Composer Preferences icon in the Settings dialog box. You can set preferences such as having all messages sent as HTML and automatically including a smiley face on every message.