In terms of actual use in businesses and other institutions, network administrators have embraced Linux for a number of years, particularly in the realm of network servers. For example, the Apache web server, which runs on the Linux platform, is a popular product for hosting websites. Neither network administrators running Linux implementations nor Linux aficionados have ever really been daunted by the fact that to administer a computer running Linux, a very good grasp of the Linux shell commands (the command-line tools) is necessary.
Obviously, for Linux to become popular on an end-user's desktop, the environment has to be both friendly and easy to operate. Most end-users do not want to deal with a complex set of commands run in a command-line environment. This is where the Linux Graphical User Interface (GUI) comes in. NLD uses the GNOME (GNU Network Object Model Environment) desktop by default.
Note
NLD provides a choice of GUIs: GNOME and KDE (K Desktop Environment). These two GUIs are similar. However, because GNOME is the default GUI for an NLD installation, this book covers GNOME. For more information on GNOME (in terms of its development) see http://www.gnome.org. For more about KDE, check out http://www.kde.org.
GNOME isn't actually a part of the NLD operating system; it is an open source GUI (GNU software as discussed in the previous section) that can be run by NLD (and other Linux distributions). GNOME provides a desktop environment that embraces all the aspects of the typical end-user GUI. Software and files can be manipulated using icons and applications, and tools are run in windows.
The GNOME desktop provides a familiar and easy-to-use graphical user interface for NLD.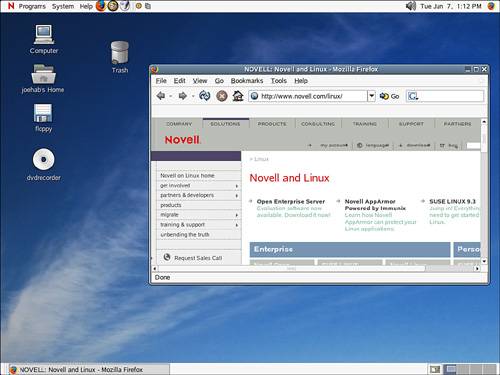 So as we discuss the ins and outs of Novell Linux Desktop in this book, GNOME will serve as the launching pad and workspace for the Linux applications and tools that you run. We will discuss GNOME in more detail in Chapter 3, "Working on the NLD Desktop," and Chapter 4, "Modifying the NLD Desktop."