Although each of us uses a PC for a particular purpose, every user needs a core set of applications and tools, such as a word processor, spreadsheet program, web browser, email client, calendar program, and file management tool. NLD provides all these applications and more. The great thing is that these important software packages are installed by default when you install NLD on your computer.
We will cover a number of software productivity products and tools throughout this book. Let's take a quick look at some of the most important (at least in my mind) software applications that NLD provides.
OpenOffice.org
OpenOffice.org is a productivity suite that includes Writer (a document processor), Calc (a spreadsheet program), Impress (a presentation creator), Draw (a drawing and diagram creator), and Database User Tools that allow you to connect to network databases. Each of these applications shares a common interface including menus and tools. OpenOffice.org also makes it easy to drag and drop and share information across the applications to create complex reports and other documents.
An overview of OpenOffice.org will be provided in Chapter 10, "Working with OpenOffice.org Applications." We will take a closer look at Writer, Calc, and Impress in Chapter 11, "Creating Documents with OpenOffice.org Writer"; Chapter 12, "Creating Spreadsheets with OpenOffice.org Calc"; and Chapter 13, "Creating Presentations with OpenOffice.org Impress," respectively.
Note
For more information on where OpenOffice.org came from and where it is going as an application suite, check out http://www.openoffice.org.
Writer is a powerful document processor and is part of the OpenOffice.org productivity suite.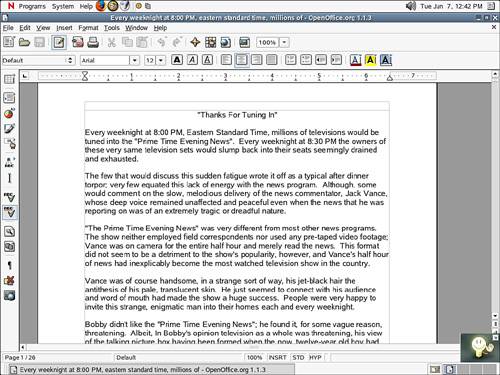 Mozilla Firefox
Whether you use the Web for business, research, or entertainment, it's important to have a web browser that minimizes the dangers of adware, pop-ups, and spyware. Your web browser also should make it easy for you to find the websites you are looking for and to save their web addresses for later reference. Mozilla Firefox fulfills all these requirements and more.
Mozilla Firefox is cross-platform (available for more than one operating system platform including Linux and Microsoft Windows) GNU software and was created by the Mozilla Foundation. Firefox provides unique features such as tabbed web browsing and a built-in pop-up blocker.
We will take a closer look at Mozilla Firefox in Chapter 8, which includes information on creating and managing bookmarks, blocking pop-ups, and using tabbed browsing.
Note
For general information and various reviews of Mozilla Firefox check out http://www.mozilla.org/products/firefox/.
The Mozilla Firefox web browser window.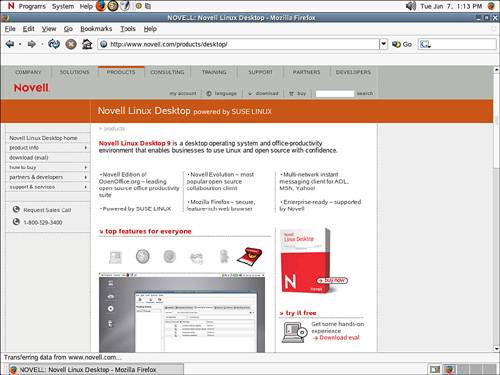 Novell Evolution
All computer users, particularly those who use the PC extensively as a business tool, strive to stay organized and maintain a list of appointments, contacts, and emails. Novell Evolution is a groupware product that pulls together important business tools into one software package. Novell Evolution allows you to manage your email, calendar, contacts, and tasks. It also provides compatibility with network groupware servers such as Novell GroupWise and Microsoft Exchange. Chapter 14, "Managing Email and Contacts with Novell Evolution," and Chapter 15, "Staying Organized with Novell Evolution," provide more detailed information on how to use Novell Evolution.
Key Term
Groupware Client communication software that allows collaboration with other users and is designed to connect to a communication server product.
Keep track of your appointments using Novell Evolution's Calendar.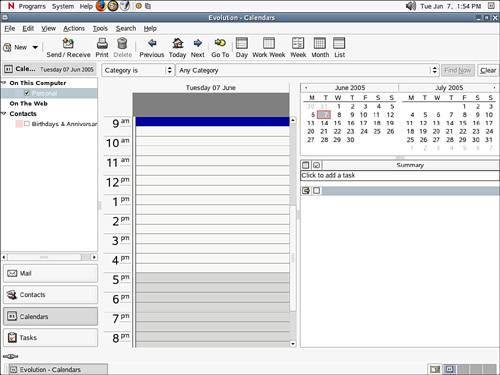 Other NLD Tools
NLD also provides a number of other tools for example, a calculator, dictionary, and file manager (the Nautilus File Manager, covered in Chapter 6, "Managing Files"). Each of these tools can be opened via the Accessories submenu on the NLD Programs menu.
Note
NLD includes a lot of other software. You can play and burn CDs, watch a DVD movie (if your PC has a DVD drive), and even play a number of preinstalled games.
Tools such as a file manager, dictionary, and calculator are readily available from the Accessories submenu.