You can change the way that calendar entries appear in your Calendar. Notes allows you to color-code your entries and to change which fields appear in the views.
Color Coding Calendar Entries
You can select the background and text colors for the different types of calendar entries. To set colors from the Calendar view, choose Tools, Preferences from the menu. On the Calendar & To Do tab, click the Colors tab. For each color you want to change, click the arrow in the Background Color or Text Color fields. Choose your colors from the palette using the sliders or eyedropper as shown in Figure 9.7. When you are finished selecting your colors, click OK to save your choices and close the dialog box.
Figure 9.7. Move the sliders to select your color (R=Red, G=Green, B=Blue). If you want to return to the default Notes Calendar colors, click the
Restore Default Calendar Colors

button.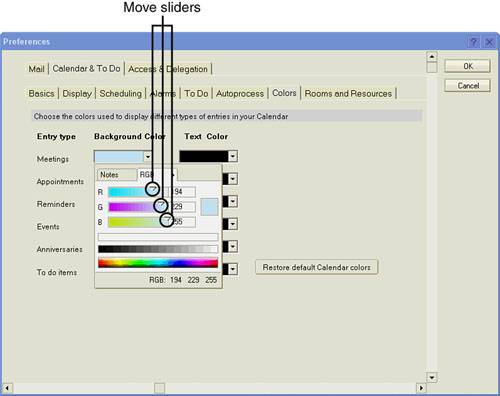 Changing the Data Displayed
In your Calendar views, each entry displays a standard set of fields. Figure 9.8 shows the default calendar entry display.
Figure 9.8. The standard calendar entry displays an icon, start and end time, and description.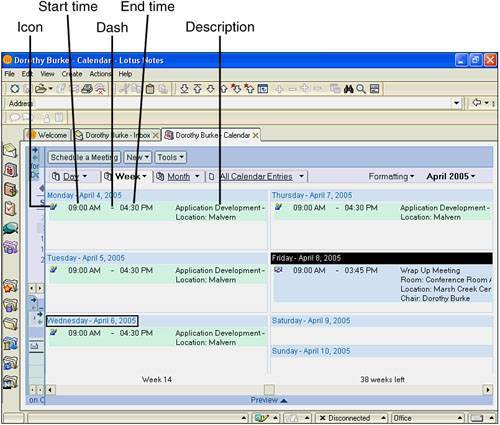 The customized entry shown in Figure 9.9 displays an icon, start time, and description.
Figure 9.9. In this customized view, we've removed the dash and end time for calendar entries.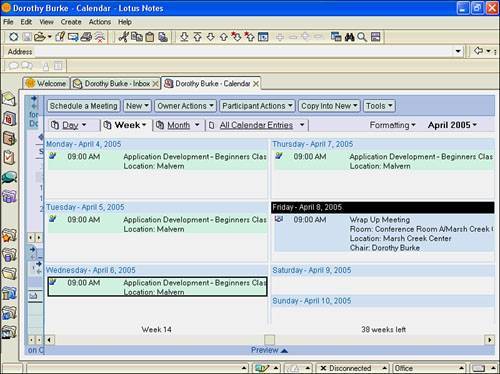 To customize your Calendar view
1.

Open the Calendar and choose View, Customize This View from the menu.



2.

(Optional) Select or deselect the items you want to display in the Customize View dialog box (see Figure 9.10).



Figure 9.10. To customize the entries as shown in

Figure 9.9,

we deselected the dash and end.




3.

(Optional) Use the Move Up and Move Down buttons to change the order in which items appear in your calendar entry. To return to the default settings, click the Defaults button.



4.

(Optional) Choose Hide in This Calendar Format Only to have your new selections apply to the current view (week, month, and so forth) of your calendar, but not in other views.



5.

(Optional) Change the format for field width, row spacing, and lines per row in the Entire View section.



6.

Click OK to save your changes and close the dialog box.