Glenview Hospital is a non-profit organization located on the east coast of the United States. The hospital was founded in 1872 as a private organization offering general medical services to the surrounding community. Over the years, the hospital has incorporated numerous services and staff. The total number of employees at the hospital is 13,873. Table 1 shows a break down of the different types of employees. The hospital also supports 1,452 medical students. The total number of people that need computer support is approximately 8,200, which is almost 60% of the employees.
Table 1:

Glenview Employees

| Staff | Amount |
| --- | --- |
| Staff Physicians | 1,313 |
| Residents | 451 |
| Clinical fellows | 207 |
| Research fellows | 785 |
| Registered nurses | 1,719 |
| Other employees | 9,398 |
| Total employees | 13,873 |
The hospital encompasses 62 different units that span from general medicine to more specialized medical units such as Thoracic Oncology and Neurosurgery. Table 2 lists of some of the services provided by the hospital.
Table 2:

Glenview Hospital Services

Level 1 Trauma Center

Pediatric Emergency Room and ICU

Regional Oncology Center

Kidney, Pancreas, Bone Marrow and Stem Cell
Transplant Centers

Asthma Center

Neurosurgery and Gamma Knife Center

Alzheimer's Disease Assistance Center

Diabetes Center

Burn Center

Sleep disorders

Designated AIDS Center

Poison Control

Orthopedics

Pediatric and Adult Open Heart Surgery

Woman Services

Thoracic Oncology Program

Communication Disorders Unit

High-Risk Pregnancy Center

Rehabilitation Medicine

Breast Care Center

Pain treatment

Epilepsy Center

Endoscopic Sinus Surgery
While many of the services are provided at the hospital, there are also some services that are supported in different locations. An example is the new hospital building that was opened two years ago to accommodate the Neurosurgery and Gamma Knife Center, Regional Oncology Center and general medicine services. This extension to the hospital was necessary because the old facility was not able to accommodate the amount of staff and equipment necessary for the growing needs and services of the hospital. The hospital also has another facility in a community nearby which offers similar services to those provided in its main location. There are also satellite offices for some specialized services. The Oncology Center, for example, has two other offices in communities nearby. Aside from the medical services provided to the community, the hospital also has research centers in the field of Heart, Lung and Blood diseases, Allergy and Infectious Disease, Cancer, and Immunization. Associated with the Hospital is the Glenview Medical University, which supports four programs: (1) Medicine, (2) Graduate studies, (3) Health professions, and (4) Nursing.
Table 3:

Glenview Hospital Figures and Facts (2001)

| | |
| --- | --- |
| Available beds | 754 |
| Average occupancy rate (percent) | 82 |
| Admissions | 26,345 |
| Average length of stay (in days) | 5.2 |
| Ambulatory visits: | |
| Clinic visits (hospital and some group) | 395,276 |
| Health centers admissions: | |
| University Health Care Center | 92,683 |
| Gamma Knife Center | 63,120 |
| Lully | 54,342 |
| Regional Oncology Center | 11,146 |
| Regional Health Care | 118,241 |
| Emergency visits | 45,896 |
| Total ambulatory and emergency visits | 989,558 |
There are many functions at the hospital that rely heavily on information technology. Patient care, for example, requires specialized software to handle appointments and insurance claims information. Although many requests come from patients requiring visits to doctors, there are also requests by doctors that want to schedule specialized tests and procedures on their patients. Scheduling then is done using scheduling software. The laboratories are another example of the crucial role of computers at the hospital. Databases at the laboratory for example manage information regarding patients, tests ordered, and the results of the tests. Other services that have benefited from information technology are Admissions/Discharge/ Transfer (ADT), Anesthesia Information Management, Budgeting, Clinical Information Systems (CIS), Computerized Patient Records (CPR), Dictation/Transcription/Voice Recognition, Dietary/Food Service, Immunization Tracking, Pharmacy/Drug Management and Electronic Data Interchange (EDI)/Electronic Billing. Similarly, the university attached to the hospital supports three computer clusters each of which have 30 computers including PC, Macintosh, and Solaris machines.
The Information Center
Computer Support Services (CSS) at the hospital were first established in the 1960s. At that time, the main role of this department was to support the hospital mainframe computers. The few applications that were run on these systems were built within the hospital research community to conduct sophisticated statistical analysis of medical data. With the advent of personal computing, the hospital began introducing computers to support its numerous research activities and patient services. The first computer applications that were introduced at the hospital were administrative, related specifically to scheduling and claims administration as well as payroll. These two were perceived as crucial to the operations of the hospital because they had an impact on their revenue and staff remuneration. As the hospital grew, new applications were introduced leading to the growth of the CSS. Today, CSS is composed of six units as presented in Figure 1.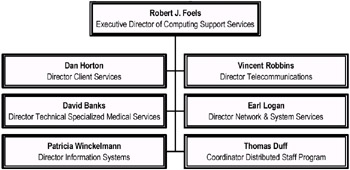 Figure 1: Glenview Hospital Computing Support Services
Each of the Computing and Support Services Unit works independently and can make decisions regarding the purchase of equipment and software that would suit their needs. Of those seven units, Dan Horton heads the Client Services Unit, which in turn manages the Information Center, which provides technical support to the hospital.
When the Information Center was first established in the late 1980s, it was a small unit that consisted of only two individuals. The Information Center currently has seven full-time and 20 part-time employees. With the exception of Seth Abern, who has a computer engineering background, all of the other full-time employees do not have a formal education in information systems and have received all of their experience on the job at the hospital and other companies. Part-time employees are all students who attend the university nearby. Most of the students that work, providing computer support at the hospital, have taken classes in information systems, but their experience is limited to their course work and some training at the Information Center.
When the Information Center was first implemented, it provided technical support for the entire hospital. This was not a difficult task since there were only a few computers and, as a result, there were not many requests. With the boom in information technology in the hospital in the last 15 years, the Information Center was no longer able to keep up with requests. At that point, Robert Foels, the director of the hospital-wide Computing Support Services, decided to decentralize help desk support to the different medical units. This was also necessary because many of the more specialized units also required equipment tailored to their function. Not every medical unit was given a technical support employee. Only those units with heavy technology demands that were also more specialized received a full-time staff member. Smaller units were still supported by the Information Center. The focus of the IC was therefore to handle more general requests and, occasionally, to support units whose own technical staff was not able to provide a solution.
The IC now supports Windows 95, 98, and NT operating systems as well as Solaris, Unix and, more recently, some Linux machines. They also provide support for general applications such as the Microsoft Office suite as well as more specialized systems such as Novel GroupWise, supporting accounting, electronic mail, calendar, and scheduling applications for the whole hospital. The center supports both PC and Macintosh systems.
One of the problems that the Information Center faced for many years was giving support to many different applications. This happened because some of the hospital units once decided to implement software that would help them manage their patients and operations. Many of the people who wanted applications made decisions without consulting the IC staff. This led to a wide variety of programs, of which many performed similar functions. While the medical units made their own purchasing decisions, they nonetheless requested support from the IC when their systems were not working properly.
In an effort to control the number of applications supported, the Client Services director in consultation with all the other units that comprise the Hospital's Computing Support Services decided to implement an enterprise-wide system for their more basic applications, specifically those supporting payroll, staff scheduling, procurement, and budget. They also wanted to standardize their e-mail applications, calendar, and meeting room scheduling. Because the transition towards the standardized system happened only a year before, there were still many people using the old applications. Another factor that has led the Computing Support Services Department as well as Glenview Hospital administrators to consolidate their systems is the Health Insurance Portability and Accountability Act (HIPAA), which had as its goal to "provide better agreement on health data vocabularies, ensuring the privacy of health information, and addressing other issues surrounding the electronic transmission of healthcare data" (Rishel & Frey, 2001).
The budget for the Information Center is determined by Foels, whose own budget is in turn decided by hospital administrators. Budget is one of the problems that the Hospital Computing Support Services has always battled with. Although information technology has an impact on many of the hospital's functions, it is considered an expense that does not directly impact patient care. Hospitals are heavily regulated and have to keep close control of their expenses because government units or health insurance organizations determine many of their rates. This has led to the implementation of systems that were not necessarily the best or most appropriate for the hospital but instead the least expensive. The 2001 budget for the entire Computing Support Services was $94,000, which was to be allocated to pay for computer equipment and software. This generally led to a budget of only 15,000 for client services.
The decision making process at the Information Center is based on team discussions. They hold weekly meetings where they discuss new ideas, poor processes, and consensus rules. There have nonetheless been situations where upper management in the Computing Support Services pushes a decision, and then it is just handed down and not really discussed for its merits. The Client Services Unit as well as most of the Computing Support Services department is composed of employees that have worked for the hospital for a long time. The culture is very traditional. People continue doing the same things because that is how they have always been done. Change is feared by most, as the culture is made up of staff with seniority and not a lot of "fresh" ideas.
The primary responsibility of employees at the IC is to provide solutions to incoming requests and problems. Each employee also has a specialty area with co-workers cross-trained as backups. Other responsibilities include training of staff when new systems are implemented. Dan Horton is the head of this department and looks for improvements to facilitate the work of his staff and provide better support to the users at the hospital.