The Australian Corporate Services Agency (CSA) is a shared service provider established in July 1996 and jointly owned by two Queensland government departments. CSA provides its services to these two departments, which are responsible for industries and resources. CSA was founded by outsourcing and merging service departments of these two organizations to a separate organizational entity. The underlying beliefs are that shared services can greatly improve the value and enhance the productivity of support functions. Therefore CSA's business objectives of shared services are strongly influenced by the demand for CSA's services as presented in Figure 1.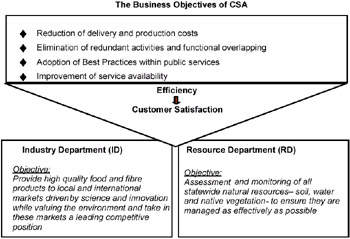 Figure 1: Business Objectives of CSA
The infrastructure of CSA has been designed to effectively deliver 25 major products covering financial, human resource management and administrative functions through a head office and seven service centers. The total workforce of 260 employees ensures a statewide presence of CSA. While the majority of products and services are managed from the head office, CSA's service centers are able to assist customers more locally with the delivery of services. Basically CSA comprises three service areas in business advisory, support services and corporate information systems led by a general manager. CSA delivers its range of corporate services under a service level agreement to ID and RD. CSA's mission statement is to "professionally deliver quality corporate services for government." CSA is responsible for operational and processing functions for corporate services, with the strategy and policy functions remaining with the customer departments. In the financial year 2001/02 (the Australian financial year starts on July 1), CSA had a financial budget of AU$22M available to deliver all services. One major service CSA is providing is the organization of business travels for 8.157 employees working for ID and RD. Both departments are due to their business objectives spread over the state of Queensland at more than 150 locations (Corporate Services Agency, 2002).