---
At the last revision to the Red Hat Exam Prep guide, Red Hat added a couple of prerequisite skills: configuring e-mail clients and working with Web browsers. Therefore, it is reasonable to expect to have to install browsers, configure e-mail clients, and similar applications on a desktop computer during the Red Hat exams.
Overview
There is a wide variety of graphical applications available for RHEL 3. Most are accessible through the Red Hat Main Menu button in the lower-left corner of the GNOME and KDE desktop environments.
Red Hat has modified its version of the GNOME and KDE desktops with the 'Bluecurve' theme. It has partially standardized the look and feel of both desktops. The Main Menu button in the lower-left corner of these desktops has a different look in other Linux distributions. In GNOME, the Main Menu button is a foot; in KDE, it's a big 'K.'
Red Hat has modified the Main Menu options that you see in both desktops. The results are similar, though not identical. Many of the menu options are the same in the Red Hat version of the GNOME and KDE desktops.
Browsers
The default Web browser in the RHEL 3 GNOME and KDE desktops is Mozilla. You can start it in either desktop environment by clicking on the icon with the mouse and globe adjacent to the Main Menu button.
One of the prerequisites in the Red Hat Exam Prep guide is that you need to know how to use the Mozilla Web browser to access regular and secure sites on the Internet. While this is an elementary skill, you don't have to know how to use a Web browser to administer a Linux operating system.
There are a number of other Web browsers available in RHEL 3, including KDE's Konqueror. If you don't know how to use a Web browser in Linux, I suggest that you refer to a basic guide to Linux, such Red Hat Linux Administration: A Beginner's Guide by Michael Turner and Steve Shah (McGraw-Hill/Osborne, 2003).
Configuring E-mail Clients
There are graphical and text e-mail clients available on RHEL 3. The default graphical e-mail client in RHEL 3 is Evolution, which is functionally similar to Microsoft's Outlook. You can start this program by clicking on the icon with an envelope and stamp. By default, it's next to the Mozilla icon in the taskbar.
When you first start Evolution, it prompts you for your e-mail information, including your name, e-mail address, and mail server type. If you're configuring a POP (Post Office Protocol) or IMAP (Internet Message Access Protocol), you're also prompted for incoming and outgoing mail server addresses, as well as login information as required for each server. Finally, you're asked to set your time zone.
Configuring Default Clients
It's easy to add default clients for a user. If you're configuring a GNOME system, you can do so with the Session utility. As described earlier, you can open it by clicking Main Menu | Preferences | More Preferences | Sessions. In the Sessions window, click the Startup Programs tab. As shown in Figure 6-14, the xclock program is already in the list. If you click Add, that starts the Add Startup Program window, where you can add the additional startup programs of your choice.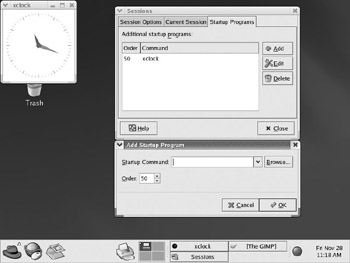 Figure 6-14: Configuring default GNOME clients
Alternatively, you can use the .xinitrc file described earlier. As the Sessions utility does not work on KDE, that is the only option if you're configuring X Clients to start when you run the KDE desktop.
---